West Hartford is one of the top 476 districts selected nationwide by Best Communities for Music Education (BCME).
Submitted by Bernard Kavaler, Connecticut by the Numbers
Thirteen Connecticut school districts are among 476 districts across the United States being recognized as among the Best Communities for Music Education (BCME) for 2016. Now in its 17th year, BCME recognizes outstanding efforts by teachers, administrators, parents, students and community leaders who work together to ensure access to music learning for all students as part of the school curriculum.
The nearly 500 districts selected were culled from the nation's 13,515 school districts. The Connecticut districts selected are: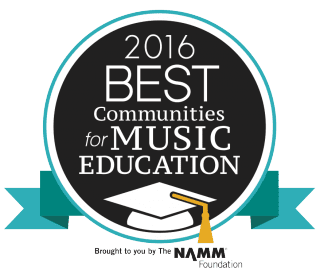 Bethel Public School
Bristol Public Schools
Canton Public Schools
Cheshire Public Schools
Glastonbury Public Schools
Newington School District
Newtown Public Schools
Simsbury Public Schools
Southington Public Schools
Torrington Public Schools
West Hartford Public Schools
Westport Public Schools
Wilton Public Schools
An additional 118 school districts, including Windsor in Connecticut, were named Support Music Merit Schools.
The NAMM Foundation advances active participation in music making across the lifespan by supporting scientific research, philanthropic giving and public service programs.  Founded in 2006, The NAMM Foundation represents the generosity and philanthropy of the music products industry.
The organization's website, citing a 2015 national report, indicates that 83 percent of teachers and 73 percent of parents do not see music education as a luxury, and believe that cuts to music programs are detrimental to student success.  Citing an earlier study, Namm points out that students in high-quality school music programs score higher on standardized tests compared to students in schools with deficient music education programs, regardless of the socioeconomic level of the school or school district.
To qualify for the Best Communities designation, school districts provided detailed information about funding, graduation requirements, music class participation, instruction time, facilities, support for the music program, and community music-making programs.
Studies have shown that there is a correlation exists between the amount of music training and the amount of improvement in reading fluency in children, and that music training improves scores in spatial-temporal reasoning used in higher levels of science and math.
In furtherance of music education, the NAMM Foundation and the Make Music Alliance are inviting interested businesses and organizations to organize a Make Music Day event. The annual global festival of music, "encourages first-time and seasoned music makers to come together on the longest day of the year to 'Just Play' and it is the perfect occasion to bring all people together to make music," officials said.
Make Music Day is an annual celebration that occurs each June 21, when people in more than 700 cities around the world make music together on the summer solstice.
Like what you see here? Click here to subscribe to We-Ha's newsletter so you'll always be in the know about what's happening in West Hartford!