The free eight-week course will begin on Wednesday, Sept. 27, 2023, at the West Hartford Police Department.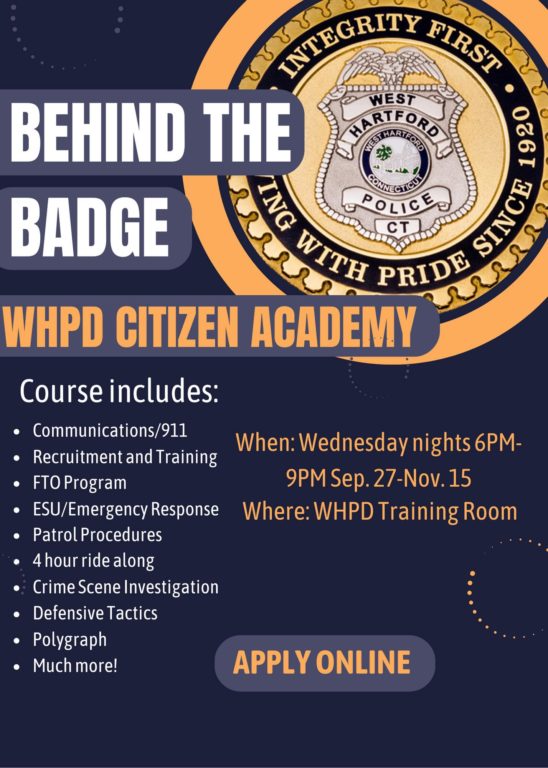 Submitted
Beginning on Sept. 27, 2023, the West Hartford Police Department will be hosting the "Behind the Badge" Citizens Police Academy program. The program will run for eight consecutive weeks on Wednesday evenings from 6-9 p.m.
The program is specifically designed to introduce the community to the reality of a career in law enforcement. Anyone over the age of 21 can apply and candidates will submit to a background check. The purpose of each class topic is to make residents more familiar with the procedures, practices, problems, concerns, and challenges that face law enforcement officers in the performance of their duties.
The goal is to allow our citizens, through education, to become more informed of what the West Hartford Police Department has to offer.
To learn more and to apply please click this link.
Topics may include but are not limited to:
Communications/911
Recruitment & Training
FTO Program
ESU/Emergency Response
Patrol Procedures
Crime Scene Investigation
Polygraph
Defensive Tactics
4-hour patrol ride-along
For any additional questions, please contact Lt. Aaron Vafiades at the Community Relations Division at 860-570-8820.
Like what you see here? Click here to subscribe to We-Ha's newsletter so you'll always be in the know about what's happening in West Hartford! Click the blue button below to become a supporter of We-Ha.com and our efforts to continue producing quality journalism.