The West Hartford Dog Park Coalition will hold the annual Pooch Plunge on Monday, Aug. 30, the day after the last of West Hartford's pools closes for the season.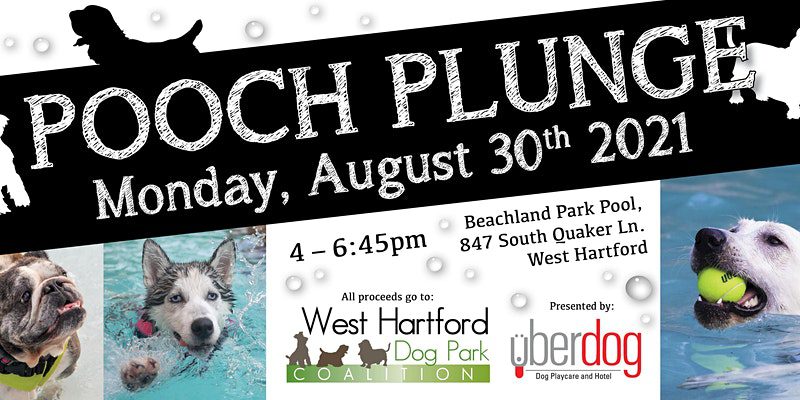 By Ronni Newton
West Hartford's tradition of winding down the dog days of summer with the annual Pooch Plunge will return this year, with resident dogs having the opportunity to show off their dog paddling at Beachland Park on Monday, Aug. 30, the day after that pool closes to the public.
Mayor Shari Cantor announced at Tuesday's Town Council meeting that outdoor pools at Fernridge and Kennedy Park will close for the season on Sunday, Aug. 22, while Beachland Park's pool will remain open for another week, officially closing on Aug. 29.
The following day, Monday, Aug. 30 (rain date Tuesday, Aug. 31), from 4-6:45 p.m., the Beachland Park pool will be turned over to the dogs before being cleaned for the season.
The annual event, which was not held in 2020, will serve as a fundraiser for the West Hartford Dog Park Coalition, supporting their efforts to establish a permanent dog park in town. The organization has launched a survey for residents to express their opinion about a dog park, which can be completed here.
"We're thrilled to bring back the Pooch Plunge this year," noted David Coleman of the WHDPC. "We always get a fantastic turnout."
Coleman expressed his support to the town, as well as corporate sponsors. "The Plunge, our biggest event and fund raiser of the year, is intended to gather momentum for a dog park in town. We are all very frustrated that we still don't have one, but hopefully that will change soon," he said.
"Dogs bring joy to our lives, and this is a joyful event, said Dan O'Brien, owner of Uberdog, one of the event's sponsors. "As a business owner that deals with dogs and their owners every day, we fully support the dog park coalition and their great effort to establish a permanent dog park here in West Hartford. I know that our customers will be thrilled once that day comes."
The cost of admission to the Pooch Plunge is $15 per family, and is open to dogs of all sizes provided they are licensed. Tags must be shown, and aggressive dogs are not permitted. All dog owners must sign a liability waiver before being admitted to the pool area.
Only dogs will be permitted to be in the pool during the event.
Tennis balls will be provided, but no outside toys are allowed. Owners will be required to clean up after their dogs.
Registration for the Pooch Plunge can be done in advance (click here) or can be done at the gate with either cash or Venmo.
Event sponsors include the Town of West Hartford, UberDog and Raveis Broder Group.
Since 2008, the WHDPC has been working to find a suitable area in town to put a permanent, fenced-in area for dogs to exercise and socialize. To learn more about volunteering or supporting the group, visit the West Hartford Dog Park Coalition's Facebook page. On Facebook, over 2,000 members of the community share information, events, local resources, and favorite photos of their four-legged friends.
Like what you see here? Click here to subscribe to We-Ha's newsletter so you'll always be in the know about what's happening in West Hartford! Click the blue button below to become a supporter of We-Ha.com and our efforts to continue producing quality journalism.