The Miale Team at Keller Williams Legacy Partners will be collecting frozen turkeys for Connecticut Foodshare at West Hartford Town Hall on Nov. 19.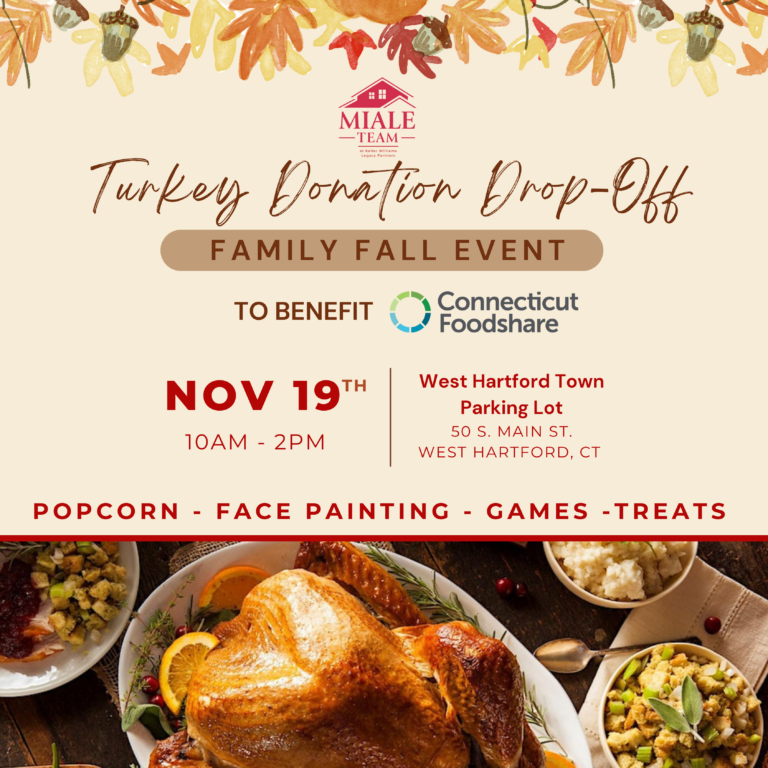 By Ronni Newton
In support of Connecticut Foodshare's "Thanksgiving For All" campaign, The Miale Team at Keller Williams Legacy Partners will be holding a Turkey Donation Drop-Off at West Hartford Town Hall that also features fun for the whole family.
"This initiative reflects our commitment to fostering a strong sense of community and supporting local families in need during the holiday season," The Miale Team said in an announcement of the event, and aims to "bring the spirit of giving to the heart of West Hartford."
According to Connecticut Foodshare, the goal of "Thanksgiving For All" is to provide Thanksgiving meals to more than 50,000 households in need.
The Turkey Donation Drop-Off and Family Fall event will be held one Sunday, Nov. 19, from 10 a.m. until 2 p.m., in the parking lot of West Hartford Town Hall at 50 South Main Street. It will take place rain or shine.
There will be face-painting by Sweet Cheeks, games like corn hole, a popcorn cart and Luna's Limited Cotton Candy Cart, and other family treats and activities. Gina J from 96.5 FM will be there from 11 a.m. until 1 p.m. and Conard's a cappella singing group, Be S#arp, will perform.
"This Turkey Donation Drop-Off Event is our way of bringing our community together to ensure no one goes without a warm and hearty holiday meal," said Matthew Miale, owner and CEO of The Miale Team. "We hope to see a tremendous turnout of generosity from our fellow Hartford County residents and make this Thanksgiving a special one for all."
Donations of frozen turkeys on Sunday are encouraged, and they will be distributed to local families who are experiencing financial hardship. Monetary donations are also being collected that will be used to help Connecticut Foodshare provide food to the hungry and food insecure year-round. Click Here for The Miale Team Virtual Food Drive.
"Help us reach our goal by sharing this event with family, friends, and colleagues. Together, we can make a significant impact on the lives of our fellow community members," The Miale Team said.
For more information, contact Deb Ortega at [email protected], or any Miale Team agent.
Like what you see here? Click here to subscribe to We-Ha's newsletter so you'll always be in the know about what's happening in West Hartford! Click the blue button below to become a supporter of We-Ha.com and our efforts to continue producing quality journalism.