West Hartford Superintendent of Schools Tom Moore gave a 'State of the Schools,' report to the Board of Education, providing some history and a comparison of data since 2015.
By Ronni Newton
The West Hartford Public Schools' tagline is "Clear Paths. Bright Futures. No Limits," but as he concluded a comprehensive State of the Schools report at the Board of Education meeting on Feb. 17, Superintendent Tom Moore, noting in particular the extra challenges that will continue to face the district as it emerges from the pandemic, gave that mission statement a bit more clarity.
There won't always be clear paths, he said, but turning the word "clear" into an action, Moore said, "We will clear paths so that there are bright futures for every child that we have, and we will not allow limits to be put on our children for what is possible in their lives. … It's what we need to do. It's what we have to do."
There are many new Board members since the last time Moore gave a State of the Schools report, and leading into the budget season – he's presenting the 2021-2022 budget Tuesday night – and with the disruptions to the normal course of events posed by the COVID-19 pandemic over the past year, Moore thought it was time to offer some perspective.
At first he thought he would just focus on 2020 compared to 2015, but then added 2000 for even more perspective. While that seems like a long time ago, Moore said it's a moment in time that he, and other administrators who were teaching 20 years ago, remember clearly.
While many of the town's school buildings are old, they're in good shape, Moore said. In recent years, particularly following Sandy Hook, there have been updates made to retrofit the school entrances for security purposes, at the cost of more than $6 million.
Other security updates have included the installation of cameras, the wearing of IDs by all school personnel, and the hiring of school security staff with previous law enforcement experience. Eric Dency, director of Security for the district, is a national expert whose work has made a major impact.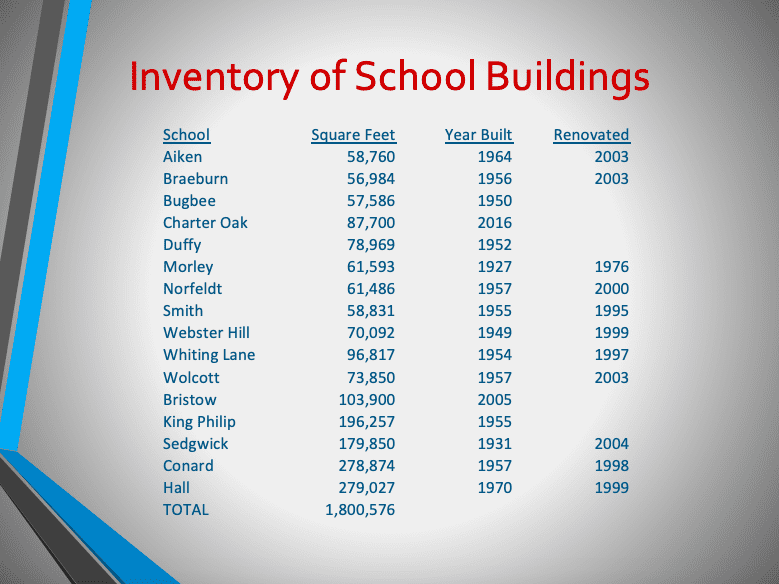 As the number of students has decreased over the past 20 years, the profile of West Hartford Public Schools' student population has evolved significantly, in terms of numbers and percentage, particularly for the Hispanic/LatinX population. There has been a change in the way races are classified since 2000, when there were not statistics kept for students who were identified as more than one race.
The school population is evolving at a pace where Moore estimates sometime between 2025-2030, the district will be "majority minority."
The number and percentage of students who qualify for the federal "free/reduced lunch" benefit has also increased, from 13.2% in 2000 to 26.7% this year – with a growth of more than five percentage points over the past five years.
"With those needs come all the other needs as we see nationally," Moore said regarding the number of students who qualify for free/reduced lunch. "If you're concerned about food and nutrition, it's going to affect other aspects of your life."
There are now more than 700 students in the district for whom Spanish is their dominant home language. The changing demographics over the past 20 years have led to fewer students for whom Russian is their primary home language.
"We didn't really consider this as a standalone commitment in the past," Moore said of the focus on inclusion, diversity, and equity advancement.
Now, he said, "This has been a continuous focus not on the back burner but on the front burner." And, West Hartford has the best person in the state, Roszena Haskins, overseeing what is now becoming its own department, Moore said.
"When there are no textbooks, we are at the forefront of creating textbooks and sources," Moore said. He also thanked the Board for their commitment and support of efforts to address equity advancement.
The district is continuing to make strides in increasing diversity of staff. In 2000, the percentage of teachers of color was 4.2%, and it's now 10.3%.
"With 900-plus teachers, it takes a large number of hires to really begin to make a difference," Moore said. He reported that some of those who were involved with the "Future Educators of Diversity" program in the high schools are now student teaching in the district.
"Just by pure numbers you can look at the jump over the past five years in our number of special education students and our English language learners," Moore said. People often move to the community because of the quality of the programs – which is something to be proud of, he said.
In 2015 there were 371 "504 plans" – which provide accommodations for students and are separate from special education. Now there are 821, Moore said.
The increased understanding of "disabilities," advances in neuroscience, evidence-based practices, and the use of technology have made dramatic impact for students, and at the same time have taken a significant quantity of resources in terms of staff and financial commitment to create "educational plans that are appropriate to meet those needs."
Legislation has required adhering to a certain set of standards as goals are set and monitored. There is also a legal obligation for the public schools district to have a role in the management and testing of students with Individualized Education Programs (IEPs) at private schools in West Hartford, and for post secondary students through age 22.
"The staff devoted to special education has increased, and it's dramatic," Moore said. The number of general education staff members is roughly the same now as it was in 2000, but the number of special education staff has more than doubled during that period, from 286.5 FTE (full time equivalent) positions to 593.8 FTEs. Among para-educators and teaching assistants, the increase is similarly dramatic.
In the past 20 years, as well as in just the past five years, there have been changes to the curriculum and standardized testing, Moore said.
There have also been changes in graduation requirements, and this is the first year that all high schools have to offer a course in Black and Hispanic education.
West Hartford Public Schools continues to undertake a major review of the curriculum every five years to ensure that students are acquiring the tools they need, Moore said. That review addresses the question: "Do we fit what we're preparing our graduates to be?"
"You know this story, we've told it, but man it's an important story to tell," Moore said regarding Advanced Placement exams.
"When you look at the total number of tests taken it doesn't look like any other districts," Moore said. And increasing the opportunity has not "watered down" the results with the number of students scoring a 3 or higher also continuing to increase.
What's really important is the AP equity and excellence, he said. "I care about people challenging ourselves … and 65% of people going through West Hartford Public Schools have earned college credit." The number of students enrolled in ECE enrollments and CCP courses have increased dramatically as well.
Despite gains, Moore said, "We still have a sizable achievement gap." While the gap is just 6 points on AP exams, on state assessments the gap between students of color and white students is roughly 20 points which leads to an opportunity gap.
"We need to remove all the impediments," Moore said, that might keep a students from reaching their potential.
The number of students taking computer science has increased 31% over five years, but the number of female students enrolled in those courses remains 22% below target. "We've got a lot of work to do," Moore said.
While the percentage of West Hartford Public Schools students graduating in four years has increased from 92.3% in 2000, to 93.9% in 2015, to 96% in 2020, "until we're at 100% we won't be satisfied," he said.
The number of students accepted at four-year colleges or universities continues to increase, but for the class of 2020 fewer people went to school out of state, Moore said, likely the impact of the pandemic.
Moore said that when he asked Assistant Superintendent of Schools Paul Vicinus for a list of honors earned by staff and schools, it was 20 pages long.
"You look at this and I can tell you our staff members in our schools continue to just impress," he said.
Student achievements are also extraordinary, Moore said.
Conard senior Natalie DeLaCruz was selected for the U.S. Senate Recognition Program in February, one of two students from Connecticut chosen for the honor, which includes a $10,000 scholarship. It's the third time in the past four years a West Hartford Public Schools student has been chosen, Moore said. In 2020 Nina Faynshtayn was selected, and in 2018 Megan Striff-Cave earned the honor.
Myra Stanfield, who has now graduated from Norfeldt, served as Connecticut Kid Governor last year, and in 2020 one of two of the state's AP Scholars was from West Hartford.
All eight of the current National Merit Scholar Semifinalists have been named finalists, Moore said.
It's not just academics where West Hartford students achieve. It's also in athletics, music, and visual arts.
Moore's presentation concluded with a discussion of the challenges, opportunities, and commitments that must be made.
"We cannot minimize the impact of COVID-19," he said. There is a higher level of absenteeism for remote learning. The impact on numeracy and literacy is being studied by grade level, and with Kindergarten and grade 1, there are some significant drops that need to be addressed.
A concerning trend in the remote middle school is that 27% of students have a D or F in a class, up from 18% in a normal year. While that could be skewed due to the population that chose the RLE, Moore said interventions will be needed.
The emotional and social impact is also of concern and can be a real danger with remote learning.
"The importance of being with classmates and the social emotional impact of not being – that's real for our kids," Moore said.
The district will continue to view its actions with attention to equity. "If we don't use an equity and social justice lens we're not serving our kids properly," he said.
Budgeting – the flat funding of Education Cost Sharing – and the need to address scheduling to accommodate graduation requirements and keep school infrastructure updated are also challenges.
Some of those challenges can be addressed through the monies coming to West Hartford from the Emergency and Secondary School Emergency Relief (ESSER II) funding passed by Congress in late December. West Hartford is slated to receive roughly $4 million in the next two years.
The funds must be used for pandemic-related costs, which include resolving disparities that have arisen, and can include academic support programs, as well as support for mental health.
"The impact of this past year is going to be with us for a long time," Moore said.
Staff development, and the need to address the "digital divide," will also be a focus.
Among the commitments for the future are the elimination of achievement gaps, continuing to increase staff diversity, and making sure students who are enrolled in special education are prepared for a world of independent living.
For all students, Moore said, "We want them excited, we want them to be challenged."
West Hartford Public Schools has been very fortunate to have such strong support by the Board of Education, Moore said.
He will present his recommended budget for the 2021-2022 school year to the Board on March 2. That meeting, which will be conducted in a virtual environment, begins at 7 p.m. Budget workshops will follow and a public hearing, also online, will be held on March 24 at 7 p.m. The budget is scheduled to be adopted by the Board on April 6.
Like what you see here? Click here to subscribe to We-Ha's newsletter so you'll always be in the know about what's happening in West Hartford! Click the blue button below to become a supporter of We-Ha.com and our efforts to continue producing quality journalism.