The West Hartford Symphony Orchestra will feature a cellist and a collaboration with the West Hartford Women's Chorale.
Submitted
The West Hartford Symphony Orchestra, under the direction of Richard Chiarappa, proudly announces the first half of its Classical Concert on Sunday, April 10 at 3 p.m.will feature cellist Melissa Morgan performing Victor Herbert's powerful second Cello Concerto in E Minor.
The second half of the concert is a collaboration between the WHSO and the West Hartford Women's Chorale, directed by Ethan Nash, performing the heavenly Requiem by Gabriel Faure.
In March of 2020, the orchestra was preparing to perform the aforementioned concerto with Morgan, but that concert was canceled due to the onslaught of COVID-19. The last time the WHSO and the WHWC collaborated was in the spring of 2008, so the groups are anxious to perform together once again.
The concert will be performed at the Roberts Theater on the campus of Kingswood Oxford, 170 Kingswood Road. Tickets are $20 for general admission and $15 for seniors and students. Tickets can be purchased here.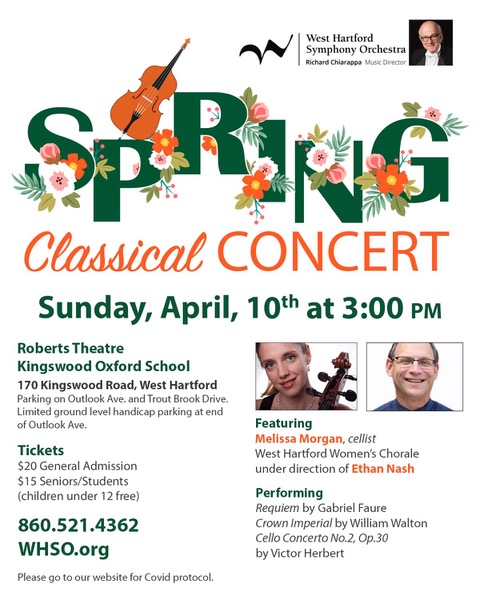 Like what you see here? Click here to subscribe to We-Ha's newsletter so you'll always be in the know about what's happening in West Hartford! Click the blue button below to become a supporter of We-Ha.com and our efforts to continue producing quality journalism.