[Updated] The Town of West Hartford's Juneteenth CommUNITY Celebration in Blue Back Square has been modified due to the weather forecast. The Witness Stones dedication has been moved to the Noah
Webster library, beginning at 10:30 a.m. Saturday, and the rest of the event has been postponed to Sunday, June 18, from noon-4 p.m.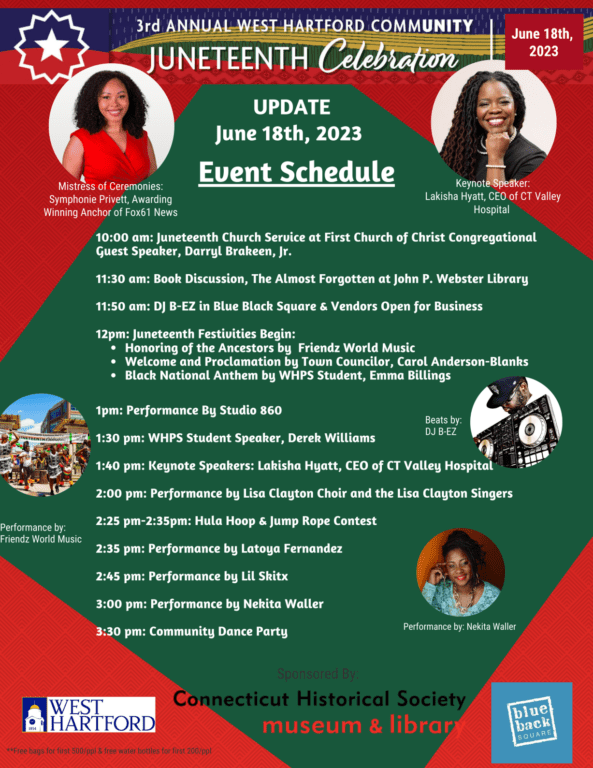 By Ronni Newton
UPDATE, June 16:
Due to the weather forecast, West Hartford's Juneteenth celebration has been moved to Sunday, June 18, 2023, from noon until 4 p.m.
The Witness Stones portion of the event will still take place on Saturday, June 17, but has been moved indoors to the Noah Webster Library. Organizer Tracey Wilson said she is hopeful that the walking tour portion of the event will be able to take place in between thunderstorms.
Original Story
It was the early days of the COVID-19 pandemic, but West Hartford held a small-scale Juneteenth celebration in June 2020. This Saturday, June 17, 2023, the town will officially hold its third annual celebration and the event will be bigger and better than ever, said organizer Adrienne Billings-Smith.
"I'm so excited," said Billings-Smith, who is now the equity coordinator in West Hartford's Office of Equity Advancement. The third annual full-scale celebration will include music, art, inspirational messages, and other activities for people of all ages.
Lakisha Hyatt, the CEO of CT Valley Hospital, will be the keynote speaker. Billings-Smith said she's the first Black woman to hold that position, and she will speak about finding joy, and mental health issues impacting the Black community.
Symphonie Privett, an anchor with FOX61, will serve as emcee for the event.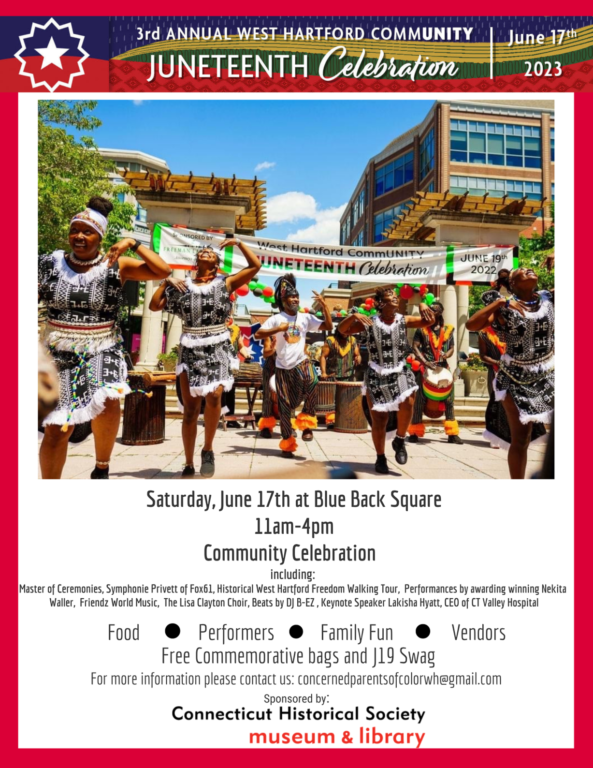 Friendz World Music will perform, and local DJ B-EZ will keep the music coming with performances that also include West Hartford students, the Lisa Clayton Choir and the Lisa Clayton Singers, and Little Skitx. Billings-Smith said she is also very excited that her niece, Emma Billings, will be singing the Black national anthem – "Lift Every Voice and Sing" – which she previously sang as a duet with Latanya Farrell during a Martin Luther King Day virtual celebration a few years ago.
Children's author and West Hartford resident Daniel Howell will preside over a "kids' field day experience," with storytelling, crafts, and more to keep the youngest attendees engaged – and provide an opportunity for anyone to take a break and cool off during the day.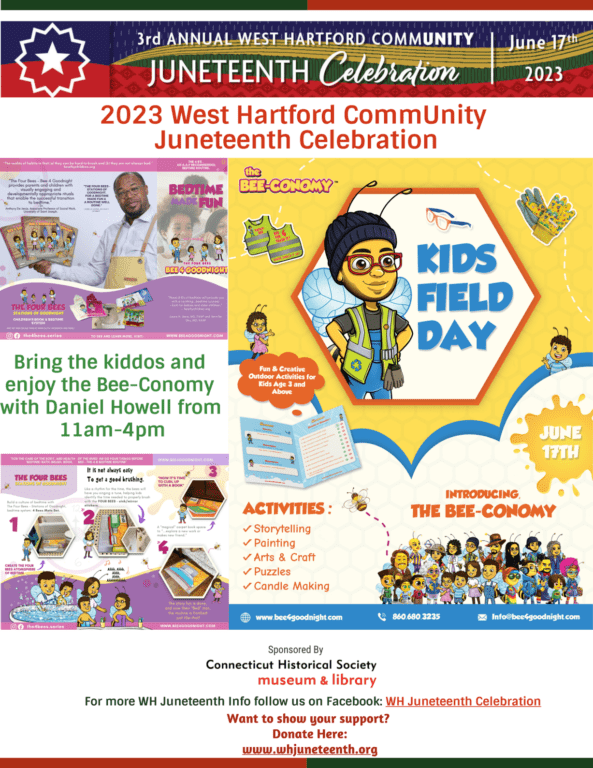 "We have almost 40 vendors this year. It's doubled," Billings-Smith said. WHAASCO, the West Hartford African American Social and Cultural Organization, has put together a Black Business Expo, which will become an annual part of the town's Juneteenth celebration.
"There are a lot of great things happening throughout the day," Billings-Smith said.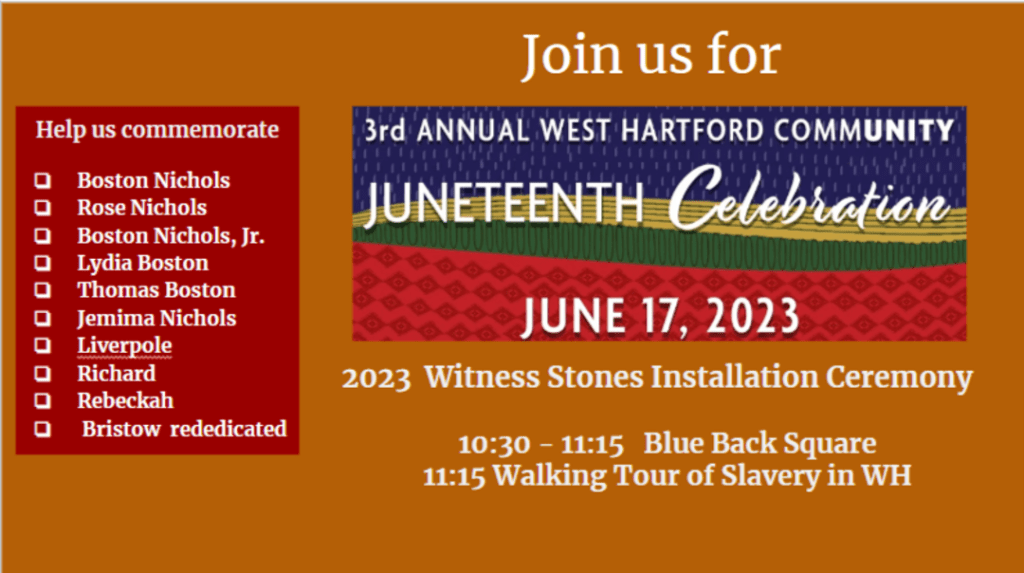 Witness Stones
While the Juneteenth celebration runs from 11 a.m. until 4 p.m., the observance of Juneteenth will begin earlier with a Witness Stones presentation that will highlight the lives of 10 people who were once enslaved in West Hartford and who will be honored with Witness Stones in Old Center Cemetery.
"At 10:30 on Saturday, June 17, we will gather to tell the stories of Rose and Boston Nichols and their family including Boston Nichols Jr., Lydia Boston, Jemima Nichols, and Thomas Boston. Listen to the stories of Liverpole, Richard and Rebecca. And find out information about Bristow recently uncovered that allows us to chronicle his life in more depth," Town Historian Tracey Wilson, who is one of three organizers of the Witness Stones West Hartford Project, said in an email. "This group of people represent both the story of slavery and freedom, and provide stories that represent the essence of Juneteenth."
Witness Stones West Hartford leaders shared the following information about information that has been learned since the project began several years ago:
"In West Hartford, more than 100 men, women and children were enslaved here from 1693 to at least 1830. When Noah Webster lived here, he may have interacted with as many as 50 people enslaved here, at the peak of the power of the institution of slavery.  This institution existed longer in Connecticut than it did in Georgia. Slavery undergirded the economy here through forced labor which, in part, produced  agricultural products to trade with the Caribbean. Horses and sheep, apples and boards brought wealth to this town. From the islands, people here bought coffee, sugar, rum, and spices, all produced by forced labor. In addition, they bought human beings of African descent. Enslaved individuals produced much wealth here that was passed down to the next generations.
"In 1790 Connecticut had more enslaved people than any other New England state. For many students and townspeople it is a surprise to learn that the institution of slavery undergirded the economy and community here.
"In 2022-23, the West Hartford Witness Stones Project,in conjunction with the Noah Webster House & West Hartford Historical Society, continued research about slavery and freedom. Students learned about slavery in the West Division in the 5th grade curriculum, the 5th grade field trip to the Noah Webster House, and the 8th grade Social Studies curriculum. High school students in the Mayor's Youth Council developed a Walking Tour on Slavery and Freedom, which you can take after this ceremony. This tour will amplify the story of slavery and freedom to townspeople who can, like the students, see the throughlines between past and present, so ably illustrated by the Rise Up! MLK39 mural on the walls of the library."
The stories that will be shared at this year's presentation were developed by students at Kingswood Oxford, King Philip Middle School, Bristow Middle School, Solomon Schechter Day School, and Renbrook, who analyzed primary documents to learn as much as possible of the history of individuals about whom little has been known. The students figured out how to share the stories with a wider audience in a compelling way, Wilson said.
In addition, eighth grade students who have been studying Bristow – the namesake of West Hartford's newest middle school – discovered through their research in 2022 Bristow served in the French and Indian War from 1758 to 1761. Students will share more details of their discovery with the audience.
The Witness Stones dedication will include African drumming led by Curtiss Greenidge and Friendz World Music, poetry reading by students, and singing by Kayla Resnisky, a member of Conard High School's Class of 2023. Audience members will read aloud the names of 59 enslaved people whose stories have been uncovered by the Witness Stones West Hartford project.
A group of students, teachers, elected officials, and townspeople will dedicate each of the new Witness Stones that will later be placed in Old Center Cemetery.
While research into enslaved people in West Hartford will continue, the work will take place under a new organizational name: Hidden History. June 17 will be the final ceremony taking place as Witness Stones West Hartford, and Witness Stones will no longer be placed in the cemetery.
Future Juneteenth ceremonies, however, will include a commemoration of the lives of those who were enslaved in West Hartford.
Juneteenth – now a state and federal holiday – is actually June 19th, and marks the effective end of slavery in the United States. On June 19, 1865, the last group of enslaved people in Galveston, TX were freed by the Union Army – more than two years after President Abraham Lincoln signed the Emancipation Proclamation, declaring freedom for all who had been enslaved.
Service at First Church West Hartford
Also as part of West Hartford's Juneteenth observance, a service followed by a book discussion will be led by Darryl Bracken Jr., author of "The Almost Forgotten: America's First Black American Congressmen." The service, which begins at 10 a.m., and the discussion at 11:30 a.m., will be held at First Church West Hartford, 12 South Main Street.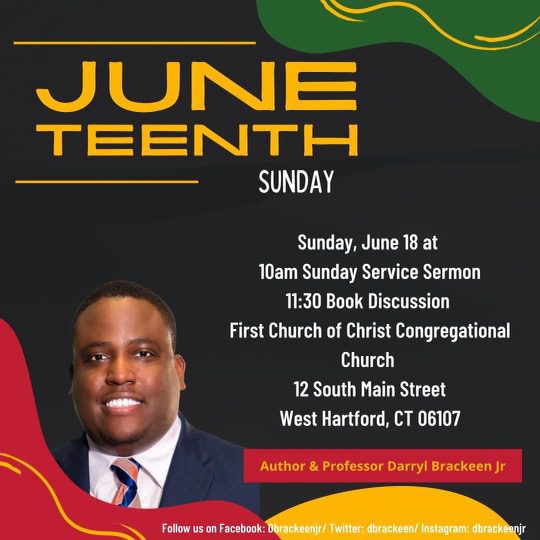 Sunday, June 18 is the rain date for the other Juneteenth activities. The celebration is sponsored by the Connecticut Historical Society museum and library. For more information email [email protected].
Like what you see here? Click here to subscribe to We-Ha's newsletter so you'll always be in the know about what's happening in West Hartford! Click the blue button below to become a supporter of We-Ha.com and our efforts to continue producing quality journalism.