Events will take place in West Hartford from, Oct. 2-7, 2023.
Submitted
The Town of West Hartford's Indigenous People's Recognition and Reconciliation Task Force and the Office of Equity Advancement invites the public to the Celebration of Indigenous Peoples' History and Culture. The events will take place Oct. 2-7, 2023.
Partners and sponsors include UConn AAASI, WHCi, West Hartford Public Library, John P. Webster Library and Noah Webster House & Historical Society.
The schedule of events includes:
ABOUT Indigenous Peoples Recognition and Reconciliation Task Force
The Indigenous Peoples Recognition and Reconciliation Task Force is committed to supporting and creating pathways to better educate the community about the importance of Indigenous history and culture in West Hartford through a series of gatherings, intercultural dialogue and storytelling workshops, public education, and cultural and arts programs.
Further, the task forces' s focus is building a more respectful and compassionate community, building shared understanding, and creating a legacy for meaningful change in our community. The Task Force is comprised of residents, scholars, native tribal members and leaders and town employees.
For more information please contact: Adrienne Billings-Smith at [email protected] or call 860-561-7448.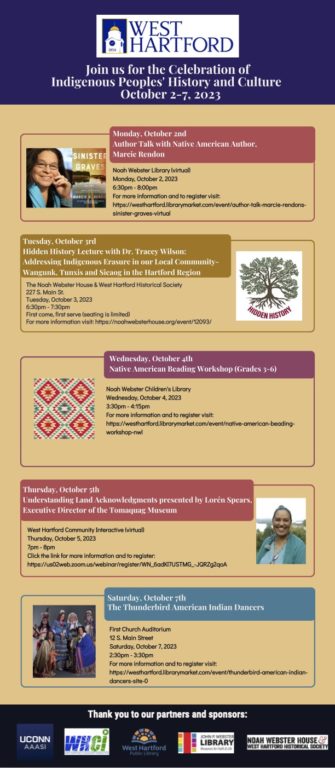 Like what you see here? Click here to subscribe to We-Ha's newsletter so you'll always be in the know about what's happening in West Hartford! Click the blue button below to become a supporter of We-Ha.com and our efforts to continue producing quality journalism.