Splash pads will open for the season at four West Hartford parks on Saturday, May 21, 2022.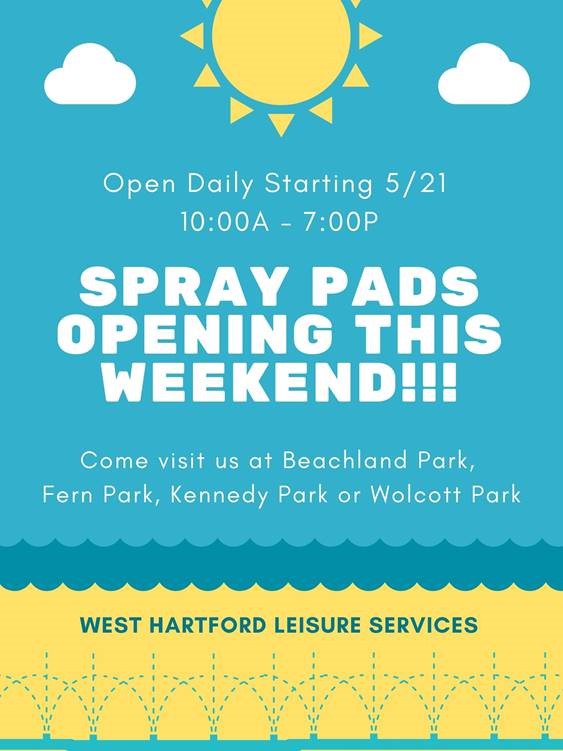 By Ronni Newton
With temperatures expected to hit the mid- and upper-90s on Saturday and Sunday, the splash pads located at four West Hartford public parks – Fernridge, Kennedy, Beachland, and Wolcott – will open for the season on Saturday, May 21, 2022, Leisure Services Manager Marc Blanchard advised on Friday.
"We saw the weather forecast earlier this week and we talked to our crews," Blanchard said. "All was in working order so we said, 'Why not?'"
The splash pads usually open on Memorial Day weekend, and work underway to get them ready was able to be accelerated to open a week earlier.
The splash pads – which are designed for younger children – are open daily from 10 a.m. until 7 p.m. and will remain open according to that schedule into September.
According to the National Weather Service, West Hartford is forecast to have a high temperature of 97 degrees on Saturday, with a heat index of 101 degrees. The high is expected to hit 95 degrees on Sunday, with more seasonable weather returning on Monday.
The town's outdoor pools at Beachland Park, Fernridge Park, and Kennedy Park are scheduled to open the weekend of June 18. Eisenhower Park's pool, which was closed last year due to structural problems, is being rebuilt and will not be open in 2022.
"There's a lot more that goes into opening the pools, so we couldn't open them early," Blanchard said. Lifeguards are still being trained, and work remains to get the pools filled and the water quality balanced, and inspections by the Health District must also take place.
More information about the outdoor pools can be found on the town's website.
Like what you see here? Click here to subscribe to We-Ha's newsletter so you'll always be in the know about what's happening in West Hartford! Click the blue button below to become a supporter of We-Ha.com and our efforts to continue producing quality journalism.