West Hartford's Cookin' will celebrate 'Growing Connections' at the Foundation for West Hartford Public Schools' signature fundraiser on March 30, 2019.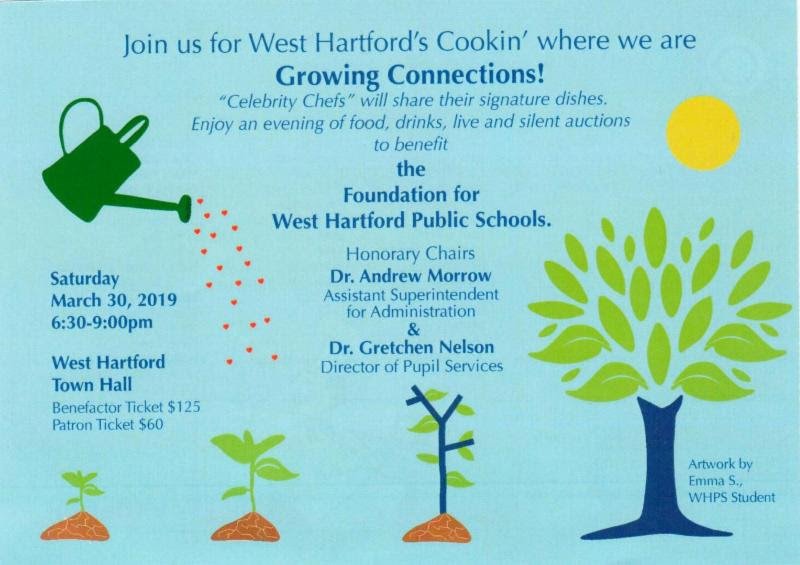 By Ronni Newton
The community is invited to sample a wide variety of foods prepared by "celebrity" chefs – local civic and education leaders and school administrators who will show off their culinary skills at the Foundation for West Hartford Public Schools' signature fundraiser.
The annual West Hartford's Cookin' will be held on Saturday, March 30, from 6:30-9 p.m. in the Town Hall auditorium. Celebrity chefs who have committed to the event include Town Manager Matt Hart, Superintendent of Schools Tom Moore, principals from most of the town's public schools, Town Council and Board of Education members, Office of Early Childhood Commissioner Beth Bye, State Sen. Derek Slap, and students from the culinary training programs at Conard and Hall high schools.
In addition to food and drink guests will have the opportunity to participate in a drawing for Bridgewater Chocolate, bid on silent and live auction items, and "Raise the Paddle" for the Foundation. 
Registration for online bidding is available through OneCause, and available items can be viewed here.
Resident (and amateur weatherman) John Lyons will reprise his role as auctioneer.
The Foundation was co-founded 21 years ago by Dougie Trumble and Heather Congdon to support projects, programs and initiatives that enhance the educational experience of students and promote excellence in West Hartford Public Schools, and since then the nonprofit 501(c)(3) organization has invested more than $1.6 million in classrooms in the form of teacher grants from preschool through high school including post grad programs.
"We are excited to honor Dr. Andrew Morrow, assistant superintendent of Administration, and Dr. Gretchen Nelson, director of Pupil Services, and highlight the expanded partnership with Auerfarm and West Hartford Public Schools," Deena Samberg-Shefsky, chair of this year's event, said in a news release.
"Using a grant from the Foundation, West Hartford Public Schools was able to purchase a share in a greenhouse at Auerfarm for use by post-secondary WHPS students who participate in the food service/culinary training and agri-business program. … The event provides a wonderful way to support West Hartford's public schools and uphold the tradition of offering all of West Hartford's students enrichment opportunities," Samberg-Shefsky said.
David Casarella and Carol Lorenzo, co-presidents of the Foundation's Board of Directors stated, "We feel extremely grateful to be in a district where the community, through the Foundation, is willing to provide additional financial support for educational projects in our classrooms.  This support is one of the many reasons West Hartford Public Schools achieves excellence as a school district."
The Foundation is grateful to the individuals, businesses, and civic groups who support the organization, and has offered public thanks to "Explorer & Discoverer" sponsors Bouvier Insurance, Frank Webb Home, GYL Financial Synergies LLC, O'Meara Real Estate Group-Keller Williams Realty, Lexham West Hartford LLC, Macca Plumbing & Heating, Optometric Specialty Group LLC, Roger and Deborah Goldbeck, Scott and Cyndi Brown, Seritage Growth Properties, Smith Brothers Insurance Inc., State Farm Insurance-Mario Russo, West Hartford Chamber of Commerce Inc, and the West Hartford Education Association.
Tickets are available online by visiting www.fwhps.org, and are $60 for patron tickets and $125 for benefactor tickets. For more information about West Hartford's Cookin', visit www.fwhps.org or call 860-561-8755.
Like what you see here? Click here to subscribe to We-Ha's newsletter so you'll always be in the know about what's happening in West Hartford!