The West Hartford-Bloomfield Health District is looking to implement its own health record system, which won't require email addresses, and is already reaching out to seniors in a variety of ways.
By Ronni Newton
With Phase 1B of Connecticut's COVID-19 vaccination push in full swing for individuals ages 75 and up, West Hartford officials are working on a multi-pronged approach to ensure that residents in that eligible age group – who are most vulnerable to complications from the coronavirus – are able to receive their vaccines.
Those efforts include outreach through the town's senior centers, assistance from the West Hartford Fire Department's paramedics, and even the implementation of a new electronic health record system which won't require each individual being vaccinated to have their own unique email address or a cellphone number.
Aimee Krauss, director of the West Hartford-Bloomfield Health District, has also created a step-by-step guide for use of the Vaccine Administration Management System (VAMS), and the town is hoping that the younger population will assist by reaching out to their family members who are over 75 to offer assistance navigating through the system.
That instruction manual is attached as a PDF below, and is not specific to West Hartford residents.
A few weeks ago, the Health District started holding clinics every Thursday at West Hartford Town Hall as well as on Mondays in Bloomfield, which are open to individuals who qualify in either Phase 1A or those eligible in Phase 1B, and have registered through VAMS. Eligibility is verified before the vaccines are administered, Krauss said.
In addition to providing the guide to VAMS, the Health District and the Town of West Hartford are also working on a variety of plans to make the vaccination process more accessible, particularly to seniors.
"We are looking into a 'homebound' vaccination program and how we can use our paramedics," Krauss said.
West Hartford Fire Department paramedics are in the process of undergoing training through the Health District's program, which includes practical training with a nurse. Assistant Fire Chief Hugh O'Callaghan said as of Tuesday, five paramedics have completed the training, and five or six more will complete the program this week. A total of 16 firefighter/paramedics will ultimately be trained.
O'Callaghan said that paramedics have already been assisting in various roles at the weekly vaccination clinics at West Hartford Town Hall, as well as at other locations. He said the state, and Hartford HealthCare, have been great partners in facilitating that capability.
The state has just approved paramedics being able to do mobile vaccinations – a "treat and release" function that they had not been previously authorized to perform, O'Callaghan said. When vaccines are administered by paramedics outside of a clinic setting, they must still be accompanied by a nurse, APRN, or a doctor.
The details of West Hartford's mobile vaccination program – including the program's name – are still being finalized, and will be announced shortly. The extent to which the program can operate will be determined, in part, by the number of vaccine doses available.
The role of paramedics will be important in getting vaccines to those who may be struggling to get to a clinic, and the Health District will determine who is on that list. "We're ready to support them with whatever they need," O'Callaghan said.
When there are enough doses to expand the number of clinics being offered, paramedics will be ready to take their mobile unit capabilities into the community and hold clinics in places like senior housing developments.
"We will be ready to address that population once we get that program up and running," said Helen Rubino-Turco, director of West Hartford's Social and Leisure Services Department. She's hopeful that will happen in the next four to six weeks.
Krauss also said the Health District is planning to implement its own electronic health record program, which will serve as an alternative to VAMS. Rubino-Turco said that will make a major difference for seniors who may be able to get to clinics, but struggle with VAMS, particularly its requirement that each registrant have a unique email address.
The program being considered by the Health District already exists, and has already been used by public health districts throughout the country and in Connecticut, Rubino-Turco said.
"What's great is you don't need an email," she said. It will allow for communication by phone, as well as by email and/or text.
While West Hartford's two senior centers have remained physically closed, they have continued to engage with their members in a variety of ways, with a robust schedule of programming. The senior centers are also providing outreach to their members who are on their email newsletter distribution with information about how and where to obtain COVID-19 vaccines, Rubino-Turco said.
The West Hartford Senior Center on Starkel Road will be the site of a vaccination clinic on Friday, Krauss said, for those who already received their first dose through the Health District and will now be receiving a second dose.
One additional way in which the town will be connecting with the community and providing assistance with the vaccination process will be by activating a hotline. Town Manager Matt Hart said additional staff resources are being allocated to assist the Health District, and the town is finalizing the development of a hotline to provide information about COVID-19 vaccinations. That hotline should be up and running later this month, and more details will follow.
For those who are able to schedule a vaccination but have difficulty with transportation, ITNCentral CT, which has its offices at West Hartford Town Hall, "is offering friendly, affordable transportation to elderly and visually impaired residents needing a ride to a vaccine clinic," Hart told the Town Council in his report last week. ITNCentral CT can be reached at 860-508-9847 to request the service. 
Connecticut has been consistently ranked in the top three or four nationally in the percentage of vaccinations being administered in relation to doses that have been provided, but the supply of vaccines has been remained the chokehold, locally as well as statewide.
"Not all the time," Krauss said Monday when asked if she has received all of the doses that have been requested by the Health District. She said she had requested 500 this week, but was advised that only 300 would be delivered.
During his press briefing Monday, Gov. Ned Lamont said that 338,859 first doses have been administered to state residents, and 86,285 have received both doses, for a total of 425,144 doses administered.
Disruptions due to Monday's snowstorm are expected to be made up by the end of the week, with providers extending the hours of vaccination clinics.
A new metric released by the state in a chart Monday, which going forward will be updated every Thursday, indicates the number of people and percentage of residents in each town that have received at least one dose of a COVID-19 vaccine, as well as the number and percentage of individuals over age 75 who have been vaccinated. The chart indicates that 13.37% of West Hartford residents overall have been vaccinated, and 43.65% of those over 75 have gotten at least one dose.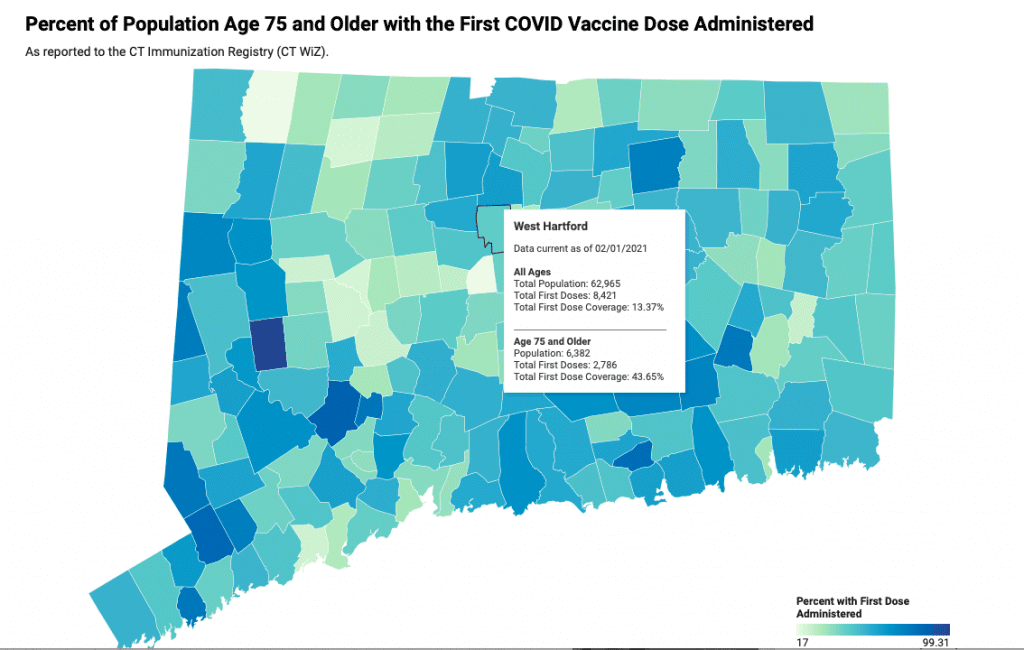 Scheduling a vaccine if you are eligible
Frontline health care workers and medical first responders (Phase 1A) who have not yet been vaccinated, as well as individuals who are 75 or older (first group eligible in Phase 1B), can currently self-register for a COVID-19 vaccine online at ct.gov/CovidVaccine. The instructions created by the West Hartford-Bloomfield Health District will help navigate the sign-up process through VAMS.
An email is required, and those who do not already have their own email address will have to create one. It is not possible to use someone else's email address.
A variety of clinic options, including West Hartford Town Hall, are offered through VAMS.
Those who are eligible can also register for a vaccine by phone through the CT Vaccine Appointment line, 877-918-2224. The appointment line has been created to assist those who have limited access to technology, or who have language and other barriers.
The help line is open Monday through Friday, from 8 a.m. to 4:30 p.m. and offers a callback option when all lines are busy.
The governor said last week that while there had been long wait times reported, the state now has added 80 more people to staff the help line, and wait time has been reduced to 3 minutes.
Only certain locations are available to those who register through the help line – with the closest to West Hartford being Rentschler Field in East Hartford. Vaccination sites are also available at Bristol Hospital and in Danbury, Kent, Middletown, and Stamford, according to the governor's office.
Like what you see here? Click here to subscribe to We-Ha's newsletter so you'll always be in the know about what's happening in West Hartford! Click the blue button below to become a supporter of We-Ha.com and our efforts to continue producing quality journalism.