West Hartford-based Growing Great Schools, its chef partners from Grant's, Bricco, Rooster Company, ON20, Taste by Spellbound, and Clean Food Cookbooks, and the Hartford Symphony Orchestra will join forces for 'A Culinary Symphony.'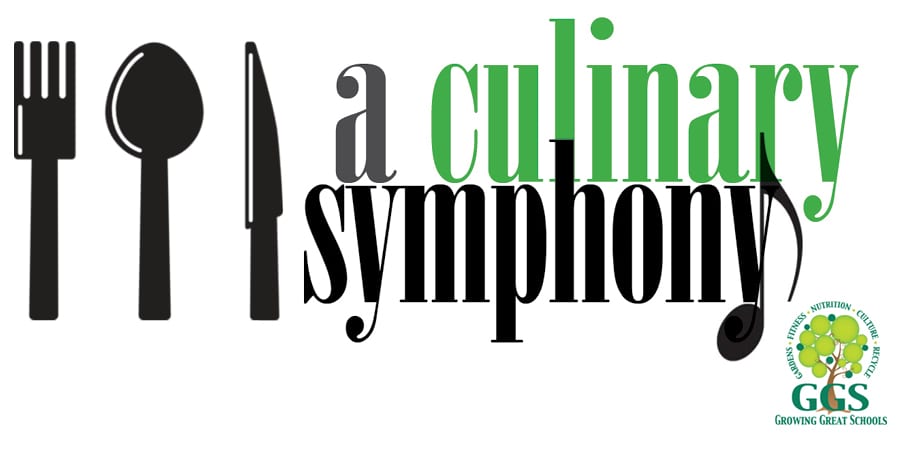 Submitted
The perfect melding of food, drink and music will occur on Saturday, May 21, when Growing Great Schools, (GGS) in partnership with the Hartford Symphony Orchestra (HSO) hosts "A Culinary Symphony."
The evening will begin at 5:30 pm in the Bushnell's Autorino Great Hall with Ray Hardman, host of WNPR's "Morning Edition," serving as host for the event. Cocktails and cuisine will be served by Growing Great Schools' chef partners Billy Grant, Executive Chef and Owner – Grant's Restaurant and Bar & Restaurant Bricco; Jeffrey Lizotte, Executive Chef – ON20; and K.C. Ward, Executive Chef and Owner – Rooster Company. In addition there will be a dessert buffet created by Taste by Spellbound and hors d'oeuvres from clean food cookbook author Terry Walters.
"As the son of a 30-year veteran teacher in the Hartford public school system, I have always known the importance of balancing action, nutrition and education," said Jeffrey Lizotte, Executive Chef at ON20. "I speak for the entire team at ON20 when I say how happy we are to contribute to the growth of this vital program."
The evening will also provide GGS with an opportunity to recognize several individuals for their dedication and commitment to the organization's mission.
Executive Chef Billy Grant has been working with GGS since it's inception and has helped GGS further its mission of creating a culture of wellness and providing all children with access to healthy foods. He will be honored with the GGS silver platter award.
The recipients of the GGS physical literacy award are UConn professors in the Department of Kinesiology Dr. Lindsey J. DiStefano and Dr. Jennifer McGarry. They have helped GGS in its efforts to make kids physically literate for a lifetime of health.
The recipient of the GGS visionary award is Michael Suchopar, executive director of the Bristol Boys & Girls Club Family Center, one of GGS' newest community partners. Suchopar is known for his support of innovative programming for the children and teens served by the clubs he oversees.
At 7:15 p.m. guests will proceed to Mortensen Hall where they will be treated to the Hartford Symphony Orchestra's performance of Playing With Food 4: Food Fight! Emceed by Hartford playwright and personality Jacque Lamarre, Playing with Food 4: Food Fight! will pit local chefs against each other while celebrity judges determine the winner, resulting in the most exciting Playing with Food concert yet! The special ingredient for the chefs' creations will be music, of course – and with on-stage cooking, audience participation, and music performed by the HSO conducted by their own Carolyn Kuan, it's the perfect recipe for a fabulous night out! For more information on Playing with Food 4: Food Fight! visit www.hartfordsymphony.org.
"The goal for this event is to raise awareness and funds for GSS and its growing portfolio of programs and initiatives that are advancing its mission of creating a culture of wellness by connecting food, health and the environment," said Muniba Masood, president of Growing Great Schools. "Proceeds from the evening will go towards increasing fitness opportunities before, during and after school; teaching kids how to cook and choose healthy food; and helping to foster and awareness of how food grows and why it's best to eat seasonal, locally sourced food."
GGS would also like to recognize with gratitude its premiere sponsors Dr. Ishrat Quadri, Dr. Arshad Quadri, and Key Hyundai.
Since its inception five years ago, Growing Great Schools has created a strong environment for children and their families. Parents, chefs, fitness experts, farmers, master gardeners, students and school administrators comprise this community-based effort aimed at broad-based, systemic change.
Tickets for "A Culinary Symphony" are $100 per person or $200 for orchestra seating and an intimate meeting with conductor Carolyn Kuan. Tickets can be reserved at www.growinggreatschools.org.
Growing Great Schools inspires communities to create a culture of wellness by connecting food, health and the environment. The vision of Growing Great Schools is to empower students and their families to become active participants in their nutritional and physical health while caring for the planet.