Westminster Presbyterian Church will host their 2nd Annual Community in Concert on June 9 in West Hartford.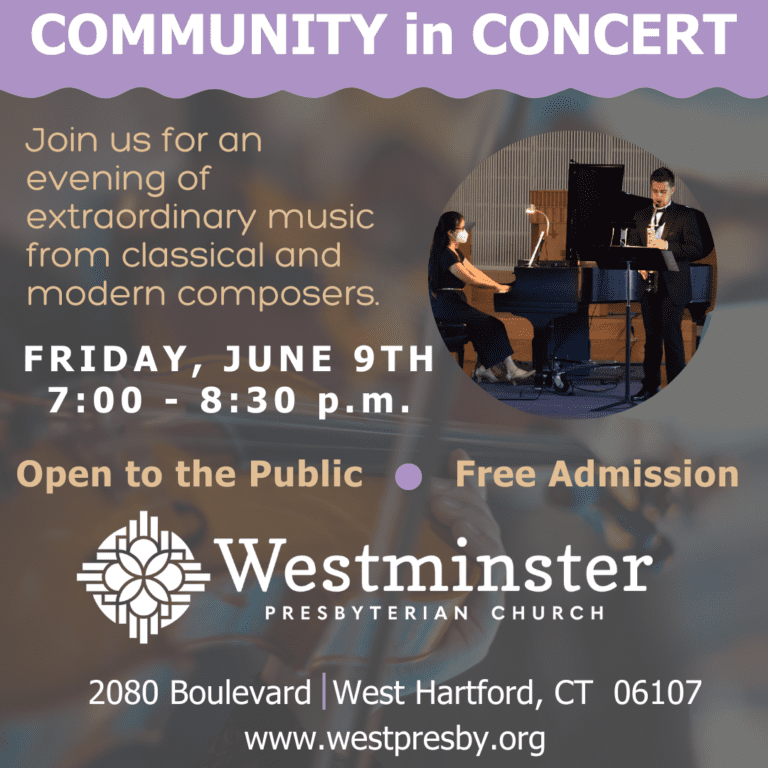 Submitted
Westminster Presbyterian Church will host the 2nd Annual Community in Concert on Friday, June 9, 2023, at 7 p.m. at Westminster. This free event is open to the public.
The concert will include extraordinary music from classical and modern composers performed by local professional musicians. Come celebrate the power of music that brings us together. A reception will follow.
This year's Community in Concert will include a talented array of artists who will share their gifts in vocals, piano, organ, violin, cello, and saxophone. Composers range from the modern including David Briggs and Jake Heggie to the classic including Robert Schumann and Johannes Brahms.
Music has a long and formative role in the community life at Westminster. For over 30 years, Westminster has engaged and supported music scholars from local university music programs to be part of Westminster's music ministry. "In 2022 we hosted our first Community in Concert event to share the talents of Westminster's current music scholars and several other local professional musicians," says Callie Boone, Minister of Music. "Our intent was to foster a community around music and fellowship and help support the sustainability of our music scholar program. The concert was a wonderful success and we're excited about the talented performers who are joining us this year. It will be an amazing night of music." A freewill offering will be collected at the concert to benefit the Westminster Music Scholarship Fund.
Westminster Presbyterian Church, located at 2080 Boulevard in West Hartford, CT, is a vital, engaging, inclusive family of faith that serves God by supporting each other on our spiritual journeys, sharing the gifts we are given, and demonstrating the love and justice of Christ in our community and world. We believe our mission is to offer living proof of a loving God. To learn more about Westminster and its music programs, visit www.westpresby.org.
For additional information, contact Callie Boone, Minister of Music at 860-521-6240 or [email protected].
Like what you see here? Click here to subscribe to We-Ha's newsletter so you'll always be in the know about what's happening in West Hartford! Click the blue button below to become a supporter of We-Ha.com and our efforts to continue producing quality journalism.