West Hartford Community Television will hold its annual event on Oct. 23.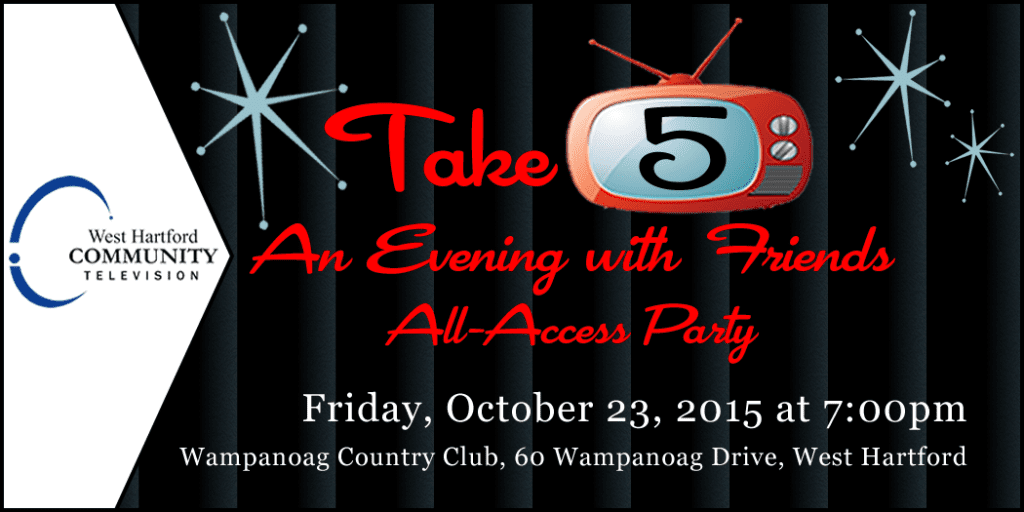 Submitted
Save the date. West Hartford Community Television's lively fund- and friend-raiser, "Take 5," is slated for Friday, Oct. 23, 2015.
And yes, there's still time to support and/or sign up for this unmissable evening of cocktails, dinner, entertainment, and the most amazing silent auction ever. Every penny supports West Hartford community television.
At present, notable West Hartford businesses and individuals, organizations and celebrities are donating goods and services to the auction, and you can too. For a sneak preview, visit the official Take 5 blog, https://whctvtake5.wordpress.com.
All donations, underwriting and ticket sales help support WHC-TV, home of the town's nationally recognized community television and media center whose programs include the award-winning, youth journalism series "Be the Media."
WHC-TV is a non-profit media center depending on public and private dollars in support of its mission of public service to West Hartford "for the community, by the community."
If you would like an invitation, can help as an underwriter, or have goods and services to donate to the Take 5 auction, contact Jennifer Evans, WHC-TV executive director at [email protected]. Or call (860) 561-7955. And thank you.
About WHC-TV: With volunteer on-camera and behind the camera talent, West Hartford Community Television encourages citizen participation in community life by providing an open forum for free speech, community dialogue, cultural exchange and artistic expression.
To view WHC-TV programs on cable and online, visit Comcast Channel 5; Frontier U-verse Application 99; and www.whctv.org