The event is an opportunity to join the 'Y' for an enjoyable night that will also benefit youth development in the community.
Submitted by Robin Messerli, Community Engagement Coordinator, West Hartford/Tri-Town YMCA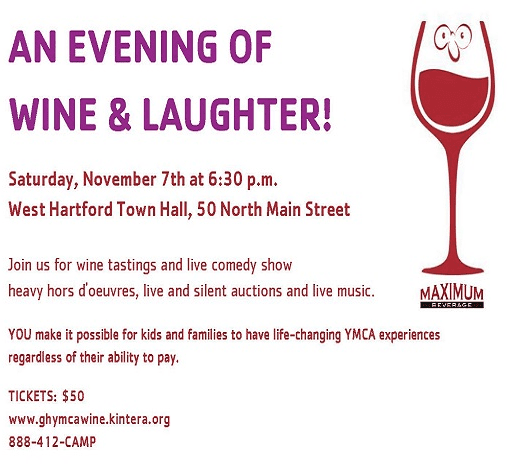 The West Hartford YMCA and Camp Jewell YMCA will hold their Annual Wine Tasting Event and Comedy Night – WINE & LAUGHTER – on Nov. 7 at 6:30 p.m. in the West Hartford Town Hall Auditorium, 50 South Main St., West Hartford.
Proceeds will provide families, regardless of their ability to pay, with residential camp opportunities at Camp Jewell and facility programs at the West Harford YMCA.
"The life skills children in need can gain from a camp experience cannot be understated," said Ray Zetye, Camp Jewell YMCA's executive director. "An opportunity to practice social skills, be physically active and make choices for themselves gives young people improved self-esteem, strengthens coping skills, and combats summer learning loss."
West Hartford-based Maximum Beverage will be the evening's wine vendor and will be providing guests with several different wines to taste. Radio personality, Mark "the Shark" Christopher, will act as emcee for the night, and comedy performances will include the work of Tommy Koenig, of Comedy Central and National Lampoon, and local comedian Rick Roberts.
The event will feature both silent and live auctions including a New York Professional Sports Teams Package, a stay in a historic Maine lake house, a fine dining experience in your home with Chef Michael Bergeron and much more. Food for the event will be donated by several outstanding local restaurants.
This year, a live comedian component has been added to the evening while keeping the price of tickets at $50 each. In an effort to help reach as many kids and families as possible, all of the food for the evening will be donated by outstanding local restaurants.
For each case of wine purchased at the event, buyers will be entered into a drawing to win a free two-week overnight camp session at Camp Jewell YMCA in Colebrook, CT, or two free weeks at the West Hartford YMCA's Summer Adventure Camp.
With your help, the "Y" can send over 500 children to summer camp, provide the LIFESTRONG cancer survivors exercise program to over 300 individuals for free, teach teamwork to over 1,000 kids through sports programs, and provide the important life skill of swimming to more than 500 children.
Tickets for the event are $50 each and can be purchased online at www.ghymcawine.kintera.org or by calling Camp Jewell at 888-412-CAMP.
To donate, please contact Ruthie Napoleone: [email protected].
YMCA Camp Jewell and the West Hartford YMCA are branches of the YMCA of Greater Hartford. The YMCA of Greater Hartford is a non profit 501 (c) 3 charitable organization established in 1852 and is one of the nation's oldest YMCA's. The YMCA for Youth Development: Nurturing the potential of every child and teen, for Healthy Living: Improving the nation's health and well-being, for Social Responsibility: Giving back and providing support to our neighbors. The YMCA of Greater Hartford has consistently served more than 111,000 people annually, including 66,000 children, in 46 towns and cities throughout the Capital Region. YMCA programs put the values of caring, honesty, respect and responsibility into practice to build healthy spirit, mind and body for all participants.