Donations of new, unwrapped toys are needed for a Toys for Tots event that will be held on Saturday, Dec. 17 at Westfarms.
By Ronni Newton
As the holiday season heads into the final stretch, the U.S. Marine Corps Toys for Tots Foundation is facing a shortage of toys for its local campaign, and organizers are hoping that a large toy drive that will be held at Westfarms on Saturday, Dec. 17, from 9 a.m. until noon, will have a major impact on the collection.
The Plainville Toys for Tots campaign is the biggest in Connecticut, serving Hartford, Litchfield, and Tolland counties. "Last year we had 41,000 toys, and this year we need 50,000," Toys for Tots Coordinator SSgt. Xavier Pacheco said. "We have to be done by Dec. 20, and as of Friday we had only collected 20,000 toys."
The Toys for Tots campaign started months ago, and is usually complete by this time in December.
Pacheco said some of the collection events they have held haven't done as well as in past years, and they are particularly in need of toys for children ages 10 and up. "We don't even get a chance to put the toys in the warehouse," he said.
As soon as they unload bags of donated items and sort them, the toys are immediately shipped out to organizations and families that have registered to participate in Toys for Tots. There are 170 nonprofit organizations throughout the region that have been accepted to participate in the program, as well as individuals.
The Toys for Tots event at Westfarms traditionally draws a crowd, with enough donations to fill a 20-foot truck each year. Dennis House of WTNH, which is Westfarms' TV partner, will be on hand Saturday along with other celebrity "elves" from West Hartford, Farmington, and the surrounding area, including Lisa Carberg, Rich Coppola, Tina Detelj, Ryan Munn, Laura Hutchinson, and Joe Furey from New8, West Hartford Mayor Shari Cantor, and others.
Santa will arrive by firetruck at 9 a.m., and cut the red ribbon to open the collection, which will run through noon in the parking lot near the California Pizza Kitchen entrance to Westfarms.
"This is an opportunity for Westfarms to hold one of those really big toy drives, to help make the Toys for Tots campaign successful before Dec. 20," said Westfarms spokesperson Amanda Sirica. "Even the Westfarms team is going shopping to buy $1,000 of toys for the drive."
The Toys for Tots This is part of Westfarms' Community First initiative, which has supported multiple nonprofits this holiday season. "There has been a lot of giving to a lot of incredible organizations this holiday season through Community First," Sirica said, and she is hopeful that the Toys for Tots event will be successful.
For more information about the Plainville Toys for Tots campaign, visit their website.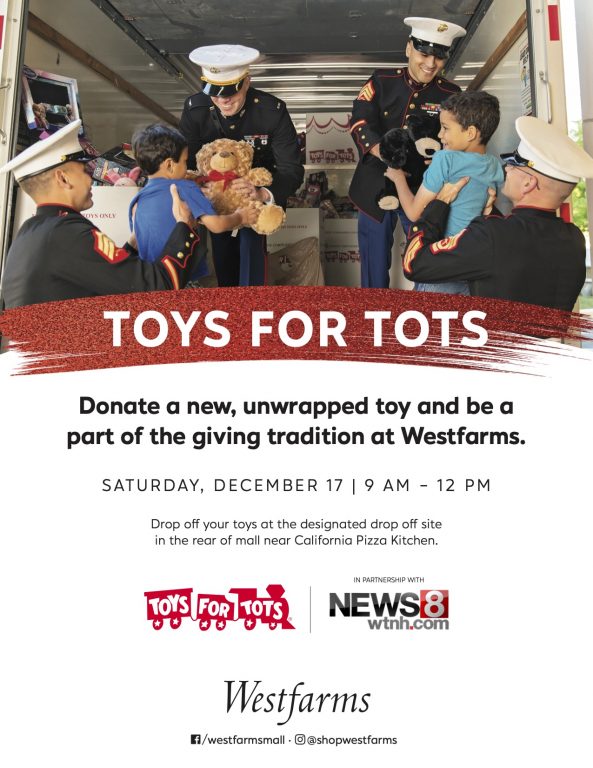 Like what you see here? Click here to subscribe to We-Ha's newsletter so you'll always be in the know about what's happening in West Hartford! Click the blue button below to become a supporter of We-Ha.com and our efforts to continue producing quality journalism.