People ages 45-54 will become eligible for vaccination as of Friday, March 19, and a few weeks later eligibility will open to all who are 16 or older, with those who are medically vulnerable able to be prioritized.
By Hugh McQuaid, CTNewsJunkie.com 
Connecticut will step up its vaccination eligibility timeline with plans to allow anyone over the age of 16 to make an appointment beginning on April 5, Gov. Ned Lamont announced Monday.
Initially, Lamont had not expected to begin making appointments available for the youngest age bracket until early May. But enhanced vaccine supply from the federal government, the early vaccination of health care workers and educators, and the anticipation of somewhat less aggressive demand among the pending age groups will allow the timeline to accelerate, administration officials said.
Monday's announcement also allows medical providers and the Department of Developmental Services to prioritize access for the most medically vulnerable residents during the rollout next month.
The new timeline will lower the age-based eligibility threshold to 45 years old on Friday, March 19 rather next Monday, as was previously announced.
The governor said he opted to accelerate the timeline because he anticipates the number of doses Connecticut is allocated from the federal government will soon ramp up to about 200,000 doses a week.
"Because the rollout is going along pretty well, because the supply is … stronger than maybe we'd anticipated even a couple weeks ago, we're going to be able to accelerate our schedule just a bit," Lamont said at a Monday press briefing.
The governor did not provide specific guidelines for which vulnerable conditions would be prioritized starting April 5. He said health systems and medical providers could use their expertise to make appointments available to the patients still most in need.
"Rather than sitting around, trying to determine whose comorbidity is more severe than others, use your judgment. Make room for those who probably are a little more at risk," he said.
Josh Geballe, state chief operating officer, said DDS also would look for opportunities to establish dedicated clinics for people with intellectual and developmental disabilities. The clinics would provide them "with a comfortable environment to get the vaccine, recognizing the needs are a little different there."
When the state lowered the eligibility threshold to 55 years old on March 1, a wave of newly eligible residents overwhelmed appointment-booking systems. As of Monday, about 40% of that cohort had received their first dose of the vaccine. Some are still waiting on vaccination dates a couple weeks from now, but the state expects more appointments to come online this week, Geballe said.
"I think that by the time we get to Friday and open up to the next level of eligibility, we'll be above 50% of that 55-to-64 group will have actually been vaccinated and another 10% at least will have appointments scheduled in the next week," Geballe said. "We'll be well-covered there as we move to the next phase."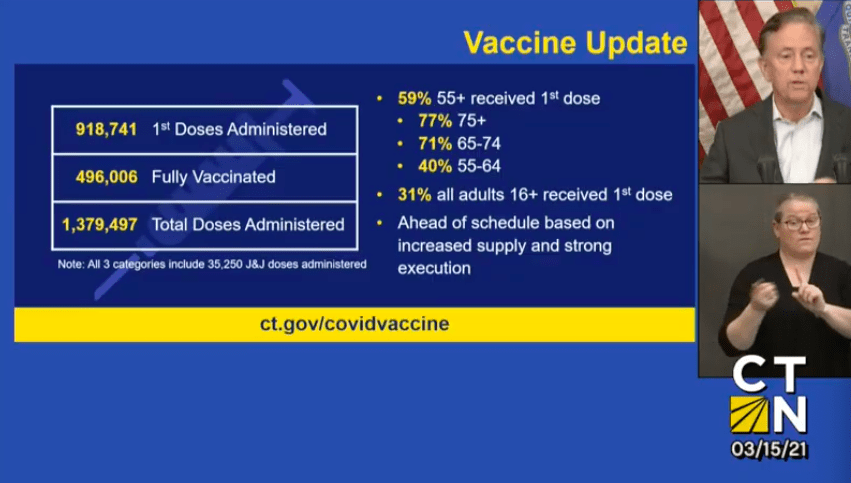 Lamont cautioned that the first days of any new eligibility are typically hectic and overbooked. But in general, he speculated that demand may be lower as the state reaches into younger age groups.
"Don't take your foot off the accelerator. I want you to get vaccinated, we need everybody, but right now there may be not quite the same demand as there were for the 65-year-olds who were really rushing the gate when their opportunity came up," Lamont said.
Even if demand is lighter, the new timeline means a substantial number of people will become eligible in the next three weeks. There are about 477,000 Connecticut residents in the 45-to-54 age group that can begin making appointments on Friday. Geballe said about 85,000 of them had already received a vaccine because they qualified for an earlier phase of the rollout.
Meanwhile, about 1.3 million people fall into the 16- to 35-year-old bracket. Around 160,000 of them were already vaccinated, Geballe said.
The announcement comes on the heels of direction from President Joe Biden last week to open eligibility to all adults by May 1. Lamont issued a press release at the time saying he accepted the president's challenge.
Republished with permission from CTNewsJunkie.com, all rights reserved.
Like what you see here? Click here to subscribe to We-Ha's newsletter so you'll always be in the know about what's happening in West Hartford! Click the blue button below to become a supporter of We-Ha.com and our efforts to continue producing quality journalism.