The four candidates running in the 5th State Senate District Special Election will have three upcoming opportunities to debate prior to the election.
By Ronni Newton
The League of Women Voters of Greater Hartford and West Hartford Community Television (WHC-TV) will host a debate Friday evening between the four candidates running for the vacant 5th State Senate District seat in a special election on Feb. 26, 2019.
Beth Bye was elected to the 5th District seat in November 2018, but was named head of the Office of Early Childhood by Gov. Ned Lamont and resigned rather than taking the oath of office when the current legislative session began on Jan. 9.
The four candidates are: Democrat Derek Slap of West Hartford, Republican Bill Wadsworth of Farmington, Jeffrey P. Przech of Farmington, a Libertarian who was endorsed by the Independent Party, and Mark Stewart Greenstein of West Hartford, a petitioning candidate running as a member of the Amigo Constitution Liberty Party.
Friday's debate is scheduled to begin at 5: 30 p.m. in Town Council Chambers (Room 314) at West Hartford Town Hall, 50 South Main St. In addition to questions posed by the League of Women Voters, the debate will provide the opportunity for the audience to ask the candidates to respond to questions submitted to the moderator on notecards. A representative of the League of Women Voters will serve as moderator.
The debate will be telecast and streamed live on WHC-TV. It will also be replayed on weekdays at 10:30 a.m. and 5:30 p.m., through the special election day, and will be available on demand on WHC-TV's YouTube channel.
"WHC-TV is excited about presenting this debate to encourage all members of our community to learn more about their public officials," said WHC-TV Board of Directors President Mark Walker in a statement. "Access to local information and politicians is so critical for a healthy community and builds common understanding and values and a stronger West Hartford."
For more information, visit West Hartford Community Television's website.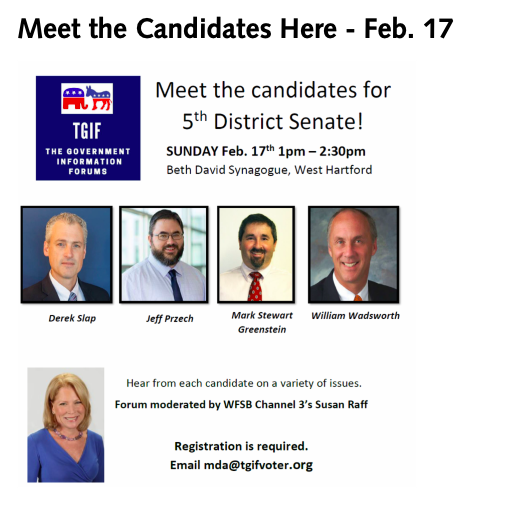 The candidates will have two additional opportunities to debate in advance of the special election.
On Sunday, Feb. 17, a debate will be held at Beth David Synagogue, 10 Dover Rd., West Hartford. The debate will last from 1-2:30 p.m., and is sponsored by The Government Information Forums. It will be moderated by WFSB Channel 3 reporter Susan Raff.
Registration is required for the Feb. 17 debate, and those who would like to attend should email [email protected].
A final opportunity for the candidates to debate will take place on Wednesday, Feb. 20, at Farmington High School, 10 Monteith Dr., Farmington.
The Feb. 20 debate will be co-hosted and moderated by the Farmington High School Political Action Club and Student Council. For more information, contact Lance Goldberg at [email protected].
All four candidates have submitted profiles to We-Ha.com. Click on their names below to access their candidate profile information.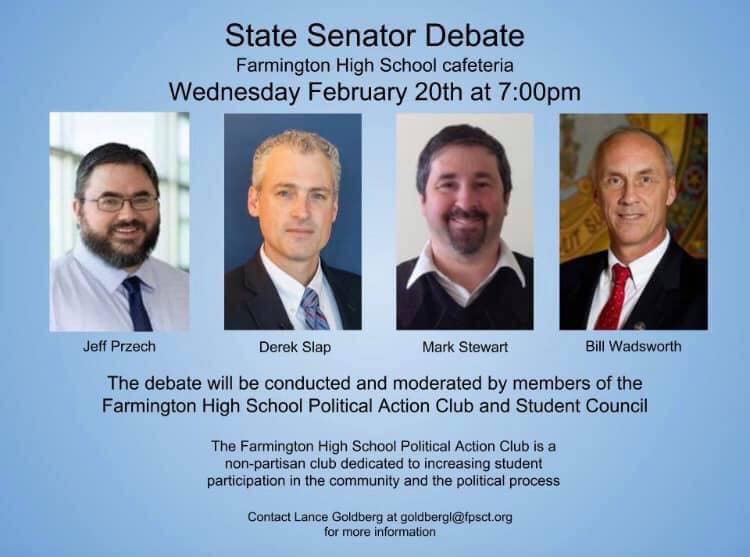 Absentee ballot applications for the special election are available online on the Town of West Hartford website, or can also be picked up in the Town Clerk's Office.
The Town Clerk's office is open Mondays and Wednesdays from 8:30 a.m.-4:30 p.m., Tuesdays from 7:30 a.m.-4:30 p.m., Thursdays from 8:30 a.m.-7 p.m., and Fridays from 8:30 a.m.-noon.
For further information on registering to vote, please call the Registrar of Voter's office at 860-561-7451, and for absentee ballot information, call the Town Clerk's office at 860-561- 7430.
The 5th District encompasses the entire Town of West Hartford, all of Burlington, and portions of Farmington and Bloomfield. All registered voters, from any party, are eligible to vote in the special election.
All nine of West Hartford's polling places will be open for voting from 6 a.m.-8 p.m. on Feb. 26.
Like what you see here? Click here to subscribe to We-Ha's newsletter so you'll always be in the know about what's happening in West Hartford!