The St. Patrick's Day-themed 'Johnny's Jog for Charity' 5K was held on Sunday, March 26, 2023, in West Hartford's Blue Back Square.
By Ronni Newton
Sunday dawned with a thick fog over West Hartford, but by the time the festivities surrounding Johnny's Jog for Charity began the sun was shining brightly – perfectly matching the atmosphere as a record-setting number of people gathered in West Hartford's Blue Back Square.
Organizer Dan Moran said there were 1,500 people registered for the race – and many more who came to cheer them on or participate in other ways.
They showed up not just to run or walk the 5K course through West Hartford's neighborhoods, but also to enjoy an Irish Step Dancing performance and other music, enjoy coffee and hot chocolate courtesy of Kilwins and Dunkin' Donut's GAD franchisee, and most importantly to support the local nonprofits who serve area children.
Laura Moran and her husband, Dan Moran, and their friends and fellow West Hartford residents Dan and Kelly Clark, started the 5K fundraising event in 2011. The event was inspired by the incredible, brave, but sadly brief life of Laura and Dan Moran's son, Johnny, who was born in 2007 with Wieacker Wolff Syndrome, a rare and debilitating condition. Johnny passed away in April 2016, but the organization and race founded in his honor continue to celebrate his resilience, strength, and positive attitude, and bring the community together.
Organizers said that prior to this year, more than $700,000 has been raised for local charitable organizations that benefit children. Dan Moran said he expected this year's event – which also includes an after-party and auction at Rockledge Grille – to raise another $100,000.
"This is the biggest turnout we've ever had," Dan Clark said.
Participants had the option of being timed, and Greg Weaver of West Hartford was the first to cross the finish line under an arch of green and white balloons, completing the race in 17:02. Evan Piccioli of West Hartford was second, in 17:18, and the third place finisher was Jordan Zinn, who finished in 18:45.
Crossing the line in fourth place overall in 19:26 was the first female finisher, Jillian Agarwal of West Hartford.
The beneficiaries of the race are all children's-related nonprofits, and include Covenant Preparatory School of Hartford, which provides tuition-free middle school to boys in underserved families in the City of Hartford in order to help them graduate academically prepared for further education (www.covenantprep.org); the Miracle League of Connecticut, which fosters a community and sports facilities that remove all barriers so young athletes with unique needs are able to join their friends and experience the joy and triumph of team sports in their purest form (www.miracleleaguect.org); and the Molly Ann Tango Memorial Foundation which helps finance the purchase of much-needed medical supplies or services when insurance is exhausted and other social programs are unavailable (www.mollytango.org). These organizations benefit the lives of countless children annually and depend on communal donations to do so.
In 2020, to spread the love even further in the community, Johnny's Jog added a fourth, rotating charity, termed a "Clover Club Charity." This year's chosen Clover Club beneficiary is West Hartford-based Friends of Feeney, which assists children and families in the community who need assistance after trauma or tragedy (www.friendsoffeeney.com). Friends of Feeney also had a Photo Booth at the event.
Johnny's Jog is thankful to NBT Bank for showing impressive community support by becoming the event's first exclusive Grand St. Patrick's Club sponsor. NBT Bank has been a sponsor for the past several years.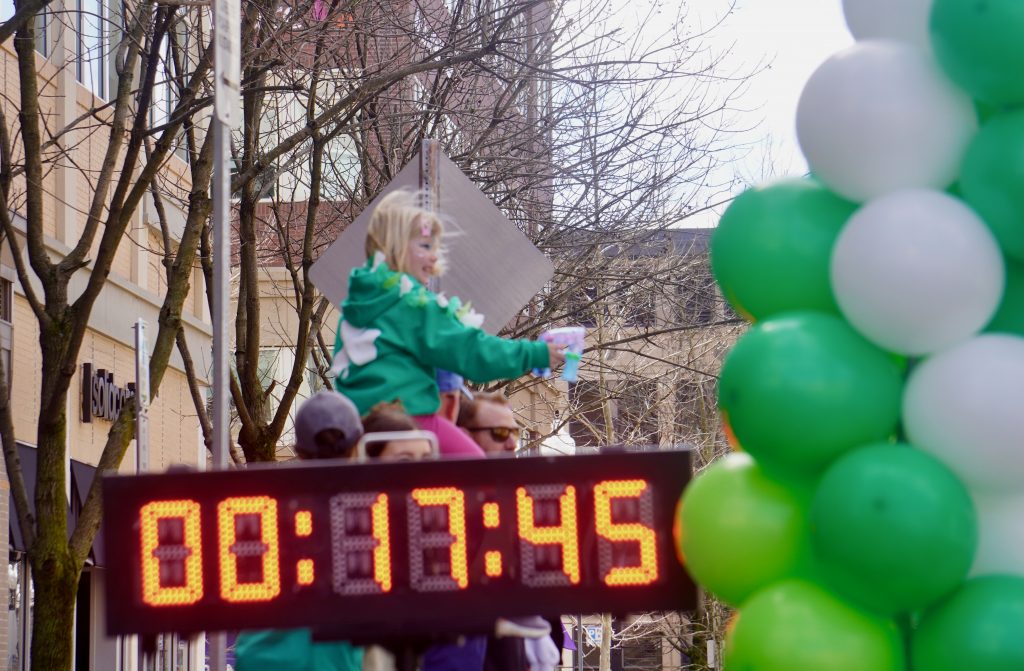 Like what you see here? Click here to subscribe to We-Ha's newsletter so you'll always be in the know about what's happening in West Hartford! Click the blue button below to become a supporter of We-Ha.com and our efforts to continue producing quality journalism.