The third annual 'Taste of Elmwood,' scheduled for Feb. 4, 2016, at Saint Brigid School, will showcase a delicious sampling of the best this West Hartford neighborhood has to offer. 
By Joy Taylor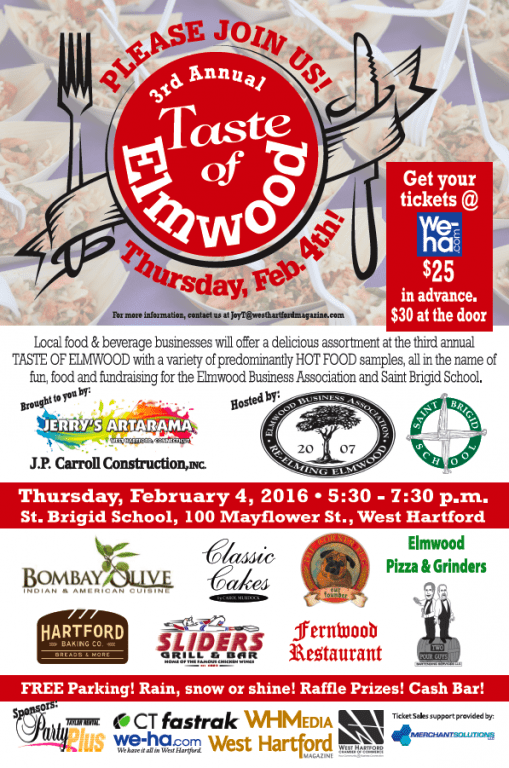 Updated 1/24/16. More participants just added, including Corner Pug. Please see below and get your tickets before they sell out.
Original Story:
Many of Elmwood's favorite eateries have already signed on to participate in the third annual Taste of Elmwood, and will bring an assortment of delicious menu items and beverage selections together for guests to sample – all under one roof.
"One thing that I love about West Hartford restaurants is the variety of tastes and settings," commented Dr. Rick Liftig, a local dentist who serves as president of the Elmwood Business Association.
"There's a whole crowd of venues just waiting to be sampled and surprise – they aren't all in the Center! The Taste of Elmwood puts a spotlight on these local gems and is a great chance to expand your palate. Plus, as always, there's free parking!" Liftig said.
Taste of Elmwood is also a fundraiser, and will benefit the Elmwood Business Association as well as Saint Brigid School.
The current list of participants (revised 1/24/16):
•  Bombay Olive
•  Classic Cakes
•  Corner Pug
•  Elmwood Pizza & Grinders
•  Fernwood Restaurant
•  Hartford Baking Company
•  Sliders Bar & Grill
•  Two Pour Guys
The third annual Taste of Elmwood will be brought to you by Jerry's Artarama and J.P. Carroll Construction. Other sponsors include the Elmwood Business Association, Taylor Rental Party Plus, West Hartford Chamber of Commerce, We-Ha.com, and West Hartford Magazine. Ticket sales support is provided by Merchant Solutions.
The event will take place on Thursday, Feb. 4, 2016, from 5:30 – 7:30 p.m., at the Saint Brigid School campus, 100 Mayflower St., West Hartford. Free parking is available in the school lot.
Tickets can be purchased online via the following secure link:  Taste of Elmwood Ticket Order Form. If available, tickets will be sold at the door. Advance ticket price is $25, at the door, $30.
For more information, please call 860-508-4032.
Like what you see here? Click here to subscribe to We-Ha's newsletter so you'll always be in the know about what's happening in West Hartford!