2-4-1 and Fleet Feet are teaming up to raise awareness for movement and mental health, and participants are invited to run, jog, or walk the 'Blue Jean Mile' in memory of West Hartford resident Jason Hannigan.
Submitted
On Saturday, May 6, from 5:30 – 8 p.m. at Conard High School's track, West Hartford based nonprofit, 2-4-1 CARE and Fleet Feet Hartford are teaming up to host their own Blue Jean Mile in memory of beloved resident and friend Jason Hannigan, to raise awareness about local resources that focus on movement and mental health.
Proceeds from the event will fund free 2-4-1 programs in the Hartford area that focus on skill-based social emotional learning development through sports.
"Physical and mental health go hand-in-hand in our overall health and wellbeing. Our wish is that this event will be filled with joy and be a true community event that genuinely celebrates Jason's life and lifts up mental health awareness," said Steve Boyle, executive director of 2-4-1.
Stephanie Blozy, owner of Fleet Feet said, "Two of our favorite things about Jason were his smile and laugh. We can think of no better way to celebrate him than with this crazy fitness event that is sure to boost the mind, body and soul. We dare you to not laugh as you run a mile in jeans!."
In 2020, ASICS athlete Johnny Gregorek set the world record for the Blue Jean Mile, running a 4:06.25 in blue jeans!  His goal for the event was to raise awareness and funds for the National Alliance on Mental Illness of NYC (NAMI-NYC). In an effort to build an annual event around Gregorek's efforts, ASICS is leaning into the work he started to elevate the importance of mental health and finding the ultimate balance.
Wear your favorite blue jeans whether you're walking, jogging, joggling – yes, jogging while juggling is a thing – or trying to break Gregorak's record or maybe even a new Guinness World Record. Several heats will be offered as well as one for kids and parents and an Elite Heat for runners looking to set the record in Hartford. Male and female winners of the Elite heat will win a pair of ASICS shoes!
This event promises to be fun for the whole family as 2-4-1 will have multisport games and activities for all to participate in! Rock painting will be provided by Love Your Mental Health.
To sign up or support the event go to https://241sports.com/camps/fleet-feet-blue-jean-mile/ or scan the QR Code below.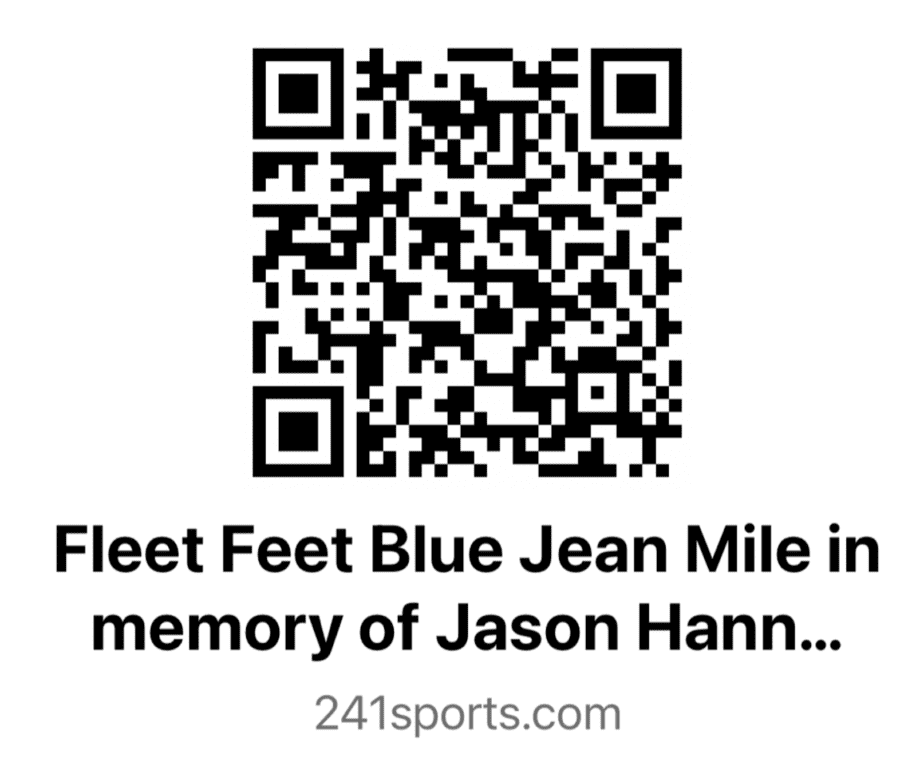 Like what you see here? Click here to subscribe to We-Ha's newsletter so you'll always be in the know about what's happening in West Hartford! Click the blue button below to become a supporter of We-Ha.com and our efforts to continue producing quality journalism.