On Tuesday, March 17,  the West Hartford Board of Education will consider several options for changes to its policy on mascots and activity names at Conard and Hall high schools.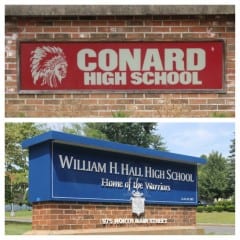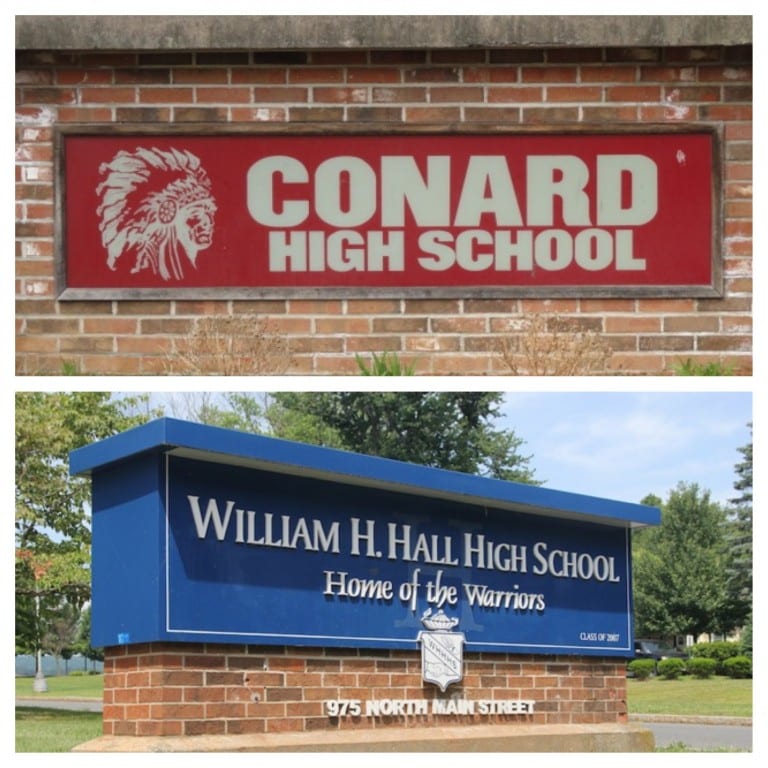 By Ronni Newton
An ongoing townwide debate about the Conard Chieftain and Hall Warrior names and Conard's Native American mascot and logo, that was reignited after displays of intolerance surfaced at a soccer game between the two schools last fall, will be one step closer to settlement following the West Hartford Board of Education's proposed changes to policy relating to "Mascot and Activity Names and Images."
The Board of Education agenda for the Tuesday, March 17, 2015 meeting includes a first reading of three different options designed to codify its policy on the matter. Board members Bruce Putterman and Terry Schmitt, who have served as the board's subcommittee on policy change for many years, worked closely with West Hartford's Assistant Corporation Counsel Kimberly Boneham and Assistant Superintendent for Administration Andrew Morrow to craft the proposed policy wordings.
Schmitt said Friday that board did not initially plan a policy change when the debate became elevated last fall, but they knew that the matter of the names and Conard's mascot needed resolution.
"Ultimately we decided that the proper and appropriate way to do this was as policy," Schmitt said.
The issue was a major topic of discussion during Human Rights Day at the high schools in December, and was also the subject of a lengthy community forum in the Town Hall Auditorium on Feb. 12 that attracted a standing-room-only crowd including 60 speakers.
Policy change cannot be finalized until after a second reading, but on Tuesday the board will discuss all three proposed options and decide which will be the subject of a second reading and vote at a subsequent meeting now scheduled for 7 p.m. on March 25, preceding an already-scheduled public hearing on the education budget.
The three drafted policy options are:
Retaining the Chieftain and Warrior names and a Native American mascot/logo, provided that "all school-sanctioned and school-funded names, mascots, symbols, and images shall be developed in conjunction and collaboration with local Native American leaders";
Eliminating existing names/mascots/logos and adopting policy that "use of mascots, symbols, images, or nicknames that are directly related to or commonly associated with any particular race or ethnicity is prohibited"; and
Adopting the prohibition outlined above, but "acknowledging the long-standing tradition that has developed around the use of the names 'Chieftain' and 'Warrior,' the terms 'Chieftain' and 'Warrior' are expressly exempted from this prohibition. The prohibition shall apply, however, to mascots, symbols, and images used in connection with the names 'Chieftain' and 'Warrior.' It shall also apply to ALL other names or nicknames, including but not limited to school-sanctioned clubs, organizations, or activities."
All three options also including adding curriculum that "enhances understanding of Native American cultures."
"I anticipate that we will have a substantial discussion on Tuesday," Board Chairman Mark Overmyer-Velazquez said. He said that board members have already had many discussions among themselves as well as with students, teachers, and others from the community.
On Tuesday, each board member will have the opportunity to read remarks prepared in advance of the meeting.
"I expect a very lively discussion, but also a very respectful discussion," said Schmitt, who is part of the board's Democratic majority. He said that he has been very impressed with his board colleagues throughout the process. "We've all learned, grown, altered and changed our thoughts," Schmitt said.
"We've worked really hard as a board throughout this process, talking to a lot people from the town, students, administrators," said Republican board member Mark Zydanowicz. "Both the board and the town have learned a lot, and the process that the kids have gone through has been enlightening to us. It demonstrates a great educational process," he said.
Schmitt said that he believes that the more people study the issue, the more they are "willing to disassociate the imagery from what our schools represent."
"The initial reactions are visceral, but we have all ended up in a different place after study," Schmitt said.
Personally, Zydanowicz said although he believes there needs to be change, "I think there's room for working with the Native Americans here in Connecticut to develop new logos that still honor the Native Americans." It's important to look at the issue regionally, he said, since Native Americans in different parts of the country have different beliefs and traditions.
"Education is really why we're all here," Zydanowicz said. He is very much in favor of adding more study of Native Americans to the curriculum, but said he would prefer to include it as part of freshman orientation to ensure that it reaches all students rather than only those who choose to take a particular course.
Overmyer-Velazquez said that on March 25 the Board of Education will have a final reading and then vote on whatever policy options remain under consideration after the March 17 discussion.
Once a policy is approved, the board recommends that implementation of any change be made by a committee appointed by the principals "composed of school administrators, teachers, non-certified employees, students, parents, and other members of the school community, to develop new names and/or new logos and related images by June 15, 2015."
According to the proposed policy, the Board of Education "will fund the engagement of a marketing or graphic design professional to support this work. All reasonable efforts will be made to begin to replace nonconforming names and images starting at the beginning of the 2015-2016 school year."