A project focused on West Hartford's Old North Cemetery will begin with a conservation workshop on Oct. 9.
By Ronni Newton
A stroll through the Old North Cemetery on North Main Street in West Hartford reveals gravestones bearing many familiar names – names used for town roads, schools, and key landmarks – but it's also quickly apparent that many of the stones are in a state of disrepair.
"I've always had an interest in doing something about that cemetery," said Matthew Warshauer, a history professor at Central Connecticut State University who is known to town residents for the Halloween displays at his North Main Street home, right up the street from the historic cemetery.
Many of West Hartford's founders are buried in the Old North Cemetery, which was created in the late 18th century after the Old Center Cemetery (a block farther south) became too small. It also serves as the final resting place of veterans from the American Revolution, War of 1812, and the Civil War.
Even the markers themselves are important from a historic perspective, Warshauer said, with tombstones and monuments, including numerous obelisks, made of granite as well as brownstone and exemplifying a variety of styles of funerary carving and design.
Warshauer has been waiting for the right graduate student to come along who also exhibited an interest in the Old North Cemetery, and Caleb Lincoln, currently enrolled at CCSU earning his master's in public history, has made it his capstone project.
To launch the project, which also involves partnerships and collaboration with the Noah Webster House & West Hartford Historical Society, Connecticut League of History Organizations, Conserve ART, Connecticut Gravestone Network, West Hartford Public Schools, and the Witness Stone Project, West Hartford Rotary, and the Town of West Hartford, a conservation workshop is scheduled for Saturday, Oct. 9, from 9 a.m.-2 p.m. A rain date has been set for Oct. 10.
Francis Miller of Conserve ART, who recently spearheaded the conservation of  "Forlorn Soldier," a brownstone sculpture of a Civil War figure now moved inside the State Capitol building in Hartford, will lead the workshop. Warshauer said Miller will provide a mini-tutorial of the history of New England cemeteries as well as stone conservation.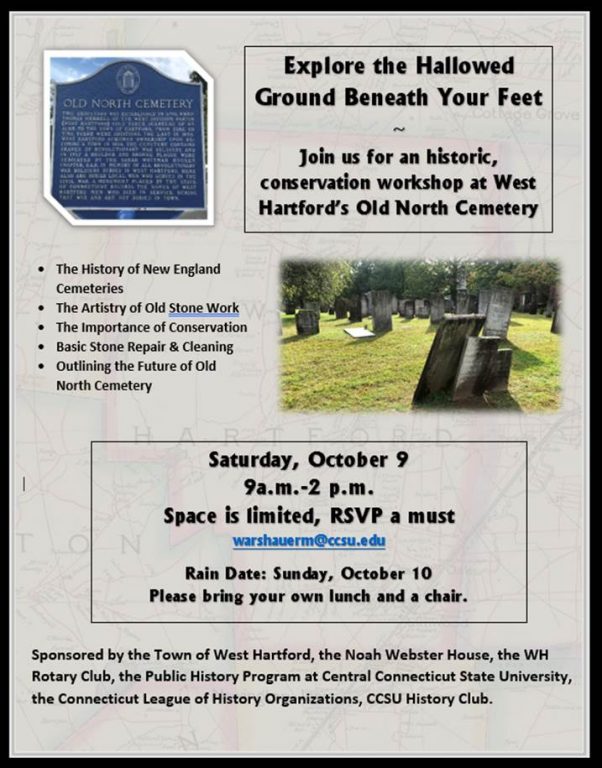 "Over the years, more and more of the stones have fallen into disrepair," Warshauer said. They are cracked, some are broken, and others have fungi and other materials growing on their surfaces.
"I think cemeteries are important to preserve the history of a community," said Jennifer DiCola Matos, executive director of the Noah Webster House & West Hartford Historical Society. She said she looks forward to partnering with the other organizations.
The ultimate goals of the project are to uncover the cemetery's history, to clean and conserve the historic stones using appropriate methods so they are not further damaged, and to create an educational component that may include developing a website and documenting the site on a plot map if one cannot be located. West Hartford middle and high school teachers will participate in the education piece, helping develop "a Place Based History project so that local students can learn about Connecticut and national history through the lives of local, historical figures."
Lincoln, as part of his capstone project, will also look to get the Old North Cemetery listed on the Register of Historic Places. "Once this gets approved, it opens up grant funding," which will be needed for the rest of the project, Warshauer said.
"This is the very beginning stage," Warshauer said. There are short, medium, and long-term goals, including ultimately perhaps creating a "friends of Old North Cemetery" organization in West Hartford as a public-private partnership to ensure the site is properly maintained into the future.
Warshauer said he foresees people who have an interest in history and landscaping may want to get involved, and there are also opportunities for associated Eagle Scout projects.
"The sky is the limit … but it's very much needed and it's time to do it," Warshauer said.
The Old North Cemetery is visited once a year by those who attend the Noah Webster House & West Hartford Historical Society's "Hauntings" event, which will return for the 16th time this year during the last two weekends of October, but other than that it goes mostly unnoticed along the side of North Main Street.
"We drive by all the time, but it's an important place that drives the history of our town," Warshauer said. "It's an 18th Century graveyard, but we don't even know if there's a map or a plot plan." He did note that the front right section of the cemetery is the oldest part, where many Revolutionary War and War of 1812 solders and their families are buried.
There's also a marker, just before the cemetery extends back from the driveway, where there is a marker commemorating all West Hartford soldiers who died in the Civil War.
Cemeteries are more than just graveyard, however. Before the national movement to develop parks, Warshauer said, cemeteries were places where members of the community would go for picnics and other recreational activities. That's one reason why some area cemeteries, such as Cedar Hill in Hartford, have such ornate landscape designs.
Warshauer said 30 to 40 people can be accommodated at the conservation workshop. There is no cost, but advance registration is required by emailing him at [email protected].
"This is a launching point for a much larger project," he said.
"I really applaud Professor Warshauer for these efforts, including getting the cemetery listed on the National Register of Historic Places," Matos said. "It's a wonderful idea, and a wonderful effort to get on the registry, to make people aware of its importance."
Like what you see here? Click here to subscribe to We-Ha's newsletter so you'll always be in the know about what's happening in West Hartford! Click the blue button below to become a supporter of We-Ha.com and our efforts to continue producing quality journalism.