The West Hartford Exchange Club honored a member of the West Hartford Police Department and the West Hartford Fire Department at its Public Safety Night on April 19, 2023.
By Ronni Newton
The West Hartford Exchange Club, which is celebrating its 90th anniversary this year, held a Public Safety Night at Rockledge Grille on April 19, honoring members of the West Hartford Police Department and West Hartford Fire Department who had been chosen by their peers.
For 2023, Sgt. Amanda Martin was recognized as the West Hartford "Police Officer of the Year," while Apparatus Operator William Schappert was named the Exchange Club's "Firefighter of the Year."
Both are outstanding individuals who have greatly impacted the community, said Exchange Club President Shawn Richard. "These individuals have done extraordinary things that they'll probably say is just part of the job or is no big deal when in reality we all know better. They are truly special, and we are honored to have them here with us tonight," he said.
"Additionally, we would like to recognize the families of our police officers and firefighters," added Richard. "Without their love and support we would not have the incredible level of service we have come to know in West Hartford. They are the reason our police officers and firefighters can protect and serve so well."
Martin has been a member of the West Hartford Police Department since 2010. A graduate of Triton Regional High School in Massachusetts, she has a degree in nutritional sciences from UConn, where she was a member and captain of the track and field team and also a member of the softball team.
Since joining the West Hartford Police Department and graduating from the Connecticut Police Academy, Martin has served in the Patrol Division, as a field training officer, manager of crossing guards, and as a school resource officer at Conard High School. She is also a member of the department's honor guard, a crisis negotiator, and an oral board specialist responsible for vetting new candidates. She has received multiple unit citations, a merit award, and a life-saving award.
Martin was promoted to sergeant in 2020, and is currently the department's public information officer.
Schappert served in the role of public relations officer for the West Hartford Fire Department throughout the COVID-19 pandemic, and his involvement in various activities has positively impacted the community's residents and visitors. He has also served as a paramedic preceptor and has been instrumental in West Hartford earning the designation as a HEARTSafe community.
Schappert, according to the proclamation presented on Public Safety Night, "was nominated and selected by his peers for his professionalism, courage, commitment, willingness to go above and beyond, and for his constant demonstration of an unwavering positive attitude toward his fellow firefighters and members of the community."
In addition to family and friends, many other members of both the police and fire departments attended the event, as did Town Manager Rick Ledwith, Mayor Shari Cantor and members of the Town Council.
The event was organized by longtime Exchange Club member Rusty Everett.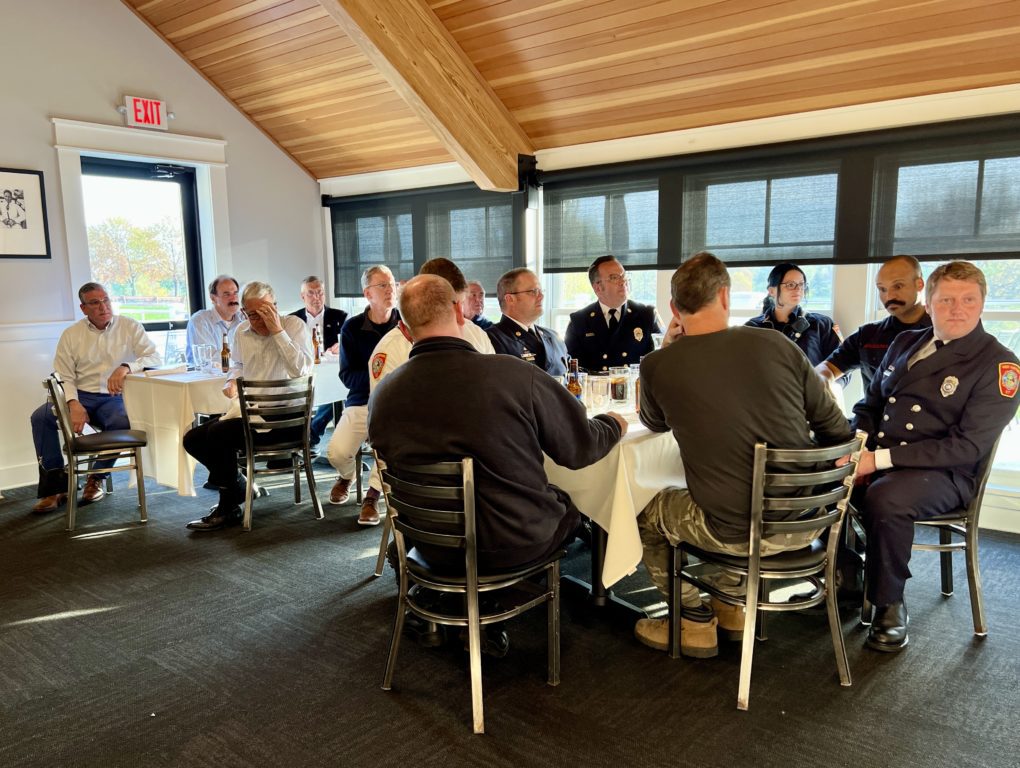 Like what you see here? Click here to subscribe to We-Ha's newsletter so you'll always be in the know about what's happening in West Hartford! Click the blue button below to become a supporter of We-Ha.com and our efforts to continue producing quality journalism.