By Jeff Lovanio
What is Experience We-Ha?
The Experience We-Ha platform and mobile app is a strategic collaboration between We-Ha.com and WHsquared-What's Happenin' West Hartford, combining the latest hyper-local news from your trusted source, We-Ha.com with information on events, deals and promotions to become your no. 1 digital destination in town.
Experience We-Ha is more than an app! It seeks to keep people informed while at the same time, telling stories via social media, blogs and podcasts highlighting the great places around town and the people who make it tick. See below for some of the new features and stay tuned each day this week as we uncover more.
Reason no. 1 you'll love the new Experience We-Ha mobile app …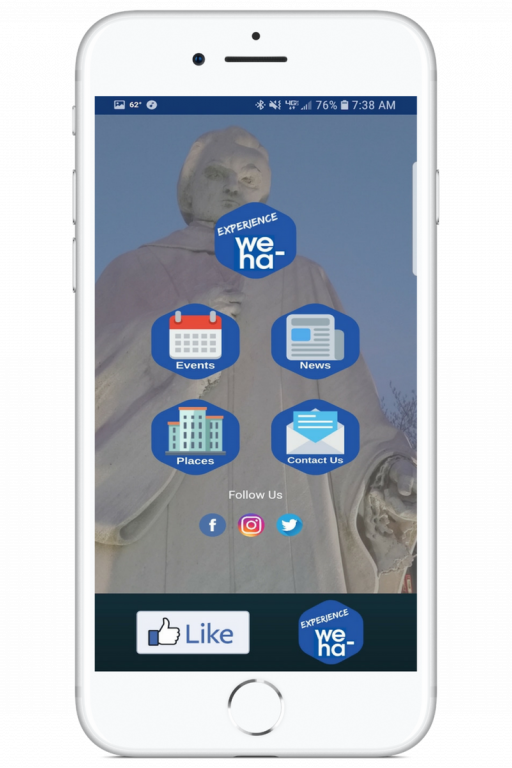 The New Home Page
The original WHsquared mobile app was re-designed from the bottom up to bring you a feature-rich user experience. 
Upon logging in, you'll notice a new look and feel right away!!
The new home page presents you with four buttons to get to the information you want quickly so whether you're looking for something to do, the latest news, want to find a place to eat, or want to drop us a line for help – it's all at your fingertips. Want to know what we're up to on social media? Quick links to our pages will get you right to the action!
Look out for our newsletters every day this week, leading up to the launch, with another reason you're gonna love the new Experience We-Ha mobile app!
You can also find out more about Experience We-Ha right here on We-Ha.com.


Like what you see here? Click here to subscribe to We-Ha's newsletter so you'll always be in the know about what's happening in West Hartford!