Dr. Anthony Fauci joined Gov. Ned Lamont at a press briefing Monday to speak about the safety of reopening schools. West Hartford Public Schools plans to reopen on Sept 8 under a hybrid plan.
By Christine Stuart, CTNewsJunkie.com
Dr. Anthony Fauci, director of the National Institute of Allergy and Infectious Diseases, says Connecticut is in a "good place" when it comes to the coronavirus.
"In many respects have the upper hand because you have such a low rate that when you do get new cases, you have the capability of containment as opposed to mitigation," Fauci said Monday during Gov. Ned Lamont's press briefing.
Lamont, who is receiving pressure from teachers' unions not to fully reopen schools, asked Fauci to join the press briefing to give his perspective.
Fauci is a proponent of reopening schools. He said a top priority should be trying to get children back to school for in-person learning.
"The default position should be to try as best as you possibly can to open up the schools for in-person learning," Fauci said. "For the following reason, it's important to the children because of the psychological benefit and in some places even for the nutrition of children who rely on the breakfast and lunches in school."
Fauci said there's also a "ripple effect" on the parents who have to dramatically modify their own work schedules.
"The primary consideration should always be the safety, the health, the welfare of the children, as well as the teachers and the secondary effects for spreading with regard to the parents and the other family members," Fauci said.
Fauci said preventing the spread can be done at the local level.
Connecticut's two teachers' unions are pushing back against a full reopening of schools.
Last week, teachers across the state rallied for greater safety measures before classes begin.
CEA Executive Director Donald Williams said last week that the last thing they want is for the schools to be the source of a resurgence of the coronavirus.
"At the end of every school day, students and all the adults working in the school go home to their families," Williams said. That's why getting is right in terms of safely is "incredibly important," he said.
Fauci, the nation's leading spokesperson on coronavirus, said, "You have to do the risk-benefit [analysis] … depending upon what you think the risk in your community is. If the risk is very low, you might try to see if you can open the schools. And if you can't, then you go to the other models."
School districts across Connecticut have asked the state for more guidance.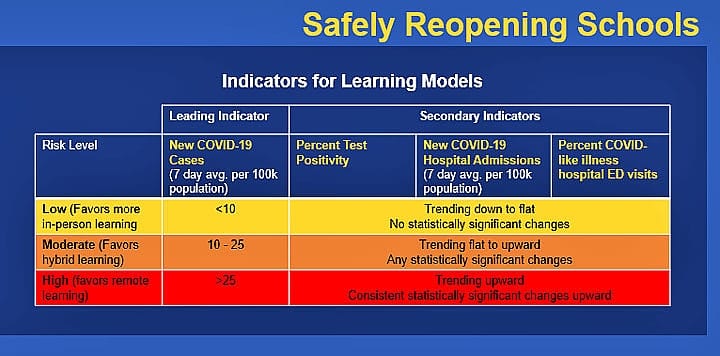 Lamont provided a chart Monday which says if there are fewer than 10 cases per 100,000 people then the risk is low and favors in-person learning. If the seven-day average is 10 to 25 cases per 100,000 people, then the state favors the hybrid model and if there are 25 cases per 100,000 people then it favors online-only education.
"Blips of infections" will inevitably occur in Connecticut, Fauci said.
But he maintained his position that schools should reopen.
West Hartford Superintendent Tom Moore announced Friday that the district will reopen under a hybrid plan for all grade levels as of Sept. 8. That plan will be discussed with the Board of Education Tuesday night.
There have been 252 new cases in Connecticut since Friday. That brings Connecticut's coronavirus total to 50,062. As of Monday, 56 people were hospitalized with the virus and 4,437 people have died.
Connecticut had a 0.7 positive test rate for data reported Monday.
Republished with permission from CTNewsJunkie.com, all rights reserved.
Like what you see here? Click here to subscribe to We-Ha's newsletter so you'll always be in the know about what's happening in West Hartford! Click the blue button below to become a supporter of We-Ha.com and our efforts to continue producing quality journalism.