Hundreds of teachers and paraprofessionals from across the state held a rally in West Hartford Thursday afternoon before caravanning down Asylum Avenue to the Governor's Mansion.
By Christine Stuart, CTNewsJunkie.com, Photos by Ronni Newton
Thousands of teachers, paraprofessionals and parents across Connecticut rallied in 25 different locations Thursday calling for a safe school reopening.
Schools are allowed to fully reopen in the fall, but the final decision about whether students will return full-time will be left to the local districts.
"The messaging on this is not that we're blaming anybody for trying to do it. We're just saying we gotta get it right," Jeff Leake, president of the Connecticut Education Association, said. "That means no lives are going to be risked as we open schools and try to get as much education as we can in the first couple of months."
The car caravan in West Hartford went past Gov. Ned Lamont's residence and included at least 500 cars. There were similar caravans in 24 other locations in the state.
CEA Executive Director Donald Williams said the last thing they want is for the schools to be the source of a resurgence.
"At the end of every school day, students and all the adults working in the school go home to their families," Williams said.
That's why getting is right in terms of safely is "incredibly important," said Williams.
Shellye Davis, co-president of the Hartford Federation of Paraprofessionals, AFT Local 2221, said their members will not support a "rush to reopen buildings simply to provide daycare and appeal to big business."
Davis said meeting those guidelines will require more than additional workspaces, classrooms and buses.
"Federal and state resources are vital," Davis said. "… fund our future on behalf of our students, our colleagues and our communities."
Asked if they planned to strike if they didn't feel the schools were being open safely, Davis said they expect the governor and state officials to sit down with them and talk about what they need to reopen schools safely.
"We want to be in school. The kids want to be in school," Davis said. "The problem is we can't do that if we can't be safe."
She said before the pandemic the schools in Hartford were lacking things like soap in the bathroom. She said they need to know the resources will be there for them to reopen safely.
"The one thing we don't want to risk is losing one child or one of our teachers or one of our paraeducators," Davis said.
Teachers who fear returning to the classroom due to COVID-19 might consider using federal disability and medical-leave laws to force schools to allow them to teach remotely from home, according to a legal memo prepared for the national American Federation of Teachers (AFT) union.
But the memo and the union caution that expected resistance from schools makes it likely that the issue will wind up being decided in the courts – and may also lead to teachers' strikes.
Courts have historically considered an employee's physical presence in the workplace to be fundamental, unless the employee can prove the essential functions of the job can be done remotely, according to the memo.
"Nonetheless, recent decisions acknowledge that changes in technology require employers to consider the feasibility of telework based on current conditions rather than the past," the memo said. "Indeed, in the COVID-19 era, remote meetings have become ordinary and routine for millions of workers and remote instruction has been implemented."
That unchartered legal territory, and the unique on-the-ground impact of the pandemic on schools and government, will likely present challenges for teachers trying to use the laws.
"Assuming employees prove they have a disability, COVID-19-related funding issues, understaffing, disagreements over the use and scope of remote work and other accommodations, and inconsistent and conservative treatment of accommodation requests in the courts may frustrate the efforts of individual employees to obtain relief," the memo said.
The state of Connecticut said a survey of school superintendents found that 81% of teachers want to return to the classroom. However, a survey of 16,000 teachers by the Connecticut Education Association found 74% oppose plans to fully reopen schools without the necessary protections for students and educators.
Gov. Ned Lamont met with the teachers union Thursday prior to the rally. The state said earlier this week the decision on how to reopen schools will be left to the local districts.
"I have not done anything by strict edict," Lamont said at Thursday afternoon's press briefing. "But if a kid has a chance to get to a classroom I want them to be able to have the opportunity to be in a classroom. I think the overwhelming number of our school districts agree."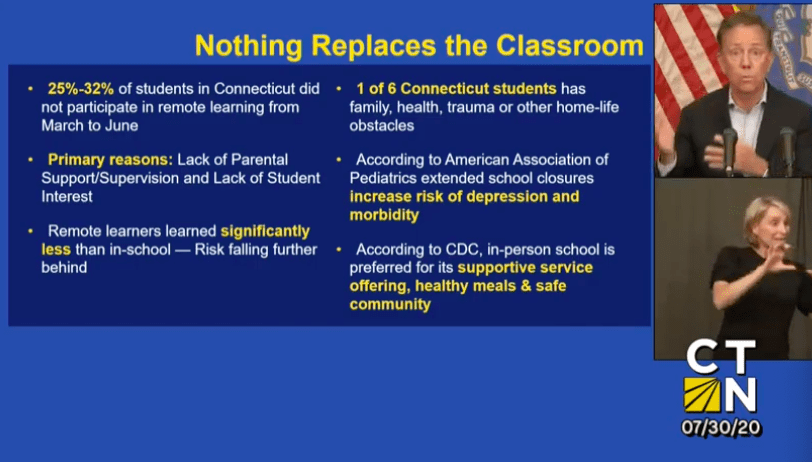 If there's a school district that wants to come and argue that they should only do remote learning then they can make their case to Education Commissioner Miguel Cardona, Lamont said.
"Can I force that school to open? Can I force those teachers in there? You know probably not. But I feel very strongly if there's an opportunity for an in-school option, it's the best option for these kids," Lamont said.
He said right now the infection rate shows that schools can be a mix of in-person learning and a hybrid remote learning experience.
"Right now the metrics indicate we're going to have a mix of in-classroom, particularly for the lower grades, as well as the hybrid, most likely for the upper grades where it's tougher to cohort," Lamont said.
Republished with permission from CTNewsJunkie.com, all rights reserved.
Like what you see here? Click here to subscribe to We-Ha's newsletter so you'll always be in the know about what's happening in West Hartford! Click the blue button below to become a supporter of We-Ha.com and our efforts to continue producing quality journalism.