'Fighters for Finn' will host a benefit night at Sweet Frog in West Hartford on Wednesday, Sept. 7.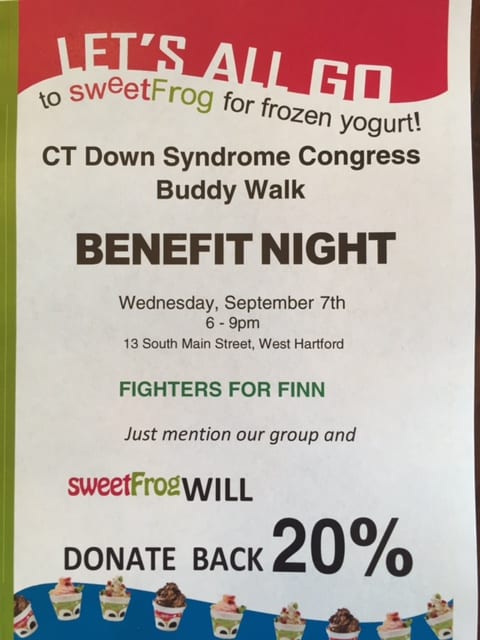 By Ronni Newton
West Hartford resident Brooke Daly is participating in the Buddy Walk this year, the Connecticut Down Syndrome Congress' biggest fundraiser, and is hoping the community will come out and enjoy some frozen yogurt and at the same time support team "Fighters for Finn."
The fundraiser will be held at Sweet Frog at 13 South Main St. in West Hartford Center, and 20 percent of all sales from 6 – 9 p.m. will be donated if the group is mentioned.
"Finn is our 3-year-old son who was born with Down syndrome and we joined this organization shortly after he was born," Daly said of the Connecticut Down Syndrome Congress. "This group has been a tremendous help to our family and families like ours."
Daly has worked tirelessly on behalf of the organization, raising money as well as awareness. In April 2015 she participated in a Mother's Day fundraiser with the Flower Boutique of Hartford, and last March she raised awareness through encouraging the wearing of crazy socks on World Down Syndrome Day.
This year's Buddy Walk will be held on Oct. 1, 2016, from 11 a.m. – 3 p.m. at Rentschler Field in East Hartford. "Every dollar donated helps us do great things – advocate for public policies that benefit our members, provide support to new families, promote best practices in education, medicine, and therapy – as well as foster a community committed to helping each person with Down syndrome in Connecticut live rich, empowered lives," said Daly.
For more information, or to donate directly, visit www.ctdownsyndrome.org.
Like what you see here? Click here to subscribe to We-Ha's newsletter so you'll always be in the know about what's happening in West Hartford!