On Aug. 29, 2019, a West Hartford family will once again host its annual community-wide event to benefit the Division of Cardiology at Connecticut Children's.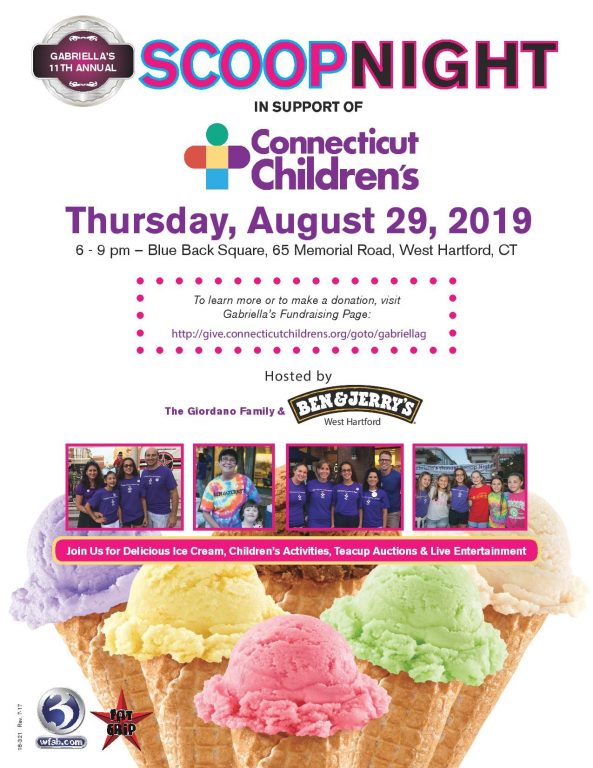 Submitted
Gabriella Giordano and family will be celebrating her 16th birthday this year by scooping ice cream again to benefit Connecticut Children's Medical Center.
Co-Hosted by Ben & Jerry's Ice Cream shop in West Hartford, Gabriella's Annual Scoop Night will be held on Thursday, Aug. 29, 2019, from 6-9 p.m. outside at of the stage area at Blue Back Square in West Hartford.
Gabriella, a junior at Hall High School in West Hartford, began this tradition when she was 5 years old, after undergoing a successful open-heart surgery at Connecticut Children's Medical Center. The family hosts the event as a way to say thank you, with a portion of each ice cream sale to benefit the Division of Cardiology. Since its creation, Gabriella's Scoop Night has raised $50,000 for Connecticut Children's Division of Cardiology.
"Connecticut Children's saved my life. I am so grateful to the doctors, nurses and everyone who helped me. Hosting this fundraiser with my family is a way for us to say thank you and to give back to help other children like me who may need to have heart surgery," said Gabriella. "We are so grateful to Ben & Jerry's and to our community for all of their support."
The event is open to the public, and includes live music by Fatgrip, WTIC FM Radio personalities, and more. Celebrity scoopers include Gabriella's caregivers, dignitaries, and WFSB reporters.
Available ice cream flavors this year will be: Chocolate Fudge Brownie, Americone, Milk & Cookies, Sorbet and Gabriella's favorite – Vanilla.
For more info or to donate visit: http://give.connecticutchildrens.org/goto/gabriellag
"We love getting involved with and giving back to our communities. It's amazing what we can do together over shared values and several scoops of ice cream," said Kathy Moore, catering coordinator at Ben & Jerry's CT (West Hartford location). "Our company was founded on the idea that business has not just the opportunity, but also the responsibility to give back to the community. As Jerry said, "If it's not fun, why do it?"
Like what you see here? Click here to subscribe to We-Ha's newsletter so you'll always be in the know about what's happening in West Hartford!