State and local officials and business leaders joined Trout Brook Realty Advisors and the West Hartford Housing Authority for a grand opening and ribbon cutting at 616 New Park on Thursday to celebrate the successful completion of the transit-oriented development.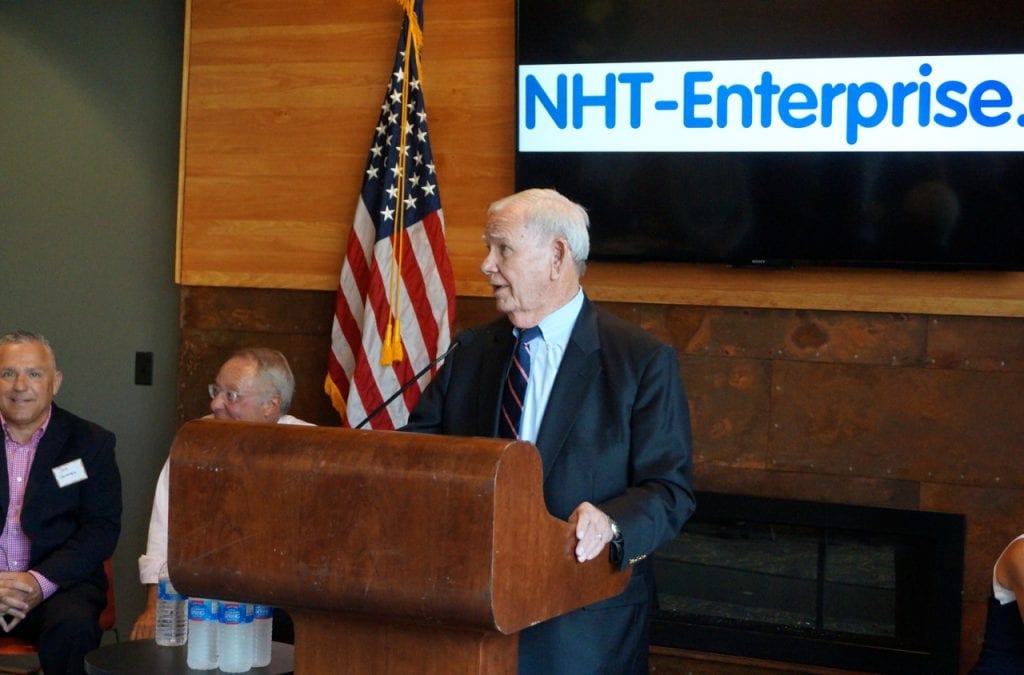 By Ronni Newton
Several CTfastrak buses whizzed by on the busway Thursday afternoon at the grand opening and ribbon cutting of 616 New Park, appropriately punctuating the speeches with visible evidence of the successful completion of West Hartford's first transit-oriented development, built right next to the Elmwood CTfastrak station and being touted as a catalyst for future development.
"This is a representation of what West Hartford Housing Authority and Trout Brook Realty Advisors and the National Housing Trust does," said George Howell, speaking to the crowd gathered inside the expansive lobby/community room with its billiard table, large screen TVs, railroad-themed art by a local artist, and gas fireplace.
Howell, who is president and CEO of the West Hartford Housing Authority and secretary of its development arm, Trout Brook Reality Advisors, said it's about workforce housing and market housing. "And because it's workforce it doesn't have to be bland, and this is probably one of the least bland products I've seen in a long time including the ones that we've already done," Howell said, noting the pops of bright colors in the building's modern lobby.
The 616 New Park building includes 54 apartments, a mixture of one- and two-bedroom units ranging in size from 660 square feet for the smallest one-bedroom/one-bath unit to 1,088 square feet for a two-bedroom/1.5-bath unit with a walk-in closet that's almost another room in itself.
Thirty of the units are earmarked for those who qualify for workforce housing (those who earn 60 percent or less of the area median income) and 11 units are for veterans, with the remaining 11 to be rented at market rates. Howell said that three or four units are already occupied, and about 15 are expected to be rented by July. He expects 30 more leases to be signed in August.
The successful completion of 616 New Park was a team effort, Howell said, and could not have been done without the support of Trout Brook Realty, state officials like State Rep. Joe Verrengia and State Sen. Beth Bye, and West Hartford Mayor Shari Cantor – all of whom believed in the project.
"This is a great asset for this part of town. I think it will serve as a great catalyst for future growth, future interest in the New Park Avenue corridor," Verrengia said. Other pieces are now starting to come together as well, he said.
It's a unique model – a "winning trifecta" of workforce-rate, market-rate, and supportive veteran housing. "The West Hartford Housing Authority and Trout Brook Reality, they do it the West Hartford way," Verrengia said.
"It's awesome being here seeing the fastrak going by," said State Sen. Beth Bye. CTfastrak had many skeptics, and this project is a testament to what can happen if you take a risk, she said.
Bye credited Howell for seeing the project through to completion with the three "p's": "persistence, positive attitude, and a passion for affordable housing grounded in what that means for people – just grounded in a core mission of helping people."
Cantor noted Howell's "ABCs" – "action, bravery, and caring – that is what and who he is."
Howell is so proud of the properties he's developed for the town of West Hartford, and those who live there also exhibit pride and caring for the properties, Cantor said.
Cantor said she fully agreed with Chuck Coursey who told her his reaction to the building was: "It's just a wow … It's not your father's affordable housing."
Young people, those who are the targeted occupants for many of the units at 616 New Park, want an urban environment and communal living, said Cantor, "We know that this is a catalyst for more development that will happen but it took the bravery and vision of George [Howell] to make it happen."
Ed Pauls attended the ribbon cutting representing the National Housing Trust (NHT), which is a financial partner in 616 New Park, and said that this is the first new construction that the organization has supported. "The reason we did that is that we recognized that it's not just enough to preserve affordable housing, we recognized that there are needs that need to be fulfilled with new product as well … that's transit-oriented, mixed income, and mixed use."
Bob Wienner, president of the Trout Brook Advisors Board of Directors, said that 616 New Park is likely the nicest affordable housing he's ever seen, and certainly a model unique to the area.
"To do mixed use of this scale in a town like West Hartford is a hard thing," said Wienner, and fraught with challenges that included environmental contamination and bad soil. It came to be be because of the leadership of the West Hartford Housing Authority and its staff, as well as the support of stakeholders, he said.
"We're here tonight to celebrate a development that has it all," said Evonne Klein, commissioner of the Connecticut Department of Housing. "Affordable and market rate affordable rental units, community and commercial space, fastrak only a few yards away, in a community with great schools, jobs, and many other opportunities and amenities."
"This development will open u a world of new opportunities for its residents, and it will also continue to push the needle forward as we continue to build a Connecticut where everyone will have a place to call home," Klein said.
Once the ribbon was cut, guests were free to tour the building and visit several of the units, including a fully-staged one-bedroom model.
All units include a full-size washer and dryer, stylish gray hardwood-style laminate flooring, and stainless steel appliances. One wall of the living room in each unit is painted with charcoal gray chalkboard paint, which will give residents a chance to express themselves with their own artwork if desired. The apartments have high ceilings, large windows, and open floor plan in the kitchen/dining/living room area.
In addition to 616 New Park, the West Hartford Housing Authority also manages The Goodwin at 189 Newington Rd., Elm Grove at 11 Grove St., and Alfred E. Plant at 759 Farmington Ave.
Like what you see here? Click here to subscribe to We-Ha's newsletter so you'll always be in the know about what's happening in West Hartford!