Phase 2 will mean the return of indoor restaurant seating as well as the reopening of hotels, personal services, and other sectors of the economy, and the governor also highlighted some expansions planned for July.
By Christine Stuart, ctnewsjunkie.com
The number of COVID-19 hospitalizations continues to fall as Connecticut readies for the second phase of reopening Wednesday.
Connecticut's hospitalizations peaked on April 22 with around 2,000. On Tuesday, the state was down to 201 patients hospitalized with coronavirus.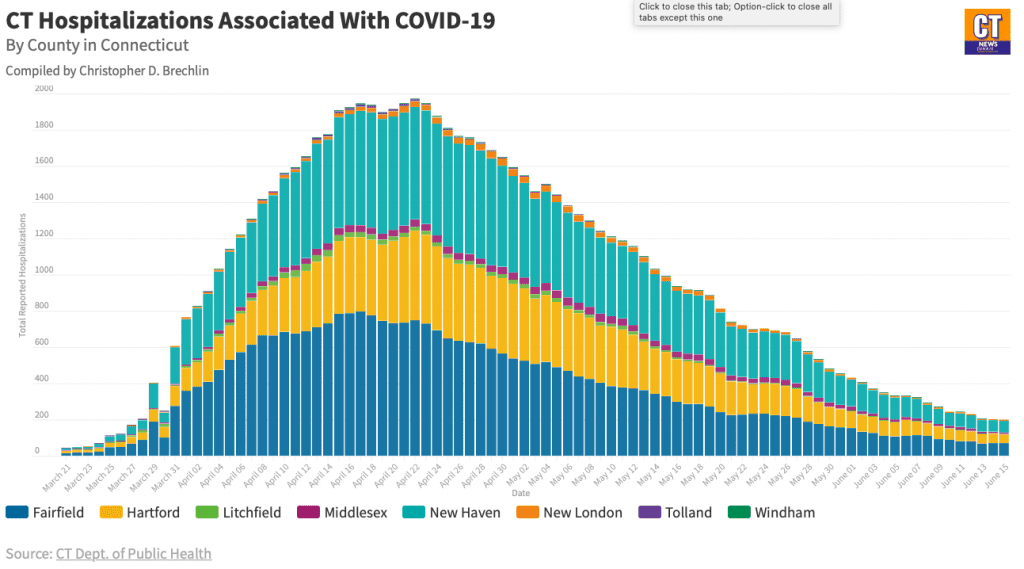 On Wednesday, amusement parks, indoor seating at restaurants, indoor recreation, nail salons, tattoo parlors, and fitness facilities will reopen, among other businesses.
State officials said 15,000 of these businesses already have self-certified and have agreed to follow the protocols prescribed by the state. A list of all the businesses to self-certify is on the state website.
"We're doing what we can to get 95% of our economy up and operating," Lamont said.
On Tuesday, Lamont also increased the number of people who could gather at a personal residence to 25 indoors and 100 outdoors.
Lamont, whose said his daughter has postponed her Labor Day weekend wedding due to many guests traveling from out of town, said the thinking is that personal gatherings tend to be invitation-only and it would be easier to track and trace any infection.
On July 3, an expansion of outdoor organized gatherings such as fireworks or concerts in town parks will be permitted provided that distancing of 15 feet between groups is maintained.
"Keep your social group 15 feet from other people – that's the way it's working on the beaches," Lamont said Tuesday. Such events will be capped at 500, with the event organizer responsible for compliance.
Outdoor graduations will be permitted, for a maximum of 150, starting July 6.
In mid-July, at an exact date to be determined, indoor private gatherings of up to 50 people will be permitted, and outdoor private gatherings – such as graduations and weddings – will be permitted for up to 250 people.
Lamont said they issued the guidance on gatherings because they wanted to give families an opportunity to plan but knowing that if there's a "flare up," they will have to change course.
Also in mid-July, the cap on attendance at outdoor organized gatherings such as fireworks or concerts in municipal parks will be removed, but the 15-foot distance between groups will need to be maintained. Outdoor event venues such as amphitheaters and race tracks will be permitted to operate at 50% of capacity determined by the fire marshal, with distance requirements also in place.
Department of Economic and Community Development Commissioner David Lehman said he's worried people will get complacent because the state's infection data is currently positive.
"Mask-wearing is critically important," Lehman said. "We need to keep doing that as we reopen the economy otherwise we're going to jeopardize our reopen."
He said hand-sanitizing and physically distancing are also important.
"People see the data and they think we're back to normal, but we're not," Lehman stressed. "We can't let our guard down when it comes to these mitigation measures otherwise we will jeopardize our reopening. We don't want to go back to where we were in March and April."
In Phase 1, not all the businesses that were allowed to reopen chose to, Lehman said. They expect not all phase two businesses will reopen on Wednesday.
Many West Hartford restaurants have indicated that they plan to open for indoor dining, including those in the Center and elsewhere in town that have expanded outdoor capacity. Many, but not all, fitness businesses have also indicated plans to reopen.
Lamont said he was initially worried about indoor dining, but he's a lot less worried about that now. He said the infection rate in New York is a lot lower than it was.
"I had worried about the hotels and attracting a lot of people and that back and forth," Lamont said. "Again, given the reasonably low infection rate throughout our whole region I feel pretty confident on those two."
Ronni Newton, We-Ha.com, contributed to this story.
Republished with permission from CTNewsJunkie.com, all rights reserved.
Like what you see here? Click here to subscribe to We-Ha's newsletter so you'll always be in the know about what's happening in West Hartford! Click the blue button below to become a supporter of We-Ha.com and our efforts to continue producing quality journalism.