A modified version of Phase 2, with a rollback of restaurant capacity as well as limits on the size of gatherings, will being on Friday, Nov. 6.
By Hugh McQuaid, CTNewsJunkie.com 
West Hartford-specific information provided by Ronni Newton, We-Ha.com
Connecticut will shift Friday back to a modified version of Phase 2 of its reopening plan, Gov. Ned Lamont announced Monday. The move will tighten restrictions on restaurants by reducing their capacity limits and will require any that serve alcohol to close at 9:30 p.m.
The decision comes as the state's seven-day average of new infection rates has reached 3.6%, a weeklong metric the state has not seen since June 6. It represents a departure for the governor, who last week signaled he hoped to forego statewide restrictions in favor of letting local leaders choose when to tighten public health constraints.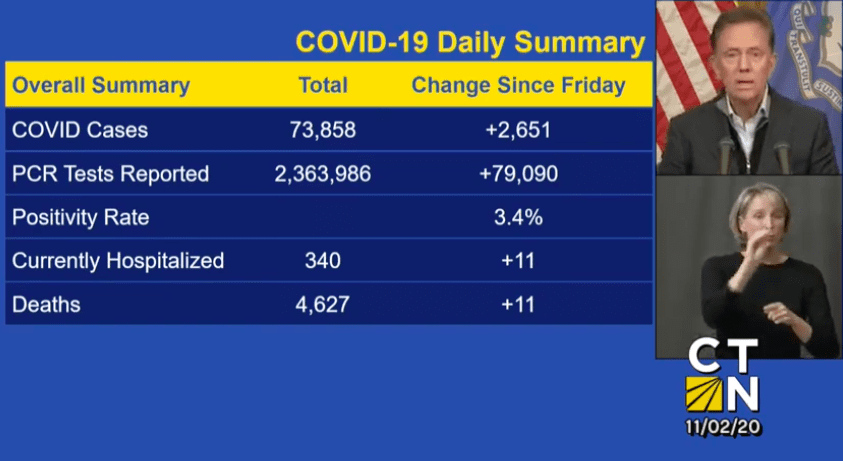 Lamont said now what looked like regional outbreaks in recent weeks is beginning to look more like general community spread of the virus.
"A lot of towns took the initiative themselves to roll back to Phase 2, others said, 'I'd be a lot more inclined to roll back to Phase 2 if I could get other towns in my cohort, my region to do the same thing,'" Lamont said. "Pretty soon as we looked around the state was more like one as you saw the number of red splotches on that map."
West Hartford Mayor Shari Cantor said the decision will provide towns with regional consistency.
"We want our schools and businesses to remain open and hope that this is a strong reminder that this is serious and we need to be vigilant to control the spread of this disease," she said.
The move, Cantor said, is "important to slow community spread within and between municipalities."
The statewide response will reimpose a 50% limit on the capacity of customers allowed indoors at restaurants, down from the current 75%. It also contains new restrictions. No more than eight people will be permitted to sit at a table and it will force restaurants serving alcohol to close their dining rooms by 9:30 p.m.
Indoor event venues will scale back to a limit of 25 people in a gathering, movie theaters will have a maximum capacity of 100 people, as will churches and other religious gatherings, which will be limited to 50% capacity.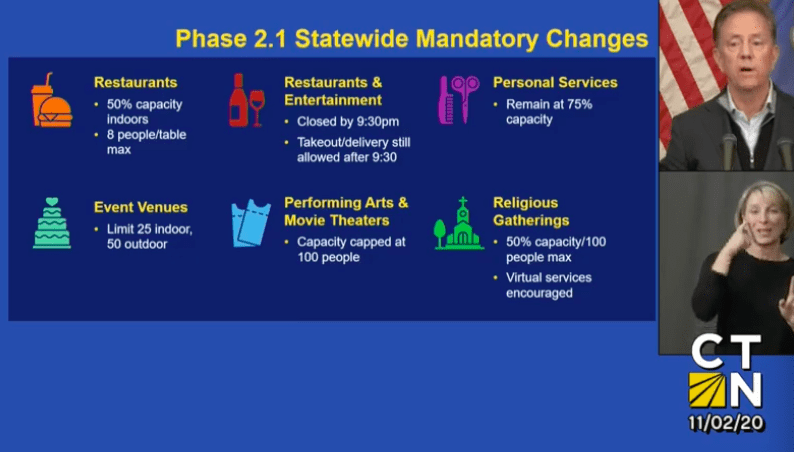 The restrictions on restaurants come after Lamont expressed concern last week over a number of "bars masquerading as restaurants." The governor has tried to keep bars closed throughout the pandemic, saying they create an environment where the virus spreads easily. Any establishment serving alcohol must also be serving meals in order to remain open.
"At a certain hour, some of these restaurants start acting more like bars. We've had some issues at a number of these locations. I'm sorry, almost all the restaurants are doing a really good job but there have been some problems," he said. "We think 9:30 is a lot easier for our municipalities to enforce."
Restaurants made to close at 9:30 p.m. will still be permitted to fill take out orders after that time, he said, and delivery can continue.
In a statement, Scott Dolch, executive director of the Connecticut Restaurant Association, said the announcement puts renewed strain on an industry that has already been hit hard by the pandemic.
"In recent days Governor Lamont has said the recent uptick in COVID cases is not being driven by restaurants, and we greatly appreciate that acknowledgement. We hope he and his administration will keep this fact in mind during the weeks and months ahead as we continue working with them to help local restaurants make it through this winter and through this pandemic," he said.
The tightening of capacity limits will not apply to all Connecticut businesses. For instance, hair and nail salons will be permitted to continue operating at 75% capacity.
"They've made enormous efforts there: people are wearing their masks, they've got the plexiglass, people are maintaining distancing and I think that has not been a source of spread," Lamont said.
Over the weekend, another 2,651 people tested positive for the virus while 11 more people died and an additional 11 patients were hospitalized as a result of the virus.
West Hartford had 41 new positive COVID-19 cases reported over the past three days according to data released Monday. The town has had 83 new cases in the past week, including 10 residents of Hebrew Home. In addition, state data indicates that two assisted living facilities in West Hartford, Brookdale West Hartford and The McAuley, each had a staff member test positive.
Lamont and other officials urged Connecticut residents to begin voluntarily taking more precautions. Employers should permit employees to work from home if possible, people should consider postponing plans to travel, the governor said. As always, he stressed that people should wear masks.
Acting Public Health Commissioner Deidre Gifford also recommended people observe a soft curfew and stay home between the hours of 10 p.m. and 5 a.m.
"People are catching COVID from one another when we're together in groups and together with people who don't live in our household," she said. "As we see infections go up now in Connecticut, the chance that somebody you're socializing with, the chance that person has an infection that has no symptoms is getting higher."
Republished with permission from CTNewsJunkie.com, all rights reserved.
Like what you see here? Click here to subscribe to We-Ha's newsletter so you'll always be in the know about what's happening in West Hartford! Click the blue button below to become a supporter of We-Ha.com and our efforts to continue producing quality journalism.