The 'Pedal to End Cancer' event on March 5, 2017, will raise funds for the American Cancer Society.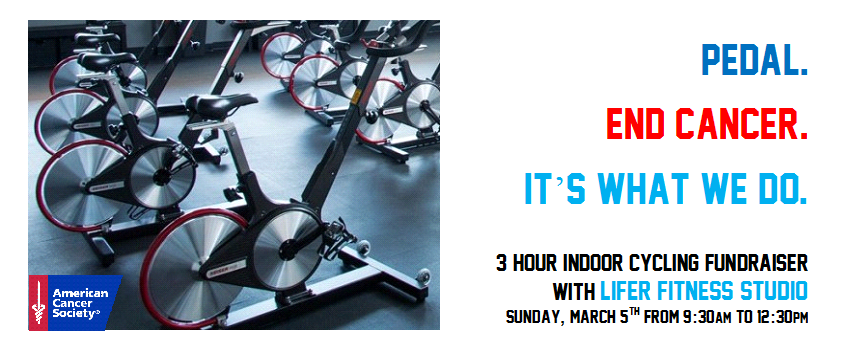 By Ronni Newton
LIFER Fitness Studio in West Hartford will join other fitness clubs throughout the region participating in the "Pedal to End Cancer" fundraiser for the American Cancer Society on March 5.
Debra Fountain opened LIFER, which is located at 20 Jefferson Ave., Unit 6, in West Hartford in June of 2015. LIFER is the only studio in West Hartford participating in the fundraiser this year.
Fountain's father died of lung cancer a dozen years ago and the cause is personal to her – as is is to many others. Most people know someone who has had cancer, she said, and LIFER is "proud to take a pedal against cancer for the second year in a row!"
The three-hour Pedal to End Cancer event, which will run from 9:30 a.m. through 12:30 p.m. on March 5, will benefit cancer research, education, advocacy, and services, according to a press release. Physical activity and nutrition play a role in about one-third of cancer deaths in the U.S. each year, the press release states.
"Maintaining a healthy weight through proper diet and regular physical activity" – both of which are the focus of programs at LIFER – can help reduce the risk of cancer along with quitting or avoiding smoking and appropriate preventative care.
To join LIFER in the #PedalToEndCancer effort, visit the website www.pedaltoendcancer.org and create a team. Select "LIFER Fitness Studio" as the location.
Teams can consist of one to six riders to split the three-hour event. An email conformation will be send after registration to confirm the reservation for the team's bike. A total of 20 bikes are available.
Registration is $25 per participant, and additional fundraising is encouraged. Top fundraising teams will win prizes.
About LIFER: LIFER offers more than a daily workout; it's a lifestyle. LIFER offers a variety of fitness classes to provide you with the essential balance of cardio, resistance training, flexibility and mindfulness. Each class is designed by each instructor and tailored to accommodate clients with varied experiences, intensity levels and fitness goals. #ITSWHATWEDO