Jim Chapdelaine is  a 13-Time Emmy Winner and Cancer Survivor
by Lisa Lelas
Who says only cats have nine lives? Nationally known West Hartford musician, Jim Chapdelaine, is a human example of perseverance, vitality, and positive attitude stronger than the Energizer Bunny! Okay, so enough with the animal metaphors. Through re-inventing himself with numerous layers of musical collaborations over the years to beating the odds with a rare form of liver cancer, Jim is surprisingly humble and lives each day without labeling himself a survivor. He is a musician. Period. Albeit a very successful musician, it is his positive spirit and generosity that has caught the attention of renowned medical centers as a symbol of hope.
Even if his name doesn't ring a bell immediately, chances are you already know Jim's music. He has traveled the country over the years to sold out venues with The Pousette-Dart band, playing their classic American folk-rock hits in the 1970's and 80's (one song fairly recently featured on an episode of 'Lost') and still tours with Jon Pousette-Dart today. But his guitar strumming fingers don't stop there. Jim is a much sought after talent. Together with his band, The Shinolas, they are the rhythm section for many other well-known performers. Currently, he is touring with the legendary jazz performer, Big Al Anderson (formerly with 'NRBQ', the rock band 'Yes' and songwriter for many musicians, including Bonnie Raitt). Jim was a producer and provided the music for Phoebe Snow (her early hit song "Poetry Man" will ring bells for many), worked with Carol King…and the list goes on!
In addition to a successful career with musical bands and notable performers, Jim's musical talent has been woven into many interesting television and film projects over the years, winning him 13 Emmy Awards. His first Emmy Award nomination came 15 years ago for the music he provided for a TV documentary on the making of the Amistad ship. He provided all the sound tracks for the PBS-TV series, "Infinity Hall Live" for which he won an Emmy for best audio for a public TV show. Another Emmy was won for the music for a 5-part energy conservation TV series narrated by Ed Asner. Teens will hear his music in 'Kids in Cars', a program that is shown in every drivers education class in the country and Jim also provided theme songs for many notable commercials, including Jiffy Lube, the Army National Guard, Bull Frog Sunscreen, and St. Francis Hospital.
You may wonder why a musician of his caliber chooses not to live in New York City or Los Angeles. Quite simply, Jim loves West Hartford. He is also in close proximity to Hartt School of Music, where he teaches music production and technology.
"I live in a small market which forced me to wear many hats as a musician," says Jim, "I have always had the gift of intellectual curiosity. I like living here."
"I already knew at just 2 or 3 years old what I was going to be!" he explains, "I remember strumming my first plastic ukulele wearing a cowboy hat as a toddler. In second grade I got my first guitar." With no exaggeration, Jim can now play 70 different string instruments. He also plays keyboard and is a singer "of sorts" he adds.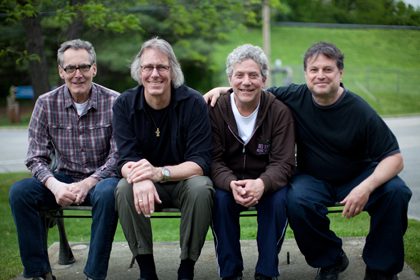 Healing Power of Music
Growing up as a musician, Jim had no idea how his music would one day serve him with the power of healing. With on-going health issues throughout his adult life, his guitar would serve as the one thing to get him through his darkest days.
"My last surgeries were tough," he says referring to recent hand surgeries, "because I had to put down my guitar."
"I'm left handed but play right handed. I've had four medical reconstructions on my hands, leaving my left hand partially numb. My thumb joint has actually been removed!" When doctors told him he couldn't play guitar while his hand was in a cast, he begged them to 'leave one finger out' so that he could still play with Big Al at a concert. And he did. Apparently nothing stops this man from his music!
Doctors are still unsure of the exact causes of his deteriorating hands…possibly a natural pre-disposed degeneration of bones…or perhaps a condition caused from all the chemotherapy he had in his lifetime. And Jim had his share of chemo.
The world seemed open to Jim as the young musical genius he was. He took some time off from college at the age of 18 to tour with a country band. Then, after attending Berkeley School of Music for a couple of years his world started turning upside down. He got sick. He had symptoms nobody seemed to have a diagnosis for.  "It all started with a weird cold-sore inside my lower lip. It grew rapidly. Became hard and irregular." As it started popping up elsewhere on his body, including the interior of his nose, doctors seemed baffled. It took over three months and 12 doctors until he had his first diagnosis. He remembers vividly that doctor telling him outright at just 22 years old, he only had a year to live. "My initial reaction to that doctor was to ask him if he would prescribe Valium! I left the room. I needed to somehow digest the information."
Jim turned to his music again, sometimes playing guitar for 8 hours straight in order to cope with the pain and side effects of the treatments.
That marked the trail of a long line of doctors he would eventually see. He learned he had an extremely rare form of liver cancer, called angiosarcoma (AS). This cancer affects only 30-60 people in America each year. In Jim's words, 'It's as mean as a hungry bear and far more dangerous. It hides better than any other cancer and can stay dormant for fifteen years and then can rage suddenly."
Jim found an excellent oncologist. The doctor had to actually remove Jim's nose and graph a new nose using parts of his ear. While, he will be always under doctors' observation, Jim's positive attitude and love for music carries him through his life today.
"As far as my experience with cancer, I've learned to 'put it away'. I don't unpack the experience very often; I don't live my life as a slave to it. I'm a survivor, but I'm a musician, a father and a husband first."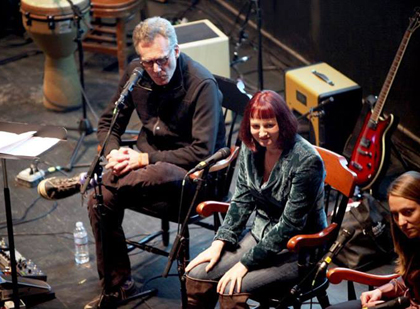 Representing Hope
Until very recently, Jim had never even met another human who had experienced AS cancer. Because it is fatal, there were not many survivors he could talk to.
"Lately, I've unpacked some of this after connecting with others going through it." Thanks to the power of social media and a website for AS www.cureasc.org, Jim has been able to speak with 'fellow warriors' who are fighting this disease. Money has been raised by these very people to finally fund studies at Sloane Kettering Hospital and Jim urges everyone to make a tax deductible donation if they can.
Another layer to Jim's life now has opened as a mentor to AS patients. He realizes that to doctors his mere presence represents hope, being that he has beaten the odds and is now a long time survivor. "I'm actually on my way to Sloane Kettering to meet a young man from Texas afflicted with this cancer," he said, "I even wrote a song for him for his recovery."
Despite all Jim has gone through physically and all he has achieved musically, his life still revolves around his wife, Janine and their 15 year old daughter, Annie, a freshman at Hall High School. He hopes one day to record a collection of all his songs while his band, The Shinolas, are now working on their first record and continue playing at various local venues throughout southern New England.
Regarding his most recent hand surgery, Jim says, "I'm playing at 50% with a 100% attitude," realizing there may be neck surgery still in store for him.
To most of us, surviving cancer is a feat in itself, let alone vanquishing 13 Emmy Awards (and 2 Grammy nominations), despite major health issues, but there is something else Jim is most proud of.  "Last year, I got elected to my high school's Hall of Fame! That was an honor better than all my Emmys!"