Four inspiring authors will be featured in One Motivational Day, Sunday, Jan. 11, 2015, at the Mandell JCC in West Hartford.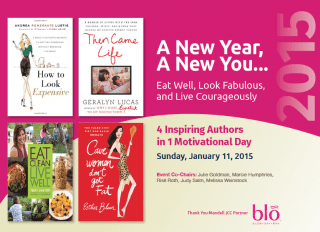 Submitted by Larah Winn, Mandell JCC
Four motivational authors encourage readers to eat well, look fabulously and live courageously at the Mandell JCC Jewish Book Festival Event, "A New Year,  A New You," on Sunday, Jan. 11, 2015, from 10 a.m. – 3 p.m. at the Mandell JCC, Zachs Campus, 335 Bloomfield Avenue, West Hartford, CT 06117. This event will be moderated by Julie S. Gershon, M.D., of J Gershon Breast Imaging of Avon, CT, a dedicated breast imaging center, specializing in digital mammography and breast ultrasound.
Eat Well – 2 Perspectives, 10 – noon
Esther Blum, Integrative Dietician and bestselling author of  four books, including Cave Women Don't Get Fat, a back-to-basics approach to Paleo dieting. Today's cavewoman can enjoy protein rich, hormone-balancing, detoxifying, and satisfying foods that will help her lose those annoying extra pounds, build lean muscle mass, and feel like the grogeous goddess she is meant to be.
Terry Walters, educator, consultant, and clean food chef  is the author of Eat Clean Live Well which is all about filling your plate and your life with foods and rituals that nourish good health and well-being. She provides over 160 new recipes and a wealth of lifestyle tips to inspire your healthy journey.
Look Fabulous, 12:30 – 1:30 p.m.
Andrea Pomerantz Lustig known at Glamour Magazine as the the "Beauty Sleuth"  is the author of How to Look Expensive, which combines her own experience with coveted secrets she's learned from the experts to help readers achieve red-carpet looks without putting them in the red.
Live Courageously, 2 – 3:30 pm
Geralyn Lucas author of Why I Wore Lipstick to My Mastectomy, returns with her funny and moving novel Then Came Life, the story about leacing the traumatic experience of leaving cancer behind and learning to survive all the challenges of a life she though she would not have. Geralyn Lucas is an award-winning TV producer, author, lecturer, and women's health advocate.
In addition to author sessions, attendees can enjoy dry hair styling with BLO Blow Dry Bar, JCC Fitness demonstrations, makeup tips with Antonia's Hair Boutique, Q&A with Dr. Gershon, organic specialties with Adamah CSA and more.
Tickets are $20 per person and include all author sessions but feel free to enjoy the topic(s) of your choice. Tickets are on sale via mail, in person, or online at the Mandell JCC Box Office, 860-231-6316,  [email protected] and atwww.mandelljcc.org. Patron and sponsorship opportunities available. For more information, Jill Ziplow, 860-231-6339,[email protected]. For updates, follow the Mandell JCC on Facebook and Twitter. All dates and programs subject to change.
The 2014-2015 Mandell JCC Book Festival is funded by the Jewish Federation of Greater Hartford and the Jewish Community Foundation of Greater Hartford, and sponsored by Mandell JCC Partners: The Hartford Courant, Saint Francis Care, LAZ Parking, Farmington Bank, Brown Brothers Harriman, Simsbury Bank, Max Restaurant Group, Kimberly Boutique, Group Insurance Associates, Premier Limo, Blo Blow Dry Bar, Waterford Hotel Group, Hartford Car and Driver, Chabad House with the support of The Jewish Book Council, RJ Julia Independent Book Sellers, The Greater Hartford Arts Council, The Jewish Ledger, Mandell JCC Pillars Society and Pacesetters (as of 12/15/14).