Oath Pizza will officially open on Monday, July 18, 2022, at 67 Memorial Road in West Hartford's Blue Back Square.
By Ronni Newton
Oath Pizza has perfected a unique mix of hand-crafted crust, fresh ingredients, and quick service intended to bring the "feel-good" vibe of Nantucket Island – where the brand was founded in 2015 – to all its locations, the newest of which is in West Hartford's Blue Back Square.
"That's what you get when you combine a chef and a scientist," said Iverson Jean-Philippe, manager of the West Hartford location.
When Oath Pizza first opened in a tiny space along one of the wharfs in Nantucket, the owner was determined to craft "a pizza as feel-good as the island it was born on," the website states. They perfected the crust, and stayed up all night making more to keep up with the demand.
Using high quality ingredients has always been an important element of Oath's philosophy. "So we took the 'Better Pizza Oath' – to help people eat better without giving up the foods they love," says the website.
Their mission statement: "To inspire happiness in our communities from the first bite to the last."
Jean-Philippe been with Oath Pizza for about six years, and has opened several Oath locations. West Hartford is the company's first foray into Connecticut, and it's also the first to incorporate the brand's new concept, with a smaller footprint and a greater focus on service. Nantucket remains the flagship location, and there are several other restaurants in Massachusetts, as well as New York, Pennsylvania, Ohio, and Virginia, as well as on nine college campuses throughout the country.
"It's fast casual pizza," Jean-Philippe said. "Less than 2 minutes – a minute and 50 seconds to be exact." That's how long each pie is in the specialized oven before receiving its finishing touches and reaching the hands – and mouths – of customers.
The crust is Oath's bread and butter, Jean-Philippe said, but it's far from white bread. The signature crust is hand-stretched, grilled, and seared in avocado oil, and they create their own "crust line," seeking perfection in every pizza.
The signature crust is vegan, and available in a thin-crust 11-inch regular size, or a 14-inch version that's also thicker. Smaller crusts are available for kid-sized pizzas (pepperoni and cheese), and they're also used for the chocolate chunk cookie dessert pizza desserts that includes ricotta and a chocolate drizzle and is a just-right mix of sweet and savory.
There's also a chickpea crust option that's not only vegan but also gluten free.
"We're very dietary friendly," Jean-Philippe said, with a menu of toppings that clearly indicates which items are vegetarian, vegan, and gluten free, and a staff that is well-versed in other dietary restrictions.
The vegetables are all fresh, the proteins are sourced from Applegate, and the prep area is wide open so pizza-making can be observed from start to finish.
Oath also offers its own version of "slices" – and one "slice" is actually a half of an 11-inch personal pie, so it's really three slices.
One of the top sellers is the "Bella," which Jean-Philippe said is "our version of the Margherita pizza, minus the tomato sauce." It includes a mozzarella blend, roasted cherry tomatoes, roasted garlic, and ricotta – with balsamic, grana padano cheese, and fresh basil added once it comes out of the oven.
The "Spicy Clucker" is another crowd favorite, what Oath calls their version of a Buffalo chicken pizza, featuring a mozzarella blend, roasted chicken, pickled red onion, sriracha, spicy aioli, and scallions.
Another favorite – and this one's hard to say three times fast – is the "Muffled Trushroom" – with house made truffle spread, mozzarella blend, mushrooms, ricotta, and grana padano cheese.
Craft pizzas are priced at $10 (for a thin crust classic cheese pizza) to $13, and 14-inch larger pies with the thicker crusts are $20 to $25. "Slices" are $7 or $8.
"You can also build your own," Jean-Philippe said, including as few or as many of the available ingredients as you like for a flat price of $14 for the 11-inch, $26 for the 14-inch, and $9 for a half-pie "slice." He recalled one Boston area customer who regularly chose nearly every possible ingredient, including all of the proteins, creating what Jean-Philippe called an "artery flooder" pizza.
While Oath is known for its pizza, there are also Greek and Caesar salads – which can be topped with chicken – and really can be customized to meet any dietary needs. The house made croutons on the Caesar salad, Jean-Philippe noted, are created from pizza crust.
Sides also include cheesy garlic breadsticks, with a choice of dipping sauces, and BBQ bacon breadstick, with the signature as the base.
Oath plans to continue expansion, including in Connecticut with hopes to open a Darien location early next year, and a location in Wellesley, MA later this year.
Twelve employees – great employees, Jean-Philippe said, have been hired for the West Hartford restaurant, and more will be hired in the coming weeks. They're finishing up their training and the official first day is July 18, with a ribbon cutting with the Chamber of Commerce scheduled for 11 a.m. on July 21, but Oath began serving up pizza in soft opening mode as of Thursday.
Hours will be 11 a.m. until 10 p.m., seven days a week. There is some indoor seating, and takeout, curbside pick-up, delivery offered as well. For more information, visit the website or call 860-595-3400.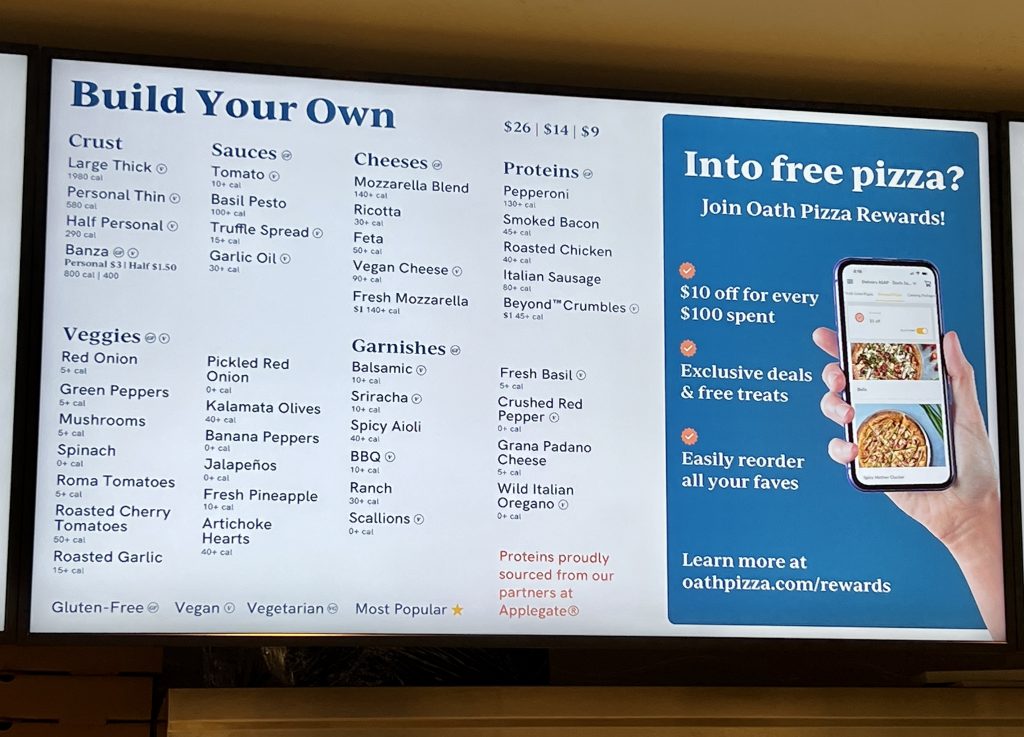 Like what you see here? Click here to subscribe to We-Ha's newsletter so you'll always be in the know about what's happening in West Hartford! Click the blue button below to become a supporter of We-Ha.com and our efforts to continue producing quality journalism.