'Bandstand' will be running at West Hartford's Playhouse on Park through Aug. 20, 2023.
Submitted
"Bandstand" (music by Richard Oberacker, with book and lyrics by Robert Taylor and Richard Oberacker) is running at Playhouse on Park in West Hartford through Aug. 20, 2023. In conjunction with this production, Playhouse on Park will be collecting items for the Veterans Affairs (VA) Center for Development and Civic Engagement (CDCE).
Patrons are encouraged to donate new toiletries, socks, underwear, and hygiene products (for both men and women). Items can be brought to Playhouse on Park during the run of "Bandstand" when patrons attend the show, or anytime the box office is open (Monday-Friday 10 a.m.-6 p.m., Saturday 10 a.m.-2 p.m., and two hours before every performance).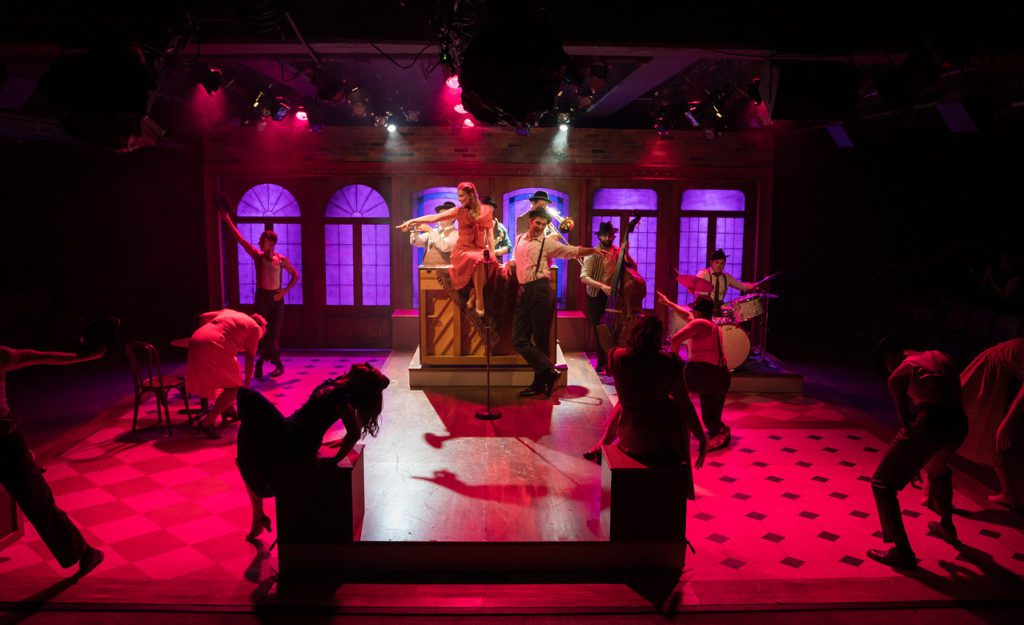 The New York Times calls "Bandstand": "both a peppy celebration of can-do spirit and a more somber exploration of what American servicemen experienced when they marched home from World War II. It's a great argument for why theater can sometimes tell a story more boldly and more viscerally."
The production will be directed by Sean Harris, with music direction by Melanie Guerin, and choreography by Darlene Zoller and Robert Mintz. The Presenting Sponsor of Playhouse on Park's 2022-23 Season is The Richard P. Garmany Fund at the Hartford Foundation for Public Giving.
The story
It's 1945. American soldiers return home to ticker-tape parades and overjoyed families, and Private First Class Donny Novitski, singer and songwriter, returns with the hope of rebuilding his life. When NBC announces a national competition to find the nation's next swing band sensation, Donny joins forces with a motley group of fellow veterans, and together they form a band unlike any the nation has ever seen. However, complicated relationships, the demands of the competition, and the challenging after-effects of war may break these musicians. Victory will require every ounce of talent, stamina, and raw nerve that these musicians can muster.
About Playhouse on Park
Managed under the direction of Playhouse Theatre Group, Inc., Playhouse on Park is Greater Hartford's award-winning destination for the performing arts. Playhouse on Park offers a wide range of thought-provoking, inspiring and thoroughly enjoyable professional theatre productions that leave audiences often smiling, sometimes crying, and always talking about what they have just experienced.
Tickets are now on sale for "Bandstand," and range from $45-$55. Group rates available! Student and senior discounts are also available, and 2 p.m. matinees are on Tuesday, Saturday, and Sunday. Evening performances are at 7:30 p.m. on Wednesday and Thursday, and at 8 p.m. on Friday and Saturday. There will be a talk back with the cast and playwright after each Sunday matinee.
For more information or tickets, call the Box Office at 860-523-5900 x10 or visit www.playhouseonpark.org. Playhouse on Park offers discounts for group sales; inquire today! Playhouse on Park is located at 244 Park Road, West Hartford, CT 06119.
Like what you see here? Click here to subscribe to We-Ha's newsletter so you'll always be in the know about what's happening in West Hartford! Click the blue button below to become a supporter of We-Ha.com and our efforts to continue producing quality journalism.