Pride Month began on Wednesday, June 1 in West Hartford, with a brief ceremony and the raising of the Pride flag.
By Ronni Newton
The celebration of Pride Month in West Hartford began Wednesday with the now-traditional raising of the Pride flag on Unity Green as organizers urged members of the LGBTQIA+ community to "Be Loud. Be Proud."
Conard High School's Voices of the World Choir – brightly dressed and arranged in the colors of the rainbow – welcomed the roughly 50 people who attended the flag-raising, with performances of several songs, including "We Are the World."
.@ConardCHS Voices of the World Choir kicks off #PrideMonth in #WestHartford June 1 with "We Are the World" #WeHa #pride pic.twitter.com/WEwVEUr5ID

— We-Ha.Com (@WeHartford) June 2, 2022
It was two years ago that Town Council member Adrienne Billings-Smith led efforts to rename Unity Green, which had previously been named after Timothy Goodman, who had a slave holder.
"I am so excited to be out here for the fourth flag raising in West Hartford," she said, and it was at the first event she attended when she learned about Goodman and began efforts to change the name of the green to be welcoming to all in the community.
"It's been a rough couple of weeks between Buffalo and Texas, and it feels nice to be out here amongst community, celebrating something so important – inclusion, diversity, family, spirit, and pride," Billings-Smith said. "This is not happening all over the nation. We have states where you can't even say the word 'gay.'"
In Connecticut, and in West Hartford, government and leadership supports the LGBTQIA+ community.
On behalf of the Town Council and Acting Town Manager Rick Ledwith, Billings-Smith read a proclamation declaring this year's Pride Month, June 2022, with the theme of "Unapologetically Us," as"Lesbian, Gay, Queer, Bisexual, and Transgender Pride Month" in West Hartford. The proclamation calls on the community to eliminate prejudice and bias, and to celebrate its diversity, the vibrant community and the importance of education and awareness.
The Pride flag represents "light, healing, sun, calmness, art, and spirit," the proclamation states.
Also participating in the celebration Wednesday were Rabbi Andi Fliegel of Congregation Beth Israel and Rabbi Debra Cantor of Congregation B'nai Tikvoh Sholom. Fliegel read a Hebrew blessing of gratitude for togetherness, while Cantor spoke of the creation of the rainbow flag.
Flying the flag on the town green is "taking action," Cantor said. "It is a beautiful symbol of diversity, of equality. By flying the flag we are saying with our actions that we uphold and honor diversity, freedom, liberation from sexual oppression, equality, and liberty." The rainbow symbolizes a "promise" in the Jewish tradition, "a promise by God to never destroy the entire world again,"a promise to Noah, and a connection with and covenant between all.
"It is a statement that love always wins," Cantor said, and is a living symbol, with new colors added over the years – pink, black, and brown – and now the intersex symbol has been added.
Barry Walters and Johanna Schubert are once again the co-organizers of Pride Month activities which will be held throughout the month of June in West Hartford.
Walters invited the community to the wide range of events, which continue Thursday night with a celebration at GastroPark. The month-long celebration will end on Saturday, June 25, with a day-long festival celebrating arts, culture, music, and performance in Blue Back Square. An outline of events can be found below with more details at westhartfordpride.org or follow @prideweha on Facebook and Instagram.
"For us pride has always been more than a party," Schubert said. "We understand that it started with a riot and we need that energy again," she said, thanking all who attended the flag raising and urging them to attend other events.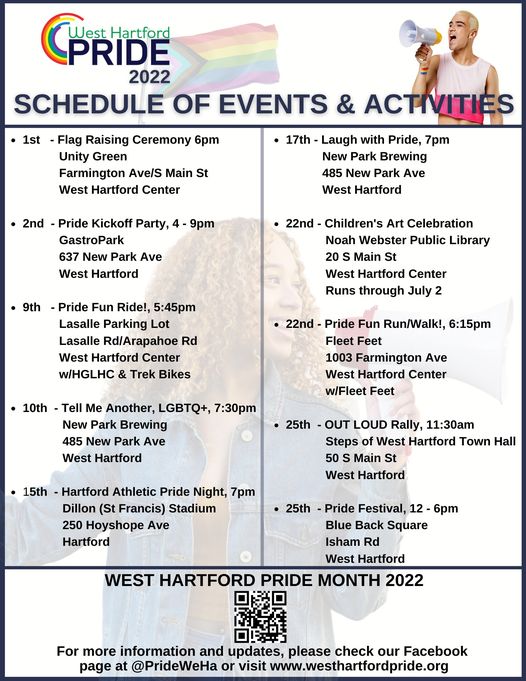 Like what you see here? Click here to subscribe to We-Ha's newsletter so you'll always be in the know about what's happening in West Hartford! Click the blue button below to become a supporter of We-Ha.com and our efforts to continue producing quality journalism.