West Hartford Town Manager Rick Ledwith proposed a $330.5 million budget Tuesday night that would result in a 1.87% tax increase, and the Town Council will meet over the next several weeks, and hold two public hearings, before deciding on the final spending plan.
By Ronni Newton
West Hartford's budget is a tool for the future, Town Manager Rick Ledwith said Wednesday night as he reviewed the past year's accomplishments and introduced a proposal that increases spending by 4.23% and will require an increase in property taxes of 1.87%.
Ledwith said Wednesday that this is "a budget that we feel builds on our momentum while balancing our values and priorities, and this 'momentum' is our theme of this year's budget process following up from the last three budgets that were focused on a response to the pandemic three years ago, the recovery from the pandemic two years ago, and last year's theme resiliency which really set us up for where we are today."
The proposed spending plan of $330,500,635, is an increase of $13,418,484, or 4.23%, over the FY23 budget. Town services are projected to increase by $5,207,519 (4.37%), and Board of Education expenses, based on the proposal delivered by Interim Superintendent of Schools Andy Morrow on Tuesday, are estimated to increase $8,574,103 (4.83%). Capital financing is estimated to decrease in FY24 by $543,138 (3.24%). The percentage of each category relative to the overall budget is unchanged from FY23.
To generate the needed revenue to meet budgeted expenses, the proposed mill rate is 40.96 mills for real and personal property, an increase of .28 mills (0.69%) from the current rate of 40.68 mills. The motor vehicle mill rate, which is subject to a statewide cap, will remain unchanged at 32.46 mills.
Ledwith highlighted some of the initiatives the town implemented over the past year, which will support that momentum.
"We have much to be proud of as a community and through the vision of our Town Council we brought several transformational projects to fruition which in turn creates the momentum we look to build on this year," he said. The Transit–Oriented Development Ordinance adopted last June will help revitalize the Elmwood and New Park Avenue area, and the new Elmwood Community Center – which will incorporate a library, teen center, and senior center – will also support investment in that area of town.
Investment throughout West Hartford by developers of commercial, residential, and mixed-use properties is in the nine figures, Ledwith said, and projects approved will be bringing more than 700 residential units – market rate and affordable – to town.
Other accomplishments he noted were the adoption of the cannabis ordinance, and implementation of programs using the town's American Rescue Plan Act (ARPA) funds that are not just short-term fixes but rather investment in future growth and success in the community. Those include establishment of a $2 million fund to for small businesses and nonprofits, a $6 million fund for affordable housing development and the West Hartford Center Infrastructure Master Plan.
"And while all of this is happening the Council has built on its commitment to equity and sustainability with the promotion of Dr. Roszena Haskins as the Town and Schools Executive Director of Equity Advancement and the hiring of our first Equity Coordinator, Adrienne Billings-Smith who together will move our equity work forward," Ledwith said.
He noted that West Hartford is one of five communities in Connecticut to be named a "Climate Leader," and just one of 26 communities in the state to achieve silver-level certification from SustainableCT. The town will be working toward gold-level certification once those standards are rolled out next year.
"As we move from FY23 to FY 24 our proposed budget reflects the optimism resulting from our past recovery from the economic impacts of the pandemic, balanced against the uncertainty surrounding global inflationary pressures and rising interest rates," Ledwith said. "Although challenges remain ahead of us, our strong financial outlook and significant economic development, coupled with the town's exceptional fiscal policies will allow us to build on our momentum and execute many key initiatives adopted by the Town Council over the past year while strategically investing in key areas with this budget."
West Hartford was on schedule for its revaluation in 2021, a process required to take place every five years by state statute, and when the Town Council adopted the FY23 budget last April it included a 75% phase-in of revaluation, which had overall resulted in a large increased in assessed value of real property. Due to trends in the real estate market, pockets of town – primarily in the area east of King Philip Drive and North of Albany Avenue, as well as Elmwood – saw assessed value increase as much as 20% to 30%, or even more. The remaining 25% of increased assessed value will be included for the upcoming fiscal year, and homeowners recently received notification from the town indicating the assessment that will be used for calculation of their property taxes in FY24, which begins July 1, 2023.
West Hartford's grand list, which now exceeds $7.2 billion, experienced more than $45 million in organic growth, not counting the phasing-in of the balance of the revaluation, which adds more than $195 million in value to the grand list.
The proposed FY24 budget shows that the town is scheduled to receive an aggregate increase of $6,526,181 in state aid compared to the statutory aid reflected in the adopted FY23 budget. The state legislature approved the motor vehicle mill rate cap after the town had already adopted its budget, however, and while residents were taxed at the new rate, the budget comparison of statutory aid reflects an offsetting grant of $5,186,025. The actual increase in statutory aid from FY23 to FY24 is $1,340,156.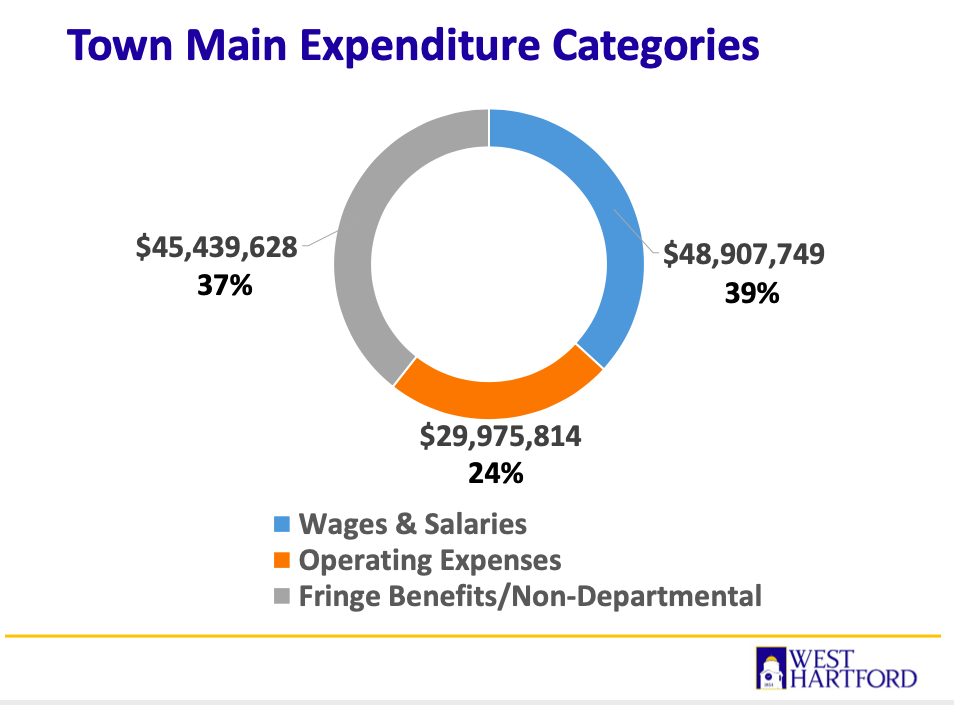 "We are a people-based organization providing direct services to our community," Ledwith said. Wages and salaries continue to be a major driver of the budget.
While on the town side wages and salaries are projected to increase by $2.3 million, which is 5.04%, Ledwith said, "It is important to note that we have not awarded 5% raises to our staff." That increase includes the addition of two positions in Community Development who were hired during this fiscal year and a transfer of the cost of the assistant director of Social Services to the General Fund.
"For FY 24, we are recommending an additional HR specialist as we look to permanently fill the director role and eliminate the assistant director role, as well as two additional staff for our Public Works department which results in the corresponding increase in wages. The increase in Public Works payroll will be offset by a decrease in contractual services and part-time payroll," Ledwith said Wednesday.
For FY24, Ledwith is proposing use of a portion of its remaining ARPA funds to invest and phase-in two new police officers, a new fire inspector – which he said are needed to ensure safety for the community as we look ahead to potentially adding more than 1,000 new multi-family residences in the near future. He is also proposing adding a librarian to an open a position that was not filled during the pandemic, but as library utilization grows to pre-COVID levels is now needed. Salaries and benefits for the positions total $432,879.
Included in the proposed West Hartford Public Schools budget – of which 82% is salaries and benefits for 1,600 employees – is an overall 2.5% increase driven by collective bargaining agreements.
Medical expenses are projected to increase by 8% for both town and school employees, who are all covered by the Connecticut State Partnership Plan.
Expenses related to West Hartford Public Schools account for 57% of the overall budget spending. After that, public safety, and then public works, are the next two largest shares.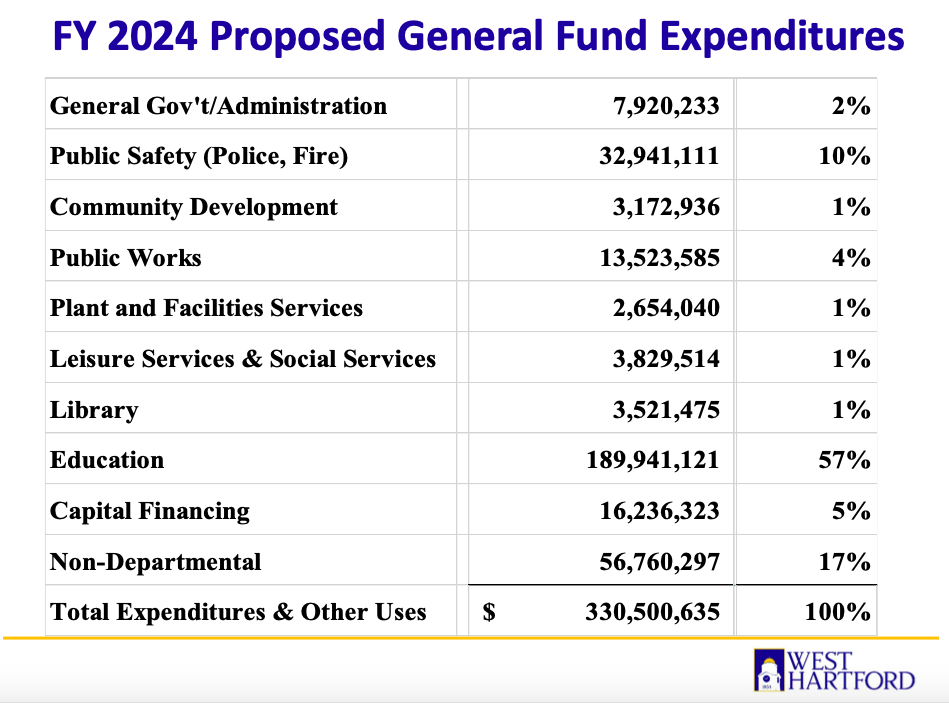 Operating expenses are projected to increase by 4.24%, Ledwith said, mostly due to inflation and continued supply chain. issues.
Regarding pension costs, Ledwith said there is an increase in the Actuarially Determined Employer Contribution (ADEC) due to a downturn in investment earnings, which will be smoothed out through use of the pension reserve fund which was established for just that purpose.
When the Pension Obligation Bonds were issued nearly two years ago, the pension plan was fully-funded. "But when we issued those bonds, our Council had the vision to also establish a POB reserve fund in the event that we ever experienced a downturn in the stock market, much like we did this year," Ledwith said.
The funded ratio has moved from 98.5% to 93.1%, Ledwith said, "but because of our wisdom to create the reserve fund we are able to utilize $2.1 million in reserve funds to smooth out any impact this downturn had on our taxpayers. Again, incredible vision on the part of our Council and finance team."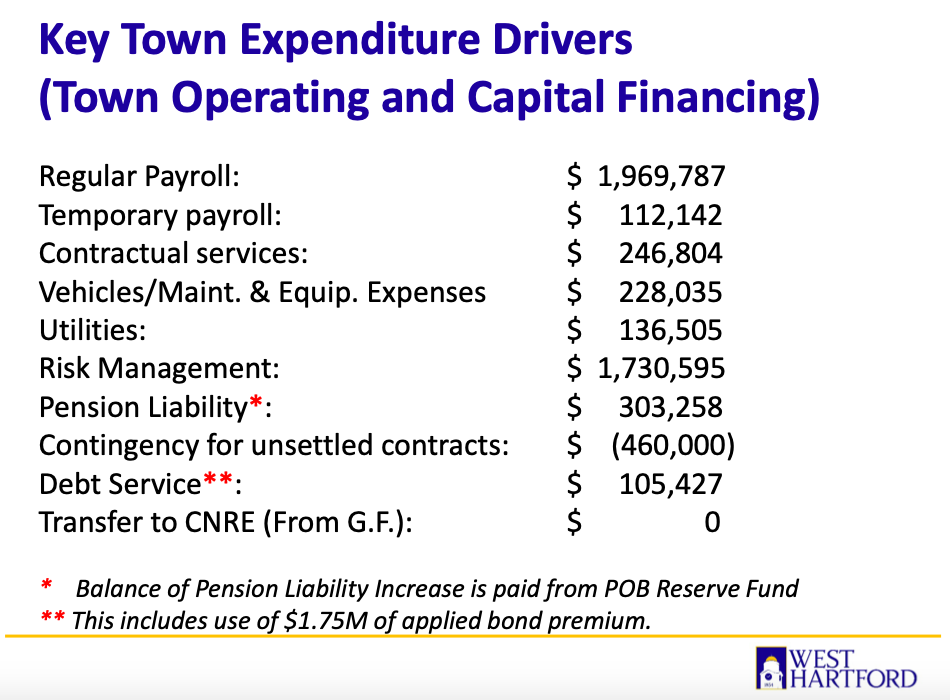 The town's 12-year Capital Improvement Plan, which totals $405 million, is a commitment to maintaining and expanding infrastructure – town and school facilities, transportation, and flood mitigation – and is primarily funded through the issuance of General Obligation Bonds and federal and state grants. As part of the adoption of the FY24 budget, the Council will vote to approve years 1 and 2 of the CIP, proposed at $36.7 million and $40.4 million respectively.
Major CIP projects include the reconstruction of LaSalle Road and Farmington Avenue, remaining security improvements at elementary schools, and the elementary school air quality improvement program. Significant investments are also planned for a materials solutions center and fueling station for the Public Works campus and improvements to the police and fire facilities.
"We believe this budget addresses the diverse needs of our community while being mindful of our responsibility to our taxpayers," Ledwith said. "This budget will provide funding initiatives that build on West Hartford's successes and address emerging issues that maintain our quality of life and our standing as one of the nation's premier communities, maintains core services that support those who need help the most, promotes equity through programs to maximize West Hartford's affordability and accessibility, and meets short and long term goals that maintain and strengthen our current infrastructure. "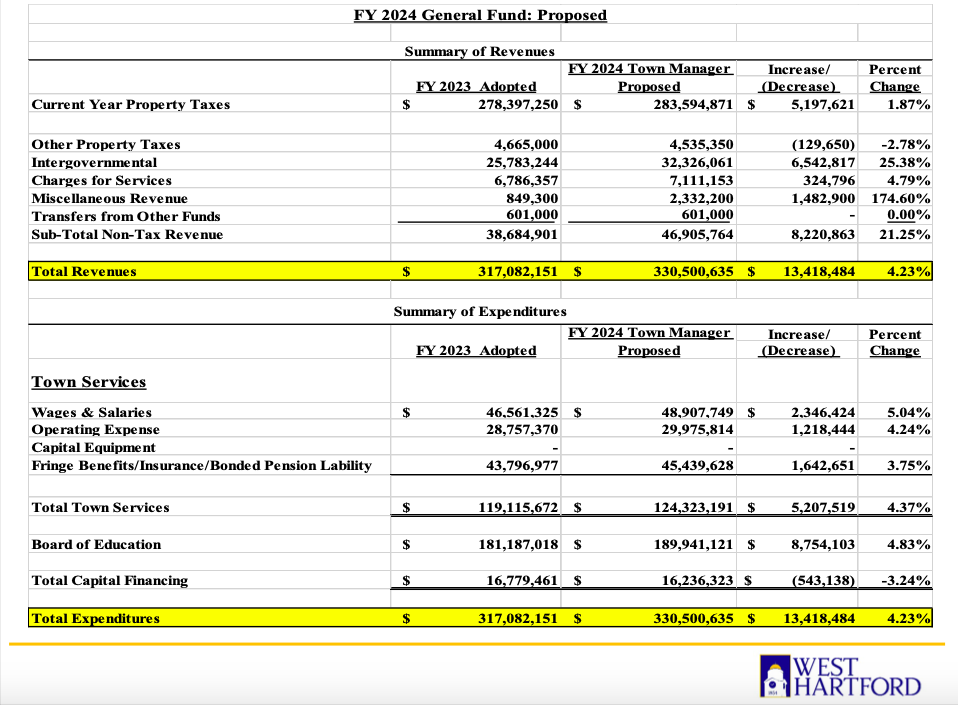 What's next
The Town Council's committees will be reviewing the budget in detail over the upcoming weeks during virtual meetings that are open to the public and will also hold several budget workshops, including a workshop held jointly with the Board of Education.
The public will have the opportunity to comment on the budget at public hearings scheduled for Monday, March 27, at 6 p.m. at Town Hall, and Monday, April 3, at 2 p.m. at Town Hall.
Upcoming public meetings related to the Board of Education budget include:
Budget Workshop No. 1, Wednesday, March 15,  7 p.m.
Board Public Hearing, Wednesday, March 29, 7 p.m.
Budget Workshop No. 2, Wednesday, March 29, following Public Hearing
Board Budget Adoption, Tuesday, April 4, 7 p.m.
Town Council Budget Adoption, Tuesday, April 25, 7 p.m.
The Town Council is scheduled to adopt the budget on Tuesday, April 25, 2023. That meeting will begin at 7 p.m.
All budget documents, including the Budget in Brief, are posted on the town's website for review.
Like what you see here? Click here to subscribe to We-Ha's newsletter so you'll always be in the know about what's happening in West Hartford! Click the blue button below to become a supporter of We-Ha.com and our efforts to continue producing quality journalism.