This year's hyperlocal, people's choice 'Best of West Hartford' contest has some wonderful sponsors, and we have also added some new categories to the nomination process this year.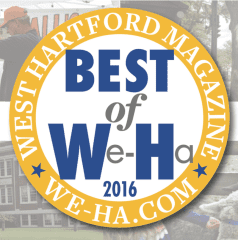 By Joy Taylor and Tom Hickey
Our restaurants, stores, services, and other businesses often win awards in regional "best of" competitions.
But this contest is different.
As we did last year for the first time, We-Ha.com and West Hartford Magazine have created a true "readers' choice" survey called the "Best of West Hartford." You can tell by its name that, like We-Ha.com and West Hartford Magazine, it is a "hyperlocal" contest. The businesses must be in town, but you don't have to live in West Hartford to participate in the nominating.
Based on some feedback from last year we expanded the categories, so if you are a business owner or a customer you will find a place to nominate your West Hartford favorites! The categories are listed below, and be sure to read all the way to the bottom for tips on sharing this contest.
This wouldn't be possible without our 2016 sponsors, including:
Title Sponsors: JP Carroll Construction, Lux Bond & Green, The Mercy Community, Saint Francis Hospital and Medical Center, Sanditz Travel/Spa Soli and William Raveis Real Estate.
Gold Sponsor: Stanger & Associates
Silver Sponsors: Edward Connors Insurance Agency/Travelers, Kingswood Oxford, Oscars Tux/Argelia Bridal and Sheehan Hilborn Breen Funeral Home.
Bronze Sponsors: First Church West Hartford, Jeff Hodges Landscape Contractor, Merchant Solutions, NBC Connecticut, St. Brigid School, Taylor Rental Party Plus, West Hartford Chamber of Commerce and the Town of West Hartford.
Have fun, and don't forget to spread the word and come back and vote once the nominations are in.  Read more about the nominating process here. 
2016 CATEGORIES:
Camp
Park
Preschool/Daycare
Recreation
Bakery
Breakfast Restaurant
Burger Restaurant
Coffee/Tea
Ethnic Restaurant
Family Restaurant
Fine Dining
Grocery Store
Vegetarian
Dessert
Ice Cream Shop
Pizza Place
Business Lunch
Wine Shop
Liquor Store
Exercise/Fitness
Personal Trainer
Hair Salon
Barber Shop
Manicure/Pedicure
Satellite Medical Facility
Spas
Home Health Care
Entertainment
Happy Hour
Tavern
Late Night Spot
Sports Retail
Men's Fashion National
Women's Fashion National
Eye Wear
Fashion Accessories
Gift Shop
Home Improvement Retailer
Jewelry Store
Men's Fashion Local
Women's Fashion Local
Specialty Retail
Garden/Florist
Home Improvement Contractor
Lawn/Landscaping Contractor
Law Firm/Lawyer
Pet Services
Real Estate Company/Realtor
Wealth Management/Financial Planning
Bank/Financial Institution
Best Category we Missed 2016
It's important that you CLICK HERE to nominate your own business, your friend's business, and your favorite businesses all over town in several categories. For businesses, it's a great opportunity to spread the word, about your products and services, via social media as well. Businesses are encouraged to download the "NOMINATE US" sign and put it on display and share it online to help make sure they are not overlooked in this fun, community-wide event. 
Nominations close on May 30, 2016, at midnight. The businesses that receive the most nominations will be chosen as finalists and beginning Monday, June 6, you will be able to vote for your favorite in each category. Voting will end on Saturday, August 13, 2016.
Nominations and voting will all be conducted on We-Ha.com.
One of the best parts for readers is that if you participate in the "Best of West Hartford" readers' choice survey, you will automatically be entered to win four general admission tickets to the "Best of West Hartford" event.
Like what you see here? Click here to subscribe to We-Ha's newsletter so you'll always be in the know about what's happening in West Hartford!