The West Hartford Chamber of Commerce has announced this year's Noah Webster Award recipient, Spotlight Award winners, and others who will be honored at the West Hartford Chamber of Commerce Annual Meeting on June 17, 2019.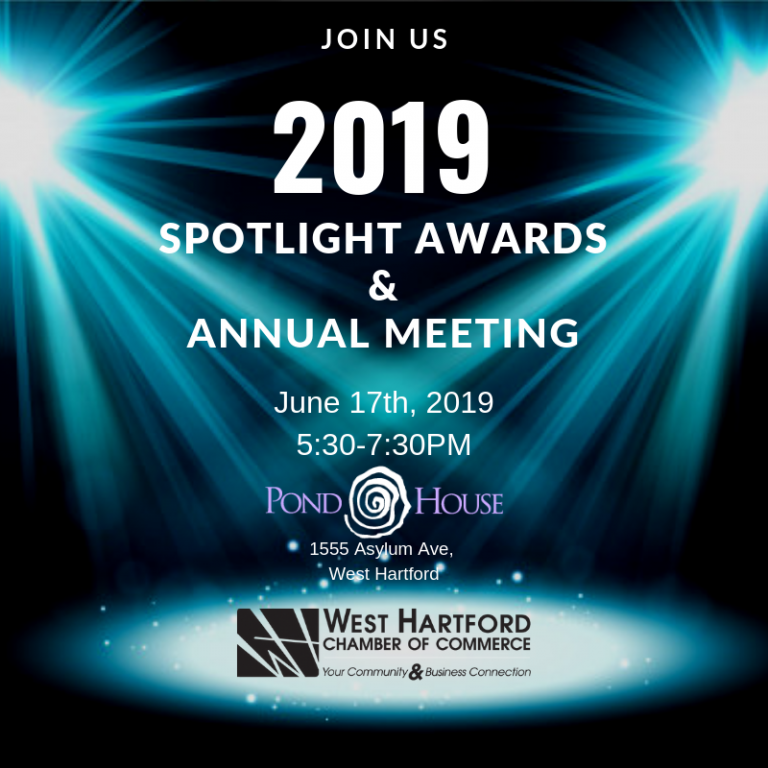 Submitted
The West Hartford Chamber of Commerce is proud to announce their 2019 awards recipients, who will be recognized at the Chamber's Annual Spotlight Awards & Annual Meeting on Monday, June 17 from 5:30-7:30 p.m. at the Pond House Café, 1555 Asylum Ave.
Billy Grant III will be the recipient of the 2019 Noah Webster Award – an honor that is given each year to the person, persons, or organization exemplifying an extraordinary commitment to the West Hartford community.
Upon hearing the news of Grant's recognition, Foodshare President & CEO Jason Jakubowski said, "It's hard to think of someone more deserving of the Noah Webster Award than Billy Grant. His job is to feed people in his restaurants, but he extends that vocation into his philanthropic endeavors as well. Every time we ask him for something – whether it's for turkeys or donations or our Eat-Drink-Give event – Billy always says yes.  All of us here at Foodshare want to congratulate him on this well-deserved honor."
The Chamber will also honor several of its members with Spotlight Awards. Chamber members are nominated annually for this honor, recognizing significant accomplishments or milestones in their business or organization. This year's recipients include Bartlett Brainard Products Co., blumshapiro, Futures Inc., Lotus Transitions, and Turnpike Motors.
"This year's award winners demonstrate the depth and variety of our membership. They include long-standing family owned businesses, smaller entrepreneurial success, and even a nonprofit organization," said Christopher Conway, executive director of the West Hartford Chamber of Commerce.
In addition to the Spotlight Awards, the Chamber will present its Ambassador of the Year award to Avi Smith-Rapaport of We Care Computers, and the Volunteer of the Year award to Ira Nozick of Ira Nozick Photography, who has donated both his time and talent to the Chamber for many years.
The Chamber will also be presenting a total of $5,000 in grant awards to three community organizations – Seniors Job Bank, A Better World, and Community Renewal Team.
At the ceremony, the Chamber will also recognize outgoing Board of Directors members and welcome a new group of members.
This year's annual dinner Gold Sponsors this year include Simsbury Bank, ADNET, Morgan Stanley, and DirectLine Media.
For tickets and sponsorship information, please call the Chamber office at 860-521-2300 or visit the website.
Like what you see here? Click here to subscribe to We-Ha's newsletter so you'll always be in the know about what's happening in West Hartford!