Shevon and I are working with Master Trainer, D'Mario Sowah at Akua Ba Fitness in West Hartford, and we'd like to share our journey with you.
By Tom Hickey
If you know me, and my wife Shevon, well then you know that we do just about everything together … so we figured, why not work out together?
Admittedly I have known about D'Mario ever since he moved into Blue Back and his shear size and presence intimidated me (still does). I recall seeing him exercising on the lawn at Blue Back (where Delamar is currently under construction) and saying to myself those people must be crazy subjecting themselves to work outs like that.
Now Shevon and I are no slackers – Shevon runs 5 miles a day at 5 in the morning and I do my best to keep up. We are healthy and in relatively good shape; or at least we thought we were. After our first assessment with D'Mario, including physical tests and body fat measurements, we were shocked at how poorly we did. To be honest, Shevon did much better then I, in fact, I almost got sick and nearly passed out but D'Mario was right there to help me through it. The way I see it, it gave me something to work toward. Afterall if we were in perfect shape, we wouldn't be there.
What struck us most about D'Mario (other then his amazing life story) was his practical approach to what he calls, "Reverse Evolution Training." Before machines and instruction manuals were introduced, people worked with their body's existing resources to strengthen what was already there. This approach produces results in record time because your core is activated, fat burns faster, injuries are minimized and benefits are maximized.
We can truly say that, "Reverse Evolution Training" is a more natural way to get fit. Through D'Mario's approach you learn how to work with your body's existing resources to strengthen and recondition, so hopefully it will produce greater results in record time. Shevon and I have quickly become very aware of every muscle (some we didn't even know we had) through D'Mario's training approach. One day I recall having trouble putting on a tie the day after a workout.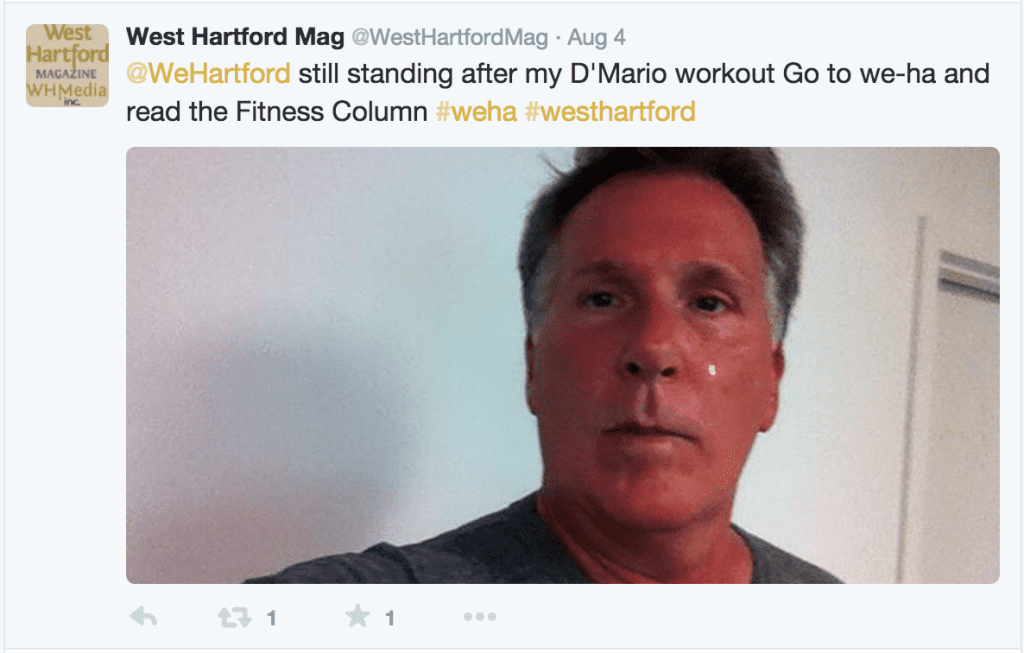 Oh, you haven't worked out until you tried a "crawl" not once but six times during a session. I'll let you find out more about that. Now we kid you not, is it easy? NO! But because D'Mario and all the trainers on staff work with you individually you go at your own pace. Of course with a little push and sometimes not so little nudge to stay on course.
Shevon and I look at this new workout routine as a form of creating lifestyle changes through holistic fitness for the mind, body and spirit. We'll see where it leads us and we'll share our journey with you. Please feel free to ask any questions via Akua Ba Fitness (see contact below).
It is D'Mario's goal to have us do the CHALLENGE 51 course that he has built into his program. I'm not so sure it is our objective yet, BUT we'll work toward that common goal!
We would love to find the time to be involved in the fitness classes and special events to support our individual fitness needs. Due to our schedules we haven't been able to do this yet but we will. We should add that all of the trainers have a specialty certification – from working with clients on rehabilitation, to sports conditioning, to weight loss. At Akua Ba you will be matched with a trainer who understands your unique needs.
To begin, please tell Akua Ba we sent you and get a free fitness assessment. Call to schedule your appointment and you'll be glad you did.

AKUA BA FITNESS. 860-967-0561 [email protected] 121 Talcott Road, West Hartford, CT 06110 The new custom-designed facility over 10,000 square feet. The facility boasts state-of-the-art equipment, locker rooms with showers, and the proprietary Area 51 Obstacle Course.
As seen in West Hartford Magazine, Issue No. 2, 2015. Subscribe to the magazine here. To view the full magazine online, please view the full issue here.