Updated: The location of Taste of Blue Back Square & The Center has been changed due to a forecast of rain.
By Joy Taylor
Heavy rain is in the forecast for Wednesday afternoon and early evening, but the weather will not put a damper on the third annual Taste of Blue Back Square & The Center.
Organizers have been able to secure a fabulous space, and the event has been moved indoors, just steps away from its original location.
The former REI store – which will soon be converted to the Spaces co-working facility, is being made available for the event. It is fully enclosed – and is air-conditioned.
Enter from Raymond Road or Isham. The parking lot will be closed to traffic, and check-in will be just inside the doors.
Original Story
A 'Foodie Fantasy' will greet all who attend Taste of Blue Back Square & The Center on July 25 for one of the most popular eating events of the year.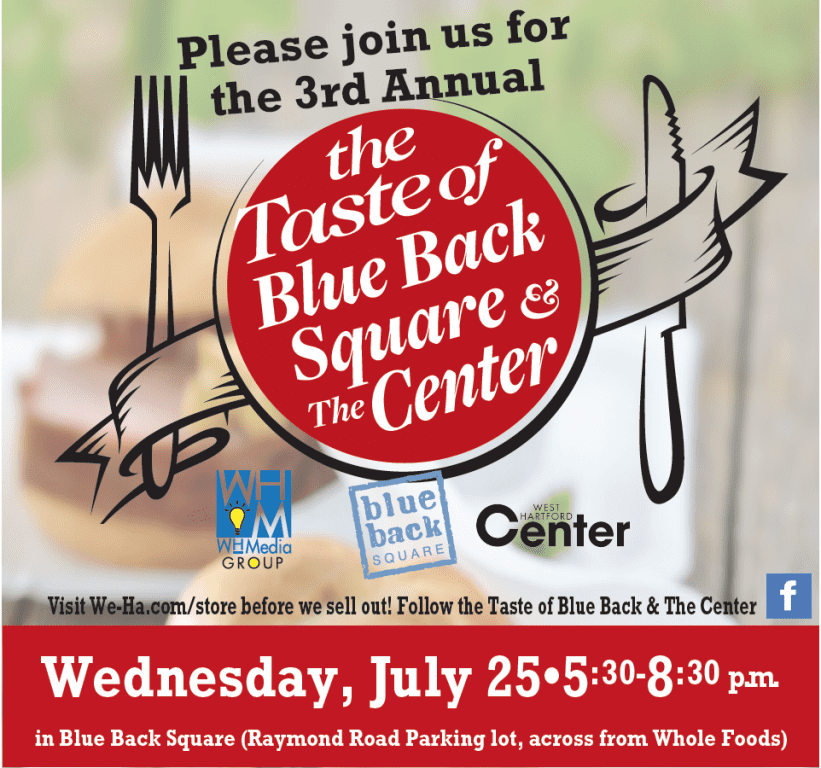 Every restaurant in Blue Back Square is preparing for the third annual Taste of Blue Back Square & The Center, which will take place on Wednesday, July 25, from 5:30-8:30 p.m. in the Raymond Road Parking Lot (formerly REI Parking Lot).
The event will be held rain or shine.
Blue Back Square General Manager Robyn Rifkin and Marketing Director Amy Cholawa are so excited about the third annual "Taste" and encourage everyone to buy tickets now because it has sold out for the past two years.
Blue Back Square's Artisan, Flora, and India are already planning not only their menu but presentation for the evening. Participating restaurants from The Center, including Barcelona and Grant's, are brainstorming about their presentations for 2018. We will be able to taste those amazing Billy Grant meatballs again this year?
Additional participants, as of 7/17: Bar Louie, Fleming's Prime Steakhouse, Vinted Wine Bar & Kitchen, Rizzuto's Restaurant, World of Beer, The Cheesecake Factory, and Cook and The Bear. 
Watch for details on the Facebook event page as restaurants and menus are finalized and announced.
Cholawa advises you to "gather a group of four or more family and friends and get your tickets for the bulk discount of $25 each. When else can you taste samplings from over 14 restaurants at one time for that price?"
Registration and entrance to the event will be very strict this year and "buttoned up" according to event organizer Tom Hickey of WHMedia (#wehaevents). "We had some party crashers last year and that is not fair to those who have purchased tickets," said Hickey.
Attendees will only be able to enter the event via the Isham Road walkway in between Cheesecake Factory and Bar Louie. There will be no access via Raymond Road, and security personnel will be monitoring that area. You may park in designated spots all around Blue Back Square, including on Raymond Road, but will have to walk around to the registration table. There will be no exceptions. Handicapped access is available from the Isham Road side.
Two Pour Guys will supply bartenders and manage the beverages this year, and will offer a variety of liquors, bottled beer, and red and white wine, as well as mixed drinks and a Blue Back signature cocktail. Beer will be sold for $4, wine for $5, and mixed drinks and the Blue Back signature cocktail will be $7. Water ($1) and soda ($2) will also be available.
Blo Blow Dry Bar will be back again this year with their Blo Ponytail Bar so "arrive early and get your hair done for free," commented Cholawa.
Once your hair is done, head over to SnapSeat Photos. You will be able to immediately share your photo on social media and take home a complimentary print – a gift from organizers for attending the Taste of Blue Back Square & The Center.
Hickey announced the addition of APK Charities as the nonprofit beneficiary this year, and the organization formed in honor of fallen soldier Capt. Andrew Pedersen-Keel, Special Forces, by his parents Bob and Helen, will receive a portion of all proceeds. July 25 is "National Hire a Veteran Day" and APK works very closely with Mohegan Sun on this service so you'll learn more that night.
Music will be provided throughout the event by T&T DJ and Sound, then later in the evening We-Ha-HA! Comedy Night will take the stage thanks to host Dr. Steven Fischman and promoter Paul Gregory.
Joy Taylor, a wellness advocate with dōTERRA, will provide hand sanitizing during the event so stop by her table. Taylor Rental Party Plus will have lots of fun surprises as they plan on converting the parking lot into a park-like setting.
Thank you host sponsors Eagan, Donohue, Van Dyke & Falsey and Keating Insurance. Additional thanks to the #wehaevents sponsors: Blue Back Square, Central Connecticut State University, French Cleaners, Jeff Hodges Landscaping, Lux Bond & Green, Valerie E. Thomas Associates, Sheehan Hilborn Breen, Robin Gebrian/William Raveis, Marcum (formerly Filomeno), and The McAuley.
Other partners include Connecticut Jewish Ledger, DirectLine Media, Eat IN Connecticut, FLOW, Merchant Solutions, Roy Web Design, SnapSeat Photo Booths, T&T Sound, Taylor Rental Party Plus, Todd Fairchild Photography, Two Pour Guys, West Hartford Chamber of Commerce, We-Ha.com, West Hartford Press, West Hartford LIFE, WH Squared, West Hartford Magazine, and Town of West Hartford.
So many more exciting announcements to come stay tuned to We-Ha.com and follow the event on Facebook so you don't miss anything. But remember this event does sell out every year so another friendly reminder to make your plans now and buy your tickets so you are not disappointed.
Like what you see here? Click here to subscribe to We-Ha's newsletter so you'll always be in the know about what's happening in West Hartford!