West Hartford's Trout Brook Trail will have two additional sections open before the end of 2023.
By Ronni Newton
By the end of 2023, all but one section of West Hartford's Trout Brook Trail should be officially open for use by the public.
"We're almost there," Director of Community Development Duane Martin told We-Ha.com this week.
The opening of the roughly half-mile section of trail between Farmington Avenue and Fern Street was celebrated last summer – and in September another 2,900 linear feet (0.55 miles) will extend the trail north to Duffield Drive.
Nunes Construction is currently working to complete the latest section, and Martin said the first layer of pavement has been installed, the retaining wall has been built, and fencing is in place. Funding has been provided through a grant from the Capitol Region Council of Governments (CRCOG) through the Local Transportation Capital Improvement Program (LOTCIP).
"Landscaping is expected to be installed in the coming weeks, followed by the final paving in early September – weather dependent," Town Engineer Greg Sommer said. "The trail is expected to be open to the public by mid-September."
As soon as that section is completed, Sommer said work is expected to begin on a further extension of the trail, from Duffield Drive to Asylum Avenue.
The funding has been secured, Martin said, and that particular 600-foot section should be fairly simple to construct because the ground is level and it's essentially the same as creating a sidewalk. While the trail will be located in a public street right-of-way, he said there are four properties that abut the trail, and the town has been in touch with them to notify them of the work that needs to be done.
The trail has been built in phases, and will eventually extend 3.5 miles, from New Park Avenue to Asylum Avenue. The phases are numbered by blocks – each about a half-mile in length – from south to north, but have not been built in numerical order. The first phase to be completed, Phase 4, which runs between Park Road and Farmington Avenue, opened in 2008. Phase 1, from New Park to South Quaker Lane, opened in 2009.
Phase 2, which begins near Beachland Park on South Quaker Lane and ends at Jackson Avenue along Trout Brook Drive, was completed in 2015, and Phase 5 was the section that opened last summer.
Fern Street to Duffield Drive is Phase 6, and Duffield to Asylum is Phase 7.
"We still have Phase 3," Martin said. The 3,900-foot section from Jackson Avenue to Park Road is the most complicated, because it will require narrowing of Trout Brook Drive. The town has received funding for this section and design work is underway.
Martin also said that the town has had discussions with the owner of the former UConn campus – that plans to develop Oakwood Park on the site – and they are hopeful that the Trout Brook Trail will ultimately continue through that development to Lawler Road.
A map of the current trail can also be found as a PDF below.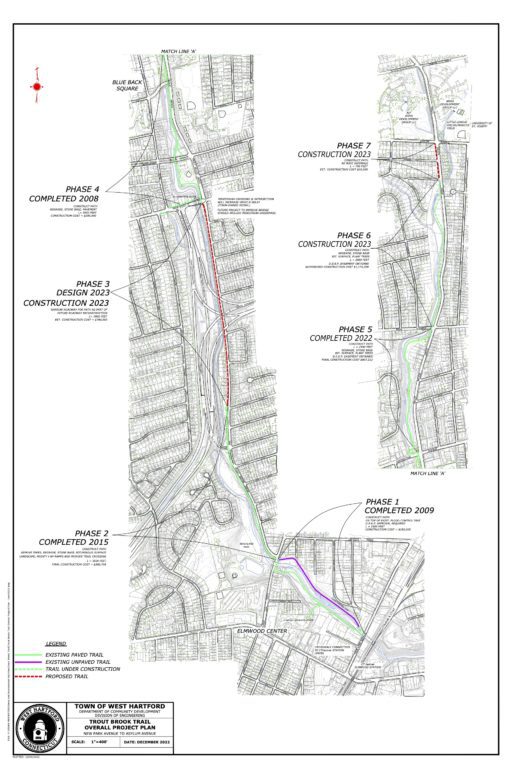 Like what you see here? Click here to subscribe to We-Ha's newsletter so you'll always be in the know about what's happening in West Hartford! Click the blue button below to become a supporter of We-Ha.com and our efforts to continue producing quality journalism.