Wordies from all over North America will spar over words – for a cause – in support of the Noah Webster House & West Hartford Historical Society.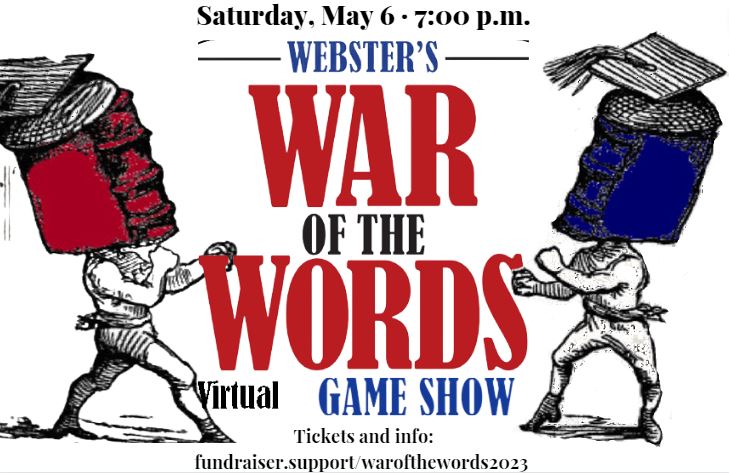 Submitted
On Saturday, May 6, 2023, at 7 p.m. EDT ,the Noah Webster House & West Hartford Historical Society will bring you a virtual, word-based game show hosted by Merriam-Webster Dictionary's Editor at Large, Peter Sokolowski.
The museum's signature fundraiser, "Webster's War of the Words," features two teams of celebrity contestants engaged in an entertaining battle of words and wit. You will have chances to play along for prizes and the opportunity to bid on fabulous auction items. Tickets start at $25 and can be purchased here.
Join us for this virtual event to benefit the not-for-profit museum. You won't want to miss these 'logophiles' (i.e., word-lovers) in action! Contestants (and guests) will join in the fun from across the country and all over the world!
This year's contestants will be joining us from far and wide. On the Blue Team, returning guest Ben Zimmer, linguist, lexicographer, and language columnist for The Wall Street Journal, will join forces with Mignon Fogarty, founder of the Quick and Dirty Tips network and creator of Grammar Girl, and Tracy Bennett, Associate Puzzle Editor at The New York Times and editor of Wordle.
On the Red Team, David Kwong, magician, writer, producer, and New York Times crossword puzzle constructor, will join forces with Jessi Grieser, associate professor of linguistics at the University of Michigan, and Sam Ezersky, a.k.a. the "Grid Kid" and the Digital Puzzle Editor at The New York Times.
The hour-long battle of wits will be refereed by the incomparable Peter Sokolowski. There are three ticket levels to choose from starting at just $25. An entry-level ticket gives you access to the Webster's War of the Words Virtual Game Show. Want to make it a party? Join us in person at the museum! For $50, you can arrive at 6 p.m. EDT to enjoy hearty hors d'oeuvres with friends. We will be streaming the Kentucky Derby before The Game Show begins streaming live at 7 p.m. EDT. There will be beer, wine, and the signature Blue Backed Spiller cocktail. Food and one drink are included in the ticket price. If you really want to show your support, purchase a "Collections Conservator" ticket for $250, and your donation will support the preservation of one collection item for a year and access to the Virtual Game Show.
The Webster's War of the Words fundraiser also features an online auction with fabulous items. New and exciting items continue to be available, and you will not want to miss out! You can start bidding April 27 at bit.ly/wwwauction2023.
Whether you attend the event, purchase an item in the auction, or make a donation, your contribution will help the museum preserve the 300-year-old National Historic Landmark birthplace of founding father Noah Webster, care for collections related to Noah Webster and West Hartford history, interpret and champion Webster's legacy of language and literacy, and host engaging events that educate and enrich the lives of many.
Tickets are currently available for the event and can be purchased here. Webster's War of the Words Virtual Game Show will be hosted using Zoom Webinar. The Webinar link will be included in your ticket receipt. Depending on your ticket level, a portion of your ticket is tax-deductible.
The Noah Webster House & West Hartford Historical Society is a cultural destination where citizens can learn to understand and appreciate the past. The museum preserves the birthplace of Noah Webster, the founding father, educator, author, and lexicographer who taught generations of Americans what it means to be American. This National Historic Landmark is also a repository for the history of West Hartford, the community that molded Noah Webster's future and is still thriving over 250 years later. The historic house and exhibit spaces are open Monday through Saturday 1 p.m. until 4 p.m. For information on the museum's extensive school and public programs, please visit www.noahwebsterhouse.org or call 860-521-5362.
The museum would like to thank the Hartford Foundation for Public Giving for their continued support.
Like what you see here? Click here to subscribe to We-Ha's newsletter so you'll always be in the know about what's happening in West Hartford! Click the blue button below to become a supporter of We-Ha.com and our efforts to continue producing quality journalism.