A round-up of openings, closings, and other news about West Hartford businesses.
By Ronni Newton
I'm back from a wonderful vacation in Aruba – and it was certainly a tough re-entry going from tropical paradise to temperatures in the 30s on Monday and Tuesday, plus an hours-long Board of Education meeting, and a full schedule of ribbon cuttings and other events last week.
Thanks again to Keith Griffin for doing a great job taking care of We-Ha.com, including writing Business Buzz for last Monday. I arrived home late Sunday night and it was such a relief knowing the column was taken care of!
I hadn't taken a vacation without my laptop in tow in more than five years (with the exception of a short bike trip in 2018 where the laptop would have taken too much space in the panniers but I managed to work from an iPad). While I did send a few texts to Keith and forward a few emails from my phone, I didn't sign into the site or post anything on social media (other than my personal accounts), and my week was a much needed respite from deadlines other than when the boat was departing for a snorkeling trip or a dinner reservation. We (Ted and I, along with Katie and Matt who joined us mid-week) swam in turquoise water, relaxed on the beach with a book, snorkeled to see fish of all sizes and shapes among coral and a shipwreck, rode on a UTVs, climbed 600-plus steps to one of the highest points on the island, drank lots of pina coladas and other tropical drinks, sang karaoke (that was only me, and it was following a tropical drink or two), rode e-scooters, visited the resort where Ted and I honeymooned decades ago, and I even jumped off a small "cliff" into the water (it was 10 feet – and I was terrified but glad I did it).
Spring has definitely arrived in West Hartford (take a drive down Boulevard between South Main and Ridgewood Road where the streetscape is so pretty right now), the grass is growing and turning green, trees are budding, and while not every day is going to be sunny and warm, when the weather permits people are definitely getting outside to enjoy it. On both Saturday and Sunday, the Center and other parts of town were full of people eating at outdoor tables, walking dogs, biking, enjoying ice cream, listening to live music, and it was wonderful!
This week's only dining out experience for me is part of the featured item in this column, so instead I bring you one of my favorite vacation food photos. Ted, Katie, Matt, and I ate poké bowls for lunch almost every day, and this assortment (from a restaurant called Poké Ono) was as delicious as it was beautiful.
This is going to be another busy week in West Hartford, starting with Monday night's Town Council budget adoption meeting. Other events this week include the WeHa Wellness Fair (Tuesday in Blue Back Square), Title IX celebration (Wednesday at Hall High School), and the public information session regarding the North Main Street Road Diet trial (Thursday at Town Hall).
Before getting to the Buzz, one more item I want to mention. Borrowing a message from the Connecticut Mirror: our news is free to read but not to produce. While they are a nonprofit and We-Ha.com is not (not technically, anyway!), it's a challenge to keep the community fully informed with our only revenue coming from advertising sales. At the bottom of every article (including this one) is a call to action to subscribe to our Monday-Wednesday-Friday newsletter, and also to become a supporter by clicking on the blue button. More than 100,000 unique visitors view the We-Ha.com site every month, and in a 30-day period we have more than 250,000 page views (that's more than 3 million a year!). While many parts of the country, or even the state, have become virtual news deserts, we are working hard to keep West Hartford informed, and would love to expand our reporting. I continue to be opposed to a paywall, but we would love to have additional readers as supporters – and welcome even donations as small as $1. (See blue button below, and thank you!)
I'm eliminating my standard paragraph about mask mandates since they have been lifted virtually everywhere except in most health care settings, but COVID-19 has not gone away. Please have patience with each other and our choices, continue to look out for each other, support our local businesses – and stay safe and healthy (especially as the infection rate appears to be climbing again).
If you have information to share about local businesses, please provide details in the comments or email Ronni Newton at [email protected].
**************************************************
Here's this week's Buzz:
GastroPark is one of the places that is even more popular when the weather is nice, and West Hartford's food truck park is continuing to expand its operations. It was briefly mentioned in last week's column, but on Saturday evening Ted and I checked out the new "grazing options" which can be ordered at the bar from noon to 7 p.m. on any day the venue is open. "We didn't want to do anything to take away from the trucks," GastroPark owner Tate Norden said, but they have a few items prepared in the on-site kitchen to ensure that food is always available. Included are a variety of burgers made from locally-sourced beef (my new favorite is the Prohibition Burger which has thinly sliced onions smashed into the burger meat, and is topped with fancy sauce and American cheese), and hot dogs. We also sampled the Patio Burger (topped with g sauce, lettuce, and American cheese) and a Chili Slaw Dog (chili, coleslaw, and chives) and a Chicago Dog (tomato, relish, spicy mustard, and chives) – all washed down with some tasty IPAs. The rolls are King's Hawaiian Bread, gluten free rolls are also an option, and a vegan burger is in the final taste-testing stage and will be on the menu soon. Norden, who also owns the Iron & Grain food truck, said the Iron & Grain team is operating the kitchen. That team now includes Carly Tyrrell (formerly of Fiddleheads in Hartford), who is their resident "farmer" and will be growing micro-greens and other edible items and flowers on- and off-site that will be used as ingredients and to beautify the park. In addition, GastroPark celebrated Earth Day with the official signing of a partnership agreement with Blue Earth Compost. Food waste from GastroPark and its vendors (Perkatory, Small State Provisions, and the visiting food trucks), and Iron & Grain, will be turned into compost to be used in the on-site gardens. GastroPark is also expanding their schedule of pop-up events, like Sunday's Kent Falls Brewing Spring Bottle Release which was accompanied by live music.
Tavern in the Square is getting very close to being ready to open in the Corbin Collection (next to Hot Table panini and a few doors down from Shake Shack)! When I stopped by last week contractors were hard at work at what is going to be a spectacular tiled patio, and I did peek inside the door (it was an unofficial visit and the contractor wouldn't allow any photos), and it looks like it's going to be a fun place that the community will really enjoy. A Massachusetts-based business that has 10 other locations (a few are in Rhode Island), Tavern in the Square was founded by three friends and offers a diverse menu along with local beers and craft cocktails. "We wanted to build a place where friends could gather and be themselves," the website states. "Where they can choose 

from dozens of locally made beers and skillfully made cocktails. Where the food is excellent, made 

fresh every day on site, from real local ingredients, with a menu that is diverse, accessible, and 

affordable. This place, Tavern in the Square, is an evolution of the classic neighborhood joint. A place 

to stop in for a beer, meet a date for a drink, watch a game with friends, or sit down for relaxing dinner 

with family. No matter which Tavern you visit, you'll find groups of friends, new and old, enjoying good 

drinks, great food, and a fun environment. Every Tavern we build is a reflection of its community." More to come as the opening approaches! 
Also getting close to opening is Kung Fu Tea (5 South Main Street). It's taken a long time to convert the former Esquire Cleaners into a bubble tea shop but the paper is off the windows and the interior looks completely ready, most of the permits seem to have been finalized. I'm waiting to hear back from the owner about an opening date, but the Facebook page (and a sign in the window) say they're hiring so it shouldn't be long!
It was recently announced by Big Brothers Big Sisters of Connecticut that West Hartford's Lisa Bonner, (at right in photo below), has won the organization's Victoria L. Soto Memorial Award for 2022. The honor will be officially presented at the Big Brothers Big Sisters of the Year Awards event, being held at the Mark Twain House & Museum in Hartford on May 19. Bonner is the Go-To Marketing Director at Evernorth, a division of CIGNA. She's also a veteran Big Sister (mentor) in the site-based mentoring program Big Brothers Big Sisters manages at the CIGNA campus in Bloomfield. "The award isn't just about me," Bonner said. "Winning it is a team effort. Adeyinka, Tianna and Dionna were with me all the way on this." Adeyinka, left, is one of Bonner's Little Sisters (mentees) in the site-based mentoring program at CIGNA. Tianna and Dionna – all students at Hartford's Annie Fisher School – are also mentees. Learn more at www.ctbigs.org.
The West Hartford Chamber of Commerce officially welcomed several businesses last week with ribbon cuttings, including Store 52 (52 LaSalle Road), where Mayor Shari Cantor and other town officials joined the store's staff to cut the ribbon on Thursday morning. John Green of Lux Bond and Green is the president and CEO of Store 52, but while the stores are next door to each other the spaces are not physically connected and the two brands are very different. Store 52's industrial-style space is "Soho chic," with approachable prices (beginning at $25) and extended hours until 7 p.m. and on Sundays. The ribbon cutting event also included a Kent Stetson trunk show featured custom handbags – many of which feature dogs! We featured the new store in this column a few weeks ago when it first opened, and the details can be found here.
A ribbon cutting – hosted by the West Hartford Chamber of Commerce – was also held last week at Gillette Wines and Spirits, which opened a few months ago in Crossroads Plaza in Bishops Corner. Mayor Shari Cantor, along with store owner Anand Palani and his family, cut the ribbon on Friday afternoon officially welcoming the new retailer which relocated from Bloomfield. The grand opening celebration included a wine tasting, and I tasted a number of wines I really liked (an eclectic variety, too), and went home with a mixed case. The event included special guest Lt. Gov. Susan Bysiewicz.
"PeoplesBank has been celebrating Earth Day for close to 10 years," said Regional Manager Roma Odedra, as she handed out tomato plants, packages of flower seeds, and mermaid gardens for kids along with Banking Center Assistant Manager Kris Lucke Friday morning in the parking lot of the branch's offices at 102 LaSalle Road. "We're giving away plants to help get the garden going," she said, as a steady stream of customers and passersby came to pick up a plant. PeoplesBank opened their West Hartford branch last September so this is their first Earth Day in town. I will do my best to nurture my new "Early Girl" tomato plant, and to protect it from bunnies, squirrels, and my tomato-eating Bearded Collie.
When I was answering some of the questions my accountant, John Prendergast had about our tax information a few weeks ago (he has always been very patient with me) I learned that the company had recently had some Business Buzz-worthy. changes, including a merger with another business. Gitlin & Company, LLC, (836 Farmington Ave., West Hartford) formerly known as GitlinCampisePrendergast, LLC, has incorporated the business of Robert J. Koury CPA, and Koury is now a partner/member. In addition, Brent Wargo has been promoted to partner/member, and Guy Giantonio has joined the firm as a partner/member.
BiCi Co. is now open (with limited hours) on the ground floor of 616 New Park. The shop, which offers bicycles and accessories for sale and also provides repairs and service, is currently open Fridays from noon to 6 p.m. and Saturday from 10 a.m. to 6 p.m. They hosted a celebratory 12-mile ride in West Hartford on Saturday morning, and follow their Facebook page to for updates on future events.
Harvey's Cafe and Market (161 Oakwood Ave.) is offering free coffee and cold brew throughout the rest of April. That's not a typo, and Harvey's is well known in the community for their great product and even better customer service. All beans are organic, and curated by Equal Exchange. "Fair Trade Coffee – A people powered solution to global economic injustice, actively supporting small-scale producers, preserving the environment, and promoting an end to child labor," Harvey's posted on its Facebook page with the announcement of the offer.
Congratulations to West Hartford Chamber of Commerce staff on their new titles and roles. Chris Conway, who was hired as executive director in December 2018 after previously serving as membership director of the Waterbury Regional Chamber of Commerce is now president and CEO of the West Hartford Chamber. Kate Kobs, who was hired part time as Outreach & Development coordinator in April of 2019 is now a full-time employee and director of Development & Programs. "I am honored and humbled by the decision by our Executive Committee and Board of Directors to change my title as leader of the West Hartford Chamber. I look forward to working with Kate, our board, and members to expand our programs and resources in an effort to support our local businesses, nonprofits and community," Conway said. "As a life-long West Hartfordite, I'm excited to expand my capacity to support this town. I'm lucky to find a role that allows me to help my community thrive," said Kobs. Amy Babich, chairperson of the West Hartford Chamber said, "We are thrilled to announce the promotion of Christopher Conway to president and chief executive officer and the promotion of Kate Kobs to director of Development & Programs. Chris and Kate are stalwart advocates and tireless workers for our business community. Their creative solutions, contributions, and communications support and sustain our local businesses and entrepeneurs, especially during the uncertainty of the past two years due to the economic effects of the pandemic. Chris and Kate's new titles more fully reflect their evolving roles and responsibilities, along with our Board's confidence in their ability to enhance and grow our Chamber for years to come." First Vice Chairman Chip Janiszewski said the promotions and new titles were well-earned a a win-win for all. "The COVID-19 pandemic has certainly presented the world we live in with unprecedented challenges over the last two-plus years, yet the West Hartford Chamber of Commerce is stronger than ever and continues to grow thanks to the Chamber's immediate (and ongoing) outside the box response in promoting COVID resources and creating initiatives and events (both live and virtual) to aid members, businesses, and our community in facing these challenges. These efforts were largely spearheaded by Chris, Kate, and Jessie Bouclier (who left the Chamber for a position in the private sector last month). The clear take-away from this past Tuesday's Board of Directors meeting (during which the promotions were announced) is our confidence in Chris and Kate in guiding and supporting the Chamber's service to our members and the community, ensuring our continued growth."
After the second of two ribbon cuttings in West Hartford last I left the boundaries of town (slightly) for the grand opening celebration of Hartford Baking Company's new location at 767 Farmington Ave. in Farmington (where Truffles was previously located). They were dishing out samples of pancakes with real maple syrup (buttermilk and ricotta lemon – and I am still thinking about them and have decided that a pancake is a great Friday afternoon snack), which will be on the weekend menu in Farmington but coming soon to West Hartford, too. Also for the sampling were delicious flatbread pizzas which are available in Farmington and will soon be in West Hartford, too. The Farmington location is open seven days a week, and has upstairs seating for about 30 people and free parking in both the front and back.
This item was inadvertently omitted in the original version of last week's column, so we are repeating it today. BK & Co (983 Farmington Ave.) is hosting an event on Tuesday, April 26. "Wine, Women & Fashion," is a fundraiser for The Children's Law Center (CLC), a statewide nonprofit organization, which, through its programs and services, "strives to create safe, stable environments for children whose parents are in chronic conflict. Our primary goal is to be the voice for children in their parents' family court disputes, where otherwise their interests would be overlooked and they could potentially be in harm's way. We work with parents to create parenting plans that enable and encourage safe, positive and loving relationships between parents and children." Karen Herbert, co-owner of BK & Co. has served on CLC's Gala committee and she and BK & Co have been strong supporters of CLC for many years.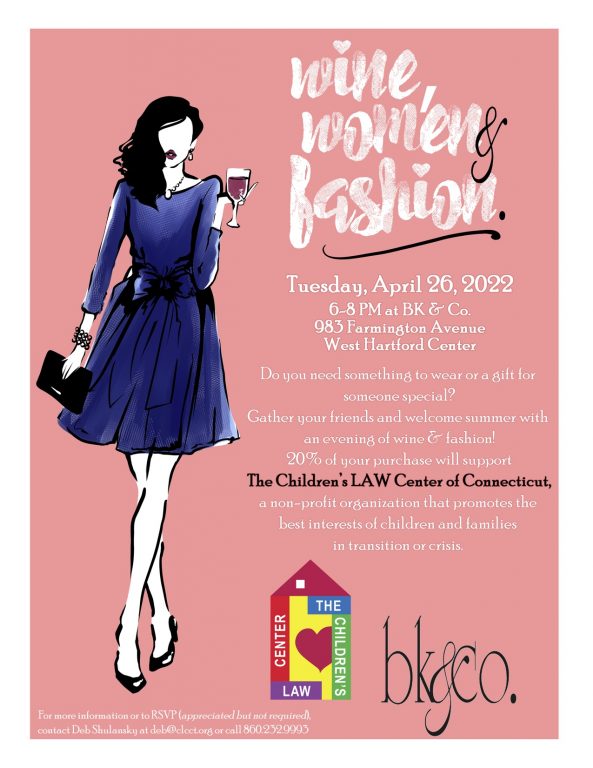 Congratulations to Caroline Poland, announced by the JTConnect Board of Directors as the organization's new executive director starting June 1, 2022. Poland, who has a master's degree in nonprofit administration from the University of San Francisco has a strong background in nonprofit fundraising, program planning and development, and partnership building. She and her family relocated back to the Greater Hartford area almost a year ago after living in San Francisco for 15 years, where Poland worked at the SF-Based Jewish Community Federation and Endowment Fund as a project director for their teen philanthropy programs, and as a program officer for strategic grantmaking. "Working in the Jewish community touches my soul because it sparks my passion for creating positive change in the world," said Poland. "I have served in many nonprofit leadership and management roles over the course of my 20 year career – including working with marginalized youth and families, mental health/substance abuse programming, developing and directing Jewish teen programs, Jewish youth and family philanthropy, strategic grantmaking, nonprofit fundraising, and donor engagement." Lauren Benthien, president of the JTConnect Board of Directors, added, "Everyone on the Board and Search Committee was immediately impressed with Caroline's commitment to the Jewish community and experience with Jewish teen education and leadership development, as well as her warmth, positivity, and genuine desire to further our mission at JTConnect. Her enthusiasm made everyone very excited about the next chapter in our organization."
In today's sad news (although there is a chance it won't ultimately be sad news) there is a "for lease" sign in the window of Sweet Frog at 13 South Main Street in West Hartford Center. Reportedly the store will be closing at the end of August unless it is sold before then.
Remember, if you have any business news to share, add it in the comments section below or email Ronni Newton at [email protected].
Like what you see here? Click here to subscribe to We-Ha's newsletter so you'll always be in the know about what's happening in West Hartford! Click the blue button below to become a supporter of We-Ha.com and our efforts to continue producing quality journalism.