A round-up of openings, closings, and other news about West Hartford businesses. 
Business Buzz is sponsored by NBT Bank, and we are very thankful for their support!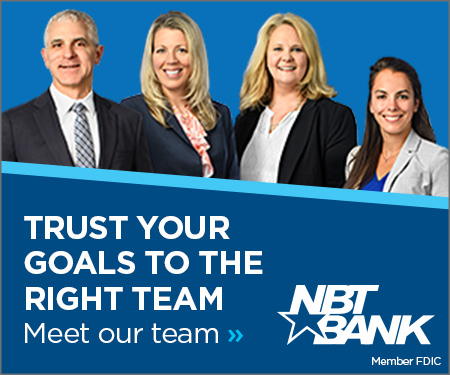 It's April – and we certainly had some serious April showers on Saturday night. Of course nothing could be loud enough to muffle the cheering coming from my family room as we cheered the Huskies on to victory over Miami. I'm excited about Monday night's game, and of course have all of my good luck items ready to go (no good luck dinosaur underwear like Dan Hurley has, but I totally understand his superstitiousness).
Housekeeping note of the week: If you would like to discuss something that is posted on the We-Ha.com site, please email me ([email protected]). I promise I will respond as soon as reasonably possible. Please don't send me a rant of 20 Facebook messages before 8 a.m., and please don't contact other community leaders in an attempt to "get through to" me. I do appreciate civil discourse, and I will listen, and I will address issues thoughtfully and professionally.
I attended the Go Red for Women luncheon at the Convention Center on Wednesday. What a great event, that raised more than $181,000!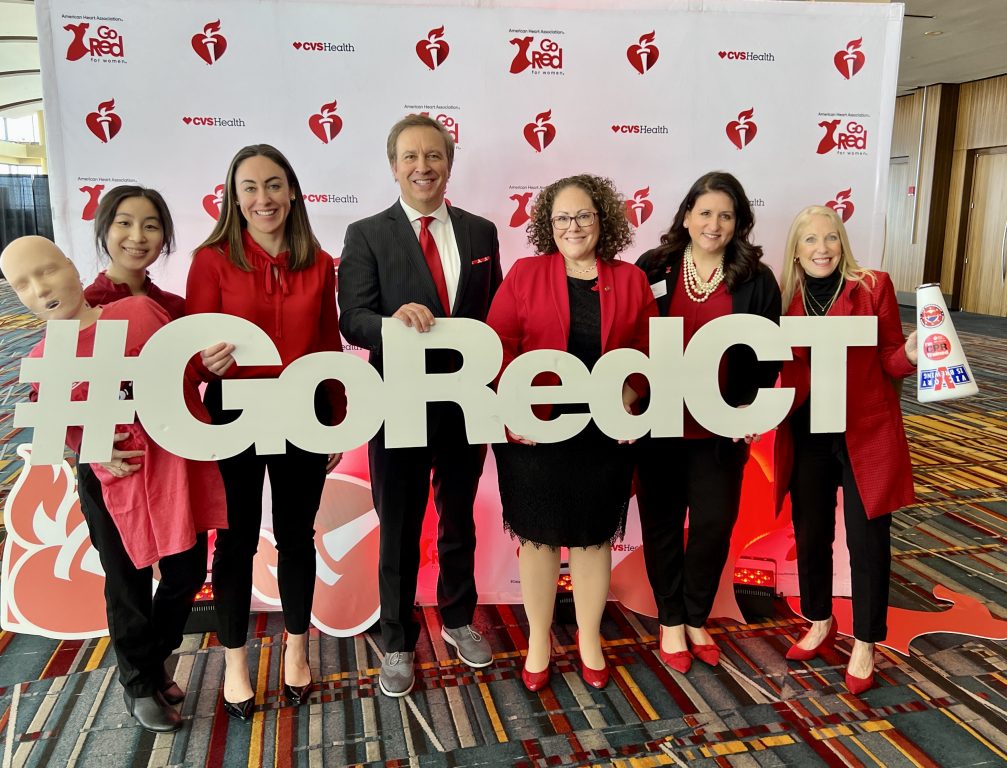 I met with the new general manager and got a chance to sample the new spring menu at Union Kitchen last week, but that's going to be the subject of a separate story.
On Saturday night – before UConn played – Ted and I had a yummy dinner at Phở 135 on South Main Street. It's walking distance from our house, but we were afraid we would get caught in the rain, and also wanted to minimize time away from the Final Four games. Luckily we got home in time to see San Diego State's buzzer beater, and of course the UConn game.
There were 10 positive reported cases of COVID-19 in West Hartford over the past seven days (as of Sunday) and a positivity rate of 6.7%. It's still low, but up a bit from last week. I was hoping to delete this paragraph this week, but will now hope for next week. In the meantime, please continue to have patience since not everyone has the same level of comfort, continue to look out for each other, support our local businesses – and stay safe and healthy.
If you're looking for news about West Hartford in print please note that many stories from We-Ha.com, as well as other local news, is published in the twice-monthly issues of the West Hartford Press.
If you have information to share about local businesses, please provide details in the comments or email Ronni Newton at [email protected].
**************************************************
Here's this week's Buzz:
Lonnie Arnold is partnering with Courtney Pavlick to open More Than Just Shark Bite in the space that was formerly a Pizza Hut at 1037 Boulevard. Arnold had great success with his food truck, Shark Bite New England, which offered fried seafood and fish and operated in Hartford. "People gravitated to it because it was so good," he said, and when I spoke to him over the weekend, he said he's really excited about the collaboration with Pavlick, who is the owner and operator of More Than Just Lobster, which has several locations including a stall at Dunkin' Park. "I'm more fried, they're more steamed," he said, and the new restaurant will offer a combination of menu items that will include seafood steamed in bags with vegetables, lobster rolls, fried lobster tails, fried scallops, and other dishes made from fresh fish. "It's all going to be fresh, nothing frozen," he said, and will be primarily grab and go, but with some limited seating. More Than Just Shark Bite will be be in the western portion of the building, and  Derrick Gibbs Jr., owner of BUD-R, will be opening a cannabis retail operation in the eastern portion of the building, where Subway was formerly located. Arnold said being next to what will be West Hartford's first cannabis retailer is is definitely a plus. "We're shooting for the end of the month," Arnold said of the More Than Just Shark Bite opening plans, and he believes BUD-R is getting close as well.
Central Rock

had their grand opening on Saturday at 99 Shield Street. "The gym is all ready to go," Marketing Coordinator Olivia Lisowicz said in an email. "We have a full fitness room with lots of cardio equipment as well as bars and weights. We have a pretty extensive training area with a kilterboard, a decoy board, and hangboards! We also have a nice big yoga room!" she said. Fitness and yoga classes will be coming in the future, and a sauna will be coming soon, said Lisowicz, who said they are very excited to have the facility up and running and shared some photos. Normal hours will be 11 a.m.-7 p.m. on the weekends and 3-10 p.m. during the week, she said. More details can be found on the

website

.
Marcellus Johnson of West Hartford will be officially opening his first business – Perfect Picture Auto Detailing – as of 9 a.m. on Monday, April 3. Located at 109 Reed Avenue, the business offers ceramic coating paint correction and all detailing needs. Johnson said he was raised in West Hartford, and attended elementary, middle, and high school in town, and "found it worthy to open his first business in West Hartford to become a contributor to the community in which he was educated and raised." After high school he attended Tunxis Community College and studied business entrepreneurship before going to work for Bank of America as a loan processor, Pocket Wireless and a key holder and in sales, and also worked in sales at AT&T. He attended trucking school, earned his commercial driver's license, and traveled as a trucker until the COVID-19 pandemic. "Seeing America was amazing," he said of his time as a trucker, but ultimately decided to go into the auto detailing business – a trade that brings him joy – and following in the footsteps of his biological father, Roger P. Johnson who has been in the business for more than 30 years and is the owner of East Granby-based Auto Elegance. "So it is full circle, but all of what [I] learned from all of [my] ventures will help … make Picture Perfect Auto Detailing and more successful," Johnson said. Beginning this August, Johnson plans to add a post-secondary trade school component to his business, paying it forward and teaching detailing to students from the Urban League of Greater Hartford and other nonprofit organizations. To make an appointment, contact Johnson at 860-382-8294 or via email at

[email protected]

. Follow @perfectpictureautodetailing on Instagram for updates and more details about the business.

 
West Hartford-based business CT Property Watch – owned and operated by Kevin Dowd and his daughter, Erin Dowd – has earned accreditation from the National Home Watch Association. The NHWA was formed in 2009 in order to establish and maintain the highest industry standards for Home Watch and absentee homeowner services throughout the United States and Canada (www.nationalhomewatchassociation.org). Home Watch is a visual inspection of a home or property, looking for obvious issues, which means that it is a service that "keeps an eye on things" at your vacation or primary home while you are not in residence. All principals of NHWA Accredited Member companies are background-checked, insured, and bonded. Kevin Dowd and his family have lived in West Hartford since 1990. He received his undergraduate degree from Fairfield University and his law degree from George Washington University, and has been practicing real estate law for over 30 years. As a dedicated real estate attorney with a focus on property management, he brings a wealth of real estate knowledge and experience to CT Property Watch. Erin Dowd is a West Hartford native and a graduate of Northwest Catholic High School. She holds a business degree in Marketing from Central Connecticut State University and brings a fresh perspective to the real estate management industry. Drawing on her background in retail, Erin knows the importance of building strong relationships with clients; she strives to go above and beyond to meet their needs by providing the highest degree of courteous and reliable customer service. CT Property Watch serves West Hartford and the West End of Hartford. You can reach them at 860-670-9628 or at

[email protected]

. Learn more from their website, at https://ctpropertywatch.com.
I received a few Blue Back Square updates from Image Marketing: Barnes & Noble "has executed an extension on their lease and we will continue to work with them as we determine the best long term strategy to promote Blue Back Square as a regional destination," spokesperson Kate Terricciano said. I also asked about the opening of Gran Gusto, and she said of the restaurant that will be opening in the former Rizzuto's space that they are "putting the final touches on their beautiful new interior and expects to open in April."
Journey Home has had a warehouse in West Hartford, but shared the news that they have moved their office from Hartford to West Hartford. "It happened quickly but we did it. We have been welcomed with open arms by the good folks over at St. James's Episcopal Church in West Hartford. They had available office space and we had a need – in lots of ways it feels like it was meant to be.

Journey

Home

has a long history with St. James's including the inception of A Hand Up (a nonprofit that eventually joined forces with us at

Journey

Home

). In lots of ways it feels like a homecoming," the organization shared in an email. "We don't know yet what the future holds for our permanent

home

but for now we are happy and feel like we are right where we need to be. We can't thank our friends at St. James's enough and we can't wait to settle in." The new mailing address is: Journey Home, PO Box 260727, Hartford, CT 06126.
Artisan Restaurant in West Hartford will be holding a Chef's Tasting Dinner on Thursday, April 20 at 6 p.m., highlighting local produce. Artisan – one of the few restaurants in Connecticut that has its own wine label – will also be showcasing the private label wine at the tasting. A portion of the proceeds from the event will be donated to Hands on Hartford. The five-course farm-to-table menu will celebrate the spring harvest, and will be held under the pergola in Artisan's garden, and will also feature live music. Chef Frederic Kieffer and Chef Michael Giai of Artisan Restaurant will prepare the dinner, in collaboration with Soeltl Farm (Salem, CT) and Earth Palate Farm (Warren, CT). Menu items will include (items with ** are gluten free, and vegetarian options are available): DANDELION SOUP **; LOCAL STRACCIATELLA; GRILLED CHICCORIES, & CRISPY DUCK EGG **; LEMON-ANCHOVY DRESSING; LOCAL CALF LIVER **; ROASTED APPLE, ONION MARMALADE, BACON GASTRIQUE; GREEN CIRCLE CHICKEN **; SPRING ASPARAGUS, MOREL MUSHROOM SAUCE; ROASTED LEG OF LAMB **; ORIENTAL SPICE ROASTED YOUNG CARROT, SMASHED NEW CROP FINGERLING, STINGING NETTLE SALSA VERDE; RHUBARB SPOON CAKE; and VANILLA ICE CREAM.
Congratulations to Relax the Back on completing their relocation with an official ribbon cutting and grand opening in their new space held Friday, March 31 at 973 Farmington Avenue.
Big Brothers Big Sisters of Connecticut shared in a news release that West Hartford resident recently celebrated Read Across America Month by reading aloud to two groups of energetic preschool children at Saints Cyril & Methodius Family Resource Center in Hartford. The session was designed to promote a love of reading and books with youngsters just beginning the learning process. The book read was "Ten Apples Up On Top" by Dr. Seuss, whose March 2 birthday coincides with Read Across America Month. Guest readers were West Hartford residents Andy Fleishmann and Ryan Matthews. Fleischmann is president & CEO of Big Brothers Big Sisters of Connecticut, and Matthews is the organization's vice president of Programs. Besides hearing an enthralling adventure being read aloud, each child was also gifted with a goody bag containing a complimentary book and an assortment of other treats. The event was organized by the Big Brothers Big Sisters' Foster Grandparents Program. It was filmed by WTNH News and can be viewed here. For more on Big Brothers Big Sisters, visit www.ctbigs.org.
Six of Connecticut's notable leaders in the Greater Hartford and Greater New Haven regions – including two with West Hartford connections – will be honored by Junior Achievement of Southwest New England at the 44th Annual Business Hall of Fame Awards induction ceremony on Tuesday, April 4, 2023. The prestigious annual event recognizes individuals for their leadership, success in business, community involvement, and their significant contributions to the prosperity and quality of life of their region and the state.  The event is returning in-person at the Hartford Marriott Downtown and will also be livestreamed. Those with West Hartford connections include lifelong resident Joe Gianni, president of Bank of America Greater Hartford, and Rhona Free, is president of University of Saint Joseph. "They have each established a standard of excellence that reflects their commitment to community and determination to improve individual lives in meaningful and enduring ways," Jeremy Race, CEO of Junior Achievement of Southwest New England, said in a news release. "We are pleased to recognize their leadership and example at this year's induction ceremony, which promises to be a very special evening as together we will honor their impact on our state." Also being honored are Erik Clemons, CEO, Connecticut Community Outreach and Revitalization Program (ConnCORP); Robert B. Cox, Partner, Halloran Sage; Alice Forrester, CEO, Clifford Beers Community Health Partners; and Karraine Moody, CEO, Habitat for Humanity of North Central Connecticut.
ICYMI, congratulations to West Hartford's Coracora, one of five restaurants in the country to be named a finalist in the prestigious James Beard Award competition for "Outstanding Restaurant." Click here for all the details.
Hughes Health and Rehabilitation, which has operated a nursing home in West Hartford for more than 50 years, has filed a petition with the state to close. The complete story can be found here.
Remember, if you have any business news to share, add it in the comments section below or email Ronni Newton at [email protected].
Like what you see here? Click here to subscribe to We-Ha's newsletter so you'll always be in the know about what's happening in West Hartford! Click the blue button below to become a supporter of We-Ha.com and our efforts to continue producing quality journalism.