A round-up of openings, closings, and other news about West Hartford businesses. 
Business Buzz is sponsored by NBT Bank, and we are very thankful for their support!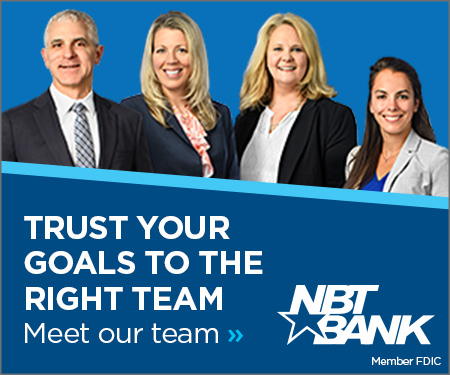 By Ronni Newton
It's the last week of August. Sigh.
Although Saturday morning started off rather humid (of course during the time when I did my 9-mile training run with Fleet Feet), it turned into a beautiful day, and Sunday was spectacular for Center Streets, the Blue Back Farmer's Market, and pretty much any other activity.
It seemed quiet in West Hartford this past week and there were fewer cars on the road, but with teachers returning to their classrooms and West Hartford Public Schools opening on Wednesday, vacation season is coming to an end for many people. Activity is definitely going to pick up, but hopefully we will still have some nice weather to enjoy whenever possible.
I want to express my appreciation to Bridget Bronsdon for the great work she did with We-Ha.com this summer, and wish her the best of luck for the upcoming semester. She returned to UConn this weekend to continue her study of journalism and political science, and I hope she will return for at least a cameo appearance to write a few more articles when she is on break!
Before writing anything else, I want to respond here regarding someone's comments on the posting of this column in a Facebook group last week – and remind readers that if you are not interested in this introduction and just want to get to the business news, there is a clear delineation below with a line of asterisks that shows where it begins. There is ALWAYS business news in this column, and although it's written in first person (it is a column, not a news article), I spend countless hours verifying the information and taking photos. And, I DO NOT write clickbait headlines (I feel like my headlines are often rather boring, but I'm okay with that), and while I do try hard to garner interest in an article when I post it on Facebook (if no one cares to read something why should I bother even writing it) those introductions are certainly not clickbait either.
While Ted was running in the Hartford Marathon Foundation's RiMaConn Relay on Saturday (he ran more than 18 miles, with his first of three legs being more than 10 miles, so I couldn't complain about doing 9), I enjoyed a wonderful dinner with my sister – with the best view of sunset in town at Rockledge Grille. (I also got some takeout earlier in the week, but that's part of a bullet point below!)
If you're looking for news about West Hartford in print please note that many stories from We-Ha.com, as well as other local news, is published in the twice-monthly issues of the West Hartford Press.
If you have information to share about local businesses, please provide details in the comments or email Ronni Newton at [email protected].
**************************************************
Here's this week's Buzz:
West Hartford is pretty much fully developed, and new home construction is scarce, so a now-underway new subdivision on a cul-de-sac in West Hartford will provide some unique home ownership opportunity. "It's a rare opportunity. It's going to be really nice, really high quality, special homes," said Tony Buccheri of Berkshire Hathaway New England Properties, who is the listing agent for the homes at Orchard Heights that are being constructed by local builder Jeff Webster. One of the homes is already under constructions, and all but two of the six lots have reservations, Buccheri said, with prospective owners considering plans. The subdivision is being built off Tunxis Road on the far western edge of West Hartford (past Holy Family, but it's definitely in West Hartford not Farmington) and is bordered by MDC property, which Buccheri said makes for a great view. The road is called Old Farm Drive, but there are no house numbers assigned yet. All of the homes will be built by Webster and are custom-designed – they have an architect, but can use someone else's plans – with a base four-bedroom home starting at $949,900. Much more information can be found on the Orchard Heights website or by calling or emailing Buccheri at 860-983-0748 or

[email protected]

.
Green Tails Market is getting very close to opening their new location at 16 LaSalle Road, and I can't wait! Much more detail to come, but I peeked in the window and saw product already on the shelves, and when I touched base with owner Anne Fryer last week she said in a text: "We've been working diligently, building fixtures and filling inventory, and can't wait to begin operating!" She also shared a few photos – including one with their dog "our sweet rescue Chester, who is still acclimating to the new space."
West Hartford resident Kenny Zablotsky recently launched JewishJoy.co, an online retail store with an an array of crafted, curated, and vintage decorative art pieces that enhance and promote a connection to Jewish culture. "If you are looking for something special before the upcoming holidays we have an excellent variety of exclusive items," he said. "

Our motto is the Yiddish phrase 'a bissle ungepatchka' meaning 'a little over the top' because sometimes attention grabbing elements add the most character to spaces and bring the most joy," he said. Zablotsky said his life has been driven by "a passion for hospitality and service" to create "exceptional experiences," and he spent 15 years working in retail and construction, but was looking to go in a different direction. "

The past two years I reconnected with myself through exploration of my creative pursuits and meditation with nature. Slowing down, I was able to realize that returning to my roots could bring me back to my passion for service – but this time in a new creative form as a Judaica artist. …  

Finding my own #JewishJoy has led me to my mission of creating cultural art that bridges the ancient traditions with modern sensibilities, and inspires a connection for people in present day context," he said. Zablotsky has relocated back to his hometown of West Hartford from New York City, and said while his business is online only, they offer free shipping in Connecticut with the code "WEHA." Pop-up events will be planned for the future, and he said he would eventually love to establish a physical location. "

Our aim is to inspire a cultural connection that is inclusive of however people find their personal comfort and happiness in the religion. 

Hamsas of Munkatch is our design studio run by owner and artist Channan Tzvi (Kenny) where we celebrate our Jewish heritage and explore new ideas." Zablotsky said his family has always been creative, and his mother painted whimsical murals on the walls of their home. "

That has translated to my art today. I am a tactile artist and utilize up-cycled and sustainable materials whenever possible; often pairing unusual textures together to create beauty in an unexpected forms."
Now open at Westfarms is Alo Yoga, on the upper level near Center Court. This is the first Connecticut location for the popular and rapidly growing brand of premium "studio to street" yoga attire that can be worn not only for doing yoga, but also as streetwear.
The website for Boqueria (46 South Main Street) now lists the West Hartford location with the message: "Hey neighbor! We can't wait to open our Spanish tapas restaurant in West Hartford this autumn." There's a ton of construction activity going on whenever I drive by there during the week, and a spokesperson told me that while there is not yet an opening date set, updates should be available soon.
Wednesday was the four-year anniversary of the opening of Pokéworks in the Corbin Collection, and the offer of an anniversary special $10 poké bowl definitely prompted me to grab one of my favorite meals for lunch. I had to double-check the story I wrote about the opening to confirm that it has really been four years because it seems like yesterday. The pandemic years really have melded together …
It's the 14th anniversary of the opening of Green Teahouse – now located at Westfarms – and I remember that opening (at Blue Back Square) clearly as well! "We are very thankful for our community's loyalty to us (even after several physical store moves!) and for their ongoing kindness and support," manager Laura Neves said in an email last week. "We count it a rich blessing and privilege to serve our community, and we hope to continue for many years to come!" Anniversary celebration details are included in their most recent newsletter.
The West Hartford Fire Department will be holding a "Fill The Boot" event next Saturday, Sept. 2, at the intersection of Ridgewood Road and New Britain Avenue. Funds raised through this annual effort will support the Muscular Dystrophy Association.
A free concert is coming up at Real Art Ways, featuring two musicians from West Hartford and another special connection to town. The press release states: "Allen Lanz is an electroacoustic, synths and horns team of multi-instrumentalist Ben Lanz and saxophonist Kris Allen. Ben and Kris, who've known each other practically since birth (and started playing together shortly after) got together in 2021 to start working on this project. Allen Lanz brings influence from Ben and Kris' respective musical worlds, Indie Rock and Jazz. They finish out their live band with drummer Robin Baytas. They'll be touring as a trio this fall in support of their upcoming release Ballard on Brassland Records. The album's name, Ballard, comes from the West Hartford street (Ballard Drive) where Ben grew up. The concert is Wednesday, Sept. 13, at 7:30 p.m., at Real Art Ways, 56 Arbor Street, Hartford.
West Hartford mentee, 8-year-old Kaden (at right in photo below) celebrated summer's wrap up at the annual Big Brothers Big Sister's picnic in Portland with his mentor, Saurabh Bohra, who is from Farmington. They were among the more than 200 Big Sisters and Big Brothers (mentors) and Little Sisters and Little Brothers (mentees) who gathered at Riverside Park in Portland on a recent sun-drenched Saturday to have a fun afternoon while saying goodbye to the hazy days of summer at this year's edition of the festive picnic hosted annually by Big Brothers Big Sisters of Connecticut. Kaden and Saurabh have been mentee/mentor in the organization's community-based program for almost a year. Attendees at the free event enjoyed carnival games, sports, lunch, a complimentary ice cream truck, a DJ, and exhibits presented by Eversource, the Connecticut Science Center and Home Depot. For more information on Big Brothers Big Sisters of Connecticut, visit the organization's website: www.ctbigs.org.
I can't resist including the information in an email I received from West Hartford resident Jillian Gibbs. Her rescue dog, Poppy, has made the top 10 list of finalists for People Magazine's "World's Cutest Rescue Dog" contest! There were originally 8,500 dogs entered. Poppy is extremely cute, and Jillian (and Poppy) would definitely appreciate the support of their hometown! Click here to vote: https://people.com/2023-worlds-cutest-rescue-dog-contest-voting-7814156
Speaking of dogs, ICYMI the Pooch Plunge was held on Monday. All of the dogs (including Millie, who surprised us by jumping into the pool – which may not have been a fall the first time but definitely purposeful after that). The West Hartford Dog Park Coalition event was definitely a success, and they would like to give extra special thanks to lead sponsor   Daleypawz. Owner Courtney Daley, who grew up in West Hartford and graduated from Hall, now runs a successful, women-owned and women-staffed, pet sitting business. Click here to read the complete story and see lots of cute dog photos.
At their meeting on Tuesday, the Town Council approved a proposal to amend the Special Development District for Prospect Plaza to allow of the construction of an outbuilding that will include a Chipotle, with a "Chipotlane," and two other tenants. Click here for complete details.
Remember, if you have any business news to share, add it in the comments section below or email Ronni Newton at [email protected].
Like what you see here? Click here to subscribe to We-Ha's newsletter so you'll always be in the know about what's happening in West Hartford! Click the blue button below to become a supporter of We-Ha.com and our efforts to continue producing quality journalism.