A round-up of openings, closings, and other news about West Hartford businesses. 
By Ronni Newton
It's the last Monday Business Buzz of 2021 – time flies when the world has remained somewhat turned upside down.
I hope those who celebrated Christmas and/or Kwanzaa this past weekend were able to find ways to have a wonderful and meaningful celebrations. Among my friends and family there were many more in-person celebrations this year than there were last year, but my social media feed is also filled with many posts from those whose celebrations were impacted by COVID-19.
We did have small gatherings with family and friends over the weekend, and it was a wonderful holiday weekend filled with love, the exchange of thoughtful gifts (many purchased from our local businesses or artisans), and way too much delicious food.
Speaking of food, while Ted and I didn't have dinner out this past week, I did have two fantastic lunches in local restaurants with colleagues. Ramen on a cold and blustery day (from Meçha Noodle Bar) really just hit the spot, and Max Burger never disappoints.
The results of our COVID tests were favorable on Sunday night so we're going to visit Ted's parents for a few days. (I should note that one of the highlights of the past few days was the ability to score a few test kits – crazy what makes one happy these days.) There will be a newsletter this Wednesday – which will feature the top stories of the past year – but no newsletter this Friday.
I've met a lot of fascinating people through this job, and one of the most interesting people I've had a chance to interview was Archbishop Desmond Tutu, who visited West Hartford to participate in the Connecticut Peace Walk in May 2011. He said at the time it would be his last visit to the U.S., and I can't find anything indicating that the man whose name is synonymous with the nonviolent opposition to apartheid was in the country after that date. Tutu died over the weekend at age 90.
I hope everyone has a safe and Happy New Year's celebration, and I strongly hope that 2022 will be a great year.
We've got a new mask advisory in place, and until the current surge is over I will continue to be wearing my mask in most indoor spaces even though I am fully vaccinated and boosted. This [using the word stupid rather than the other not-ready-for-prime-time words I prefer to use] virus is everywhere and ridiculously contagious. Please continue to look out for each other, support our local businesses – and stay safe and healthy.
Not too much business news during this holiday week – but there is some!
If you have information to share about local businesses, please provide details in the comments or email Ronni Newton at [email protected].
**************************************************
Here's this week's Buzz:
Marc's Appliance Warehouse completed the move to its new location last week, and is now officially open at 80 South St. "The showroom is almost three times bigger," owner Marc Labrie said, with the total space (including storage) increasing from 2,400 square feet at the former 75 Prospect Ave. location to 6,600 square feet in the new spot. And, he's got inventory – in stock – for those in need of an appliance! "We're part of a buying group," Labrie said, and there is exponentially more available now than there was at this time last year. The store has 150-200 pieces in stock right now (see photos below as examples), and deliveries are coming in daily. "I can get you a stove the next day," he said, and while it might not be exactly the model someone wants, he's confident there will be something that works. The grand opening will be held in late winter or early spring, Labrie said. The store is open Monday through Friday from 10 a.m.-6 p.m., and Saturday from 10 a.m. through 3 p.m. His old space on Prospect won't be vacant for long, Labrie said, noting that Rob Levine of Hart Real Estate will be moving in sometime in the next few months.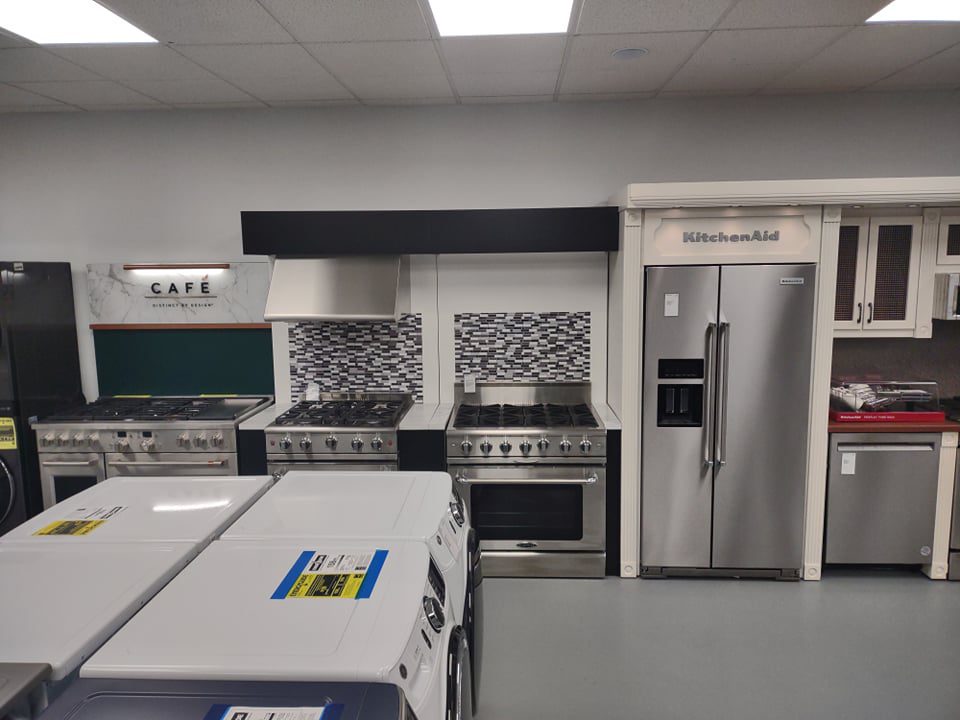 Wrought Iron Works is in the process of moving from 2575 Albany Avenue in Bishops Corner to 600 Oakwood Ave. – at the corner of Oakwood and New Park Avenue. (Coincidentally, that was the original Marc's Appliance Warehouse location in West Hartford!) For information about their hours or other details, visit the website. I'm not sure what the plans are for the 100-year-old property on Albany Avenue, but it did transfer ownership last May.
An interesting recent real estate transaction: the building at 202 Park Road, which has been recently renovated, recently sold for $930,000 – which is more than double what the previous owner paid for it in July 2019. According to Economic Development Coordinator Kristen Gorski, the new owner, Park Properties LLC, purchased the building as an investment.
While I was running with my friends on Christmas Even morning (excuse the snowflakes in the photo), I noticed that Lewis Real Estate has opened at 1000 Farmington Ave., where Prima Facie Medspa was formerly located. According to their website, Lewis Real Estate specializes in Connecticut properties as well as properties in Martha's Vineyard. I'm not sure about the current status of Prima Facie. Their website is inactive and there are no recent updates on their Facebook page, and a call to the listed phone number went to voicemail. If anyone has details, please let me know.
The Subway store at 932 Farmington Ave. in the Center closed permanently as of Dec. 22. There's a sign on the door thanking customers for their patronage over the years – and my thanks to one of our readers for for the scoop. I've attempted to find out from the landlord what the plans are for the space, but have not yet heard back.
I'm going to miss Capt. Eric Rocheleau, who is retiring next month from the West Hartford Police Department after 23 years. He's had two stints as the department's public information officer, and I've also interacted with him  in various other roles in the Training and Detective Divisions. I'll wait until January to say farewell, but wanted to note the retirement plans now since it was mentioned by the department along with a photo of Rocheleau reading "Officer Buckle and Gloria" to students at Norfeldt Elementary School.
SLAM (The S/L/A/M Collaborative) announced in a news release the promotion of 27 team members nationwide – including three West Hartford residents. Congrats to new Associate Principals Eleana Lynch, John McClure, Karen Glass Parzych.
While driving up New Park Avenue last week I noticed the banner on the building that will soon be home to G-Monkey. The plans for the vegan fast casual restaurant in the space at 625 New Park Ave. that was formerly home to Citizen Chicken & Donuts (and prior to that, Hartford Baking Company) can be found in this previous column.
Another New Park Avenue project that seems to be moving along quickly is the Trout Brook Realty Advisors/West Hartford Housing Authority transit-oriented development 540 New Park. There has been a lot of progress just in the past two weeks since I last took a photo. The beam-signing for the project was held in late June, and the goal is to have the project completed by the summer of 2022.
ICYMI, Town Manager Matt Hart is also leaving his current position. Hart was named executive director of the Capital Region Council of Governments (CRCOG) last week, and will be departing in February. Click here for details.
The director of the West Hartford-Bloomfield Health District issued a mask advisory last week, urging the people to wear masks in any indoor space when around others who are not from the same household – not just inside businesses, but also at private gatherings,, Details can be found here.
Remember, if you have any business news to share, add it in the comments section below or email Ronni Newton at [email protected].
Like what you see here? Click here to subscribe to We-Ha's newsletter so you'll always be in the know about what's happening in West Hartford! Click the blue button below to become a supporter of We-Ha.com and our efforts to continue producing quality journalism.