A round-up of openings, closings, and other news about West Hartford businesses. 
By Ronni Newton
I often mention how quickly time seems to pass by, and I'm feeling that now more than ever, and not just because we are already in the third week of January.
It doesn't seem like it was very long ago that I was filled with the incredible excitement of the impending birth of my first child – and 28 years later I am so excited to share the news that this summer Ted and I will become grandparents for the first time! Katie and Matt, along with about 50 friends and family, gathered at GastroPark on Sunday afternoon for the gender reveal. We were dressed in pink and blue because and even Katie and Matt didn't know their future baby's gender until Katie passed him the "football" and he spiked it to a shower of blue confetti. We will all be so excited to welcome "baby boy" Redman in July! (A very special thanks to Tate Norden and GastroPark for welcoming our celebration. I hope the blue washes off the gravel!)
I definitely plan on returning to Union Kitchen very soon to sample more items on their new menu, but did visit one night last week with a few friends for drinks and a light dinner. The coconut pumpkin soup was just the perfect antidote to a chilly and wet evening.
Ted and I enjoyed a late dinner on Saturday at Smoke Public House. I have always been a huge fan of deviled eggs and these were amazing – as was the rest of our dinner.
There were 32 positive reported cases of COVID-19 in West Hartford over the past seven days (as of Saturday), and a positivity rate of 11.2% – a continued drop from last week. It still, of course, doesn't take into account the home tests that don't get reported to the state. Hartford County is also now in the CDC's "high" level of transmission, which means that wearing masks indoors is recommended. It's also the season of respiratory viruses, and this year many more people seem to be sick with a variety of viruses. (Click here for more information from the West Hartford-Bloomfield Health District about the symptoms of various viruses and how to protect yourself.) I still hope to be able to delete this paragraph that time has not yet come. In the meantime, please continue to have patience since not everyone has the same level of comfort, continue to look out for each other, support our local businesses – and stay safe and healthy.
If you're looking for news about West Hartford in print please note that many stories from We-Ha.com, as well as other local news, is published in the twice-monthly issues of the West Hartford Press.
If you have information to share about local businesses, please provide details in the comments or email Ronni Newton at [email protected].
**************************************************
Here's this week's Buzz:
Just a warning that the first few bullet points of today's column are extraordinarily delicious so you may not want to read this on an empty stomach … We'll start with Spruce & Rye Baking Co. Less than a year after moving to West Hartford, Liza and Joe Padellaro are quickly becoming popular residents of their neighborhood and members of the local business community. They moved to West Hartford from New York in May 2022, and as soon as they obtained their cottage food license, launched Spruce & Rye Baking Co. Both had already been working remotely since the pandemic began – her day job is in communications with Edelman and he runs a boutique hedge fund business – and they'd been looking to leave New York and move to Connecticut. Liza is from Longmeadow, MA, and while they had initially been looking for houses in Westport, Liza convinced her husband to consider West Hartford which was closer to family – and both fell in love with the town. And now that they are settled – and busier than ever with a new puppy and a baby due next month – they decided it was time to take the next step with their business. "Food has been a project and a concerted effort since 2017," Joe said. They had built a following on social media with a "Michelin Mike's Kitchen" concept where they would visit restaurants and then try to replicate menu items. "Our goal wasn't to start a restaurant and compete," Liza said, but more to discover the flavor combinations and their complexities. Soon the focus turned to baking. Joe said they went to Blue Hill – a fine dining destination in New York known for locally- and carefully-sourced healthy ingredients – and it was transformational. They learned about Red Fife flour, a hard red wheat with a robust, spicy, and rustic flavor. Along with rye flour, it's a staple in their baked goods, which have very little white flour. "When we go to Europe we spend half our time in bakeries," Joe said, and the recipes they have developed are inspired by "old Nordic and French recipes as well as our favorite modern bakeries in Paris, Copenhagen, and New York City," their website states. They learned to appreciate the tradition of "Fika," which in Sweden, Denmark, Finland, and other Nordic countries is a time of day to take a coffee break, and enjoy a treat with friends. And during COVID, when sourdough baking became popular, they were among those who did plenty of baking. Joe (who started off as an engineering major in college) also poured over cookbooks, studied millers. While using a sourdough starter takes longer, "it's truly a labor of love, and more nutritious, with a lower glycemic effect on the body," Liza said. "By some fortunate we ended up in a house with two ovens," Joe said. One is used for cookies and pastries, and the other is for bread. They're a hit in the neighborhood, where the local kids get to taste test. Joe is the baker, and Liza handles the marketing. The "Spruce" in the name is a nod to the Nordic theme, and to Joe's love of Christmas. "We even planted a Blue Spruce in our yard," Liza said. The "Rye" in their name is for one of the primary ingredients in their products. All of their baked goods – which include loaves of rustic "bien cuit" sourdough bread, sweet buns, cookies and confections, and French pastries, as well as granola sweetened with maple syrup from Top Acres Farm in Woodstock, VT – are made in their West Hartford kitchen. They take advance orders during the week and deliver on Saturdays and Sundays. The photos above and below are some of the items I was able to taste test (with the help of some very willing family members, including my son who was in town for the weekend). Liza provided some additional descriptions beyond the names – including that the raspberry bar, topped with raspberry powder, is kind of like an "adult pop tart" and "was born out of a pregnancy craving I had." The brownie-like chocolate cakes were also the result of a pregnancy craving for chocolate, she said they are "fudge, moist, and rich – but in the best way possible." (Those, along with the rye chocolate chip cookies, are my personal favorites.) Liza said she was at first skeptical of the Earl Grey Lemon Tea Cake, but the taste totally surprised her. "It's so fresh and tasty, it cuts through the darkness," she said. The granola is gluten-free, and they are experimenting with mochi (sweet rice) flour to use in gluten-free cookies. "It's on our radar," Liza said.  They've already gotten some mentoring from Kevin Masse of Small State Provisions, who also started off with a cottage food license and now is poised to expand from his space at GastroPark to a second location in Avon. "I really respect small business owners," Liza said. "It's an adventure, but really fun to build something." In addition to delivering, they plan on pop-ups at farmers markets or community events in the future, but the cottage food license doesn't allow them to wholesale their product. If it goes well, they may move beyond to perhaps a storefront with coffee service, Joe said. For more information, visit the website or follow @spruceandryebakingco on Instagram. (Thanks to WeHa Brewing & Roasting for serving as the backdrop for these photos!)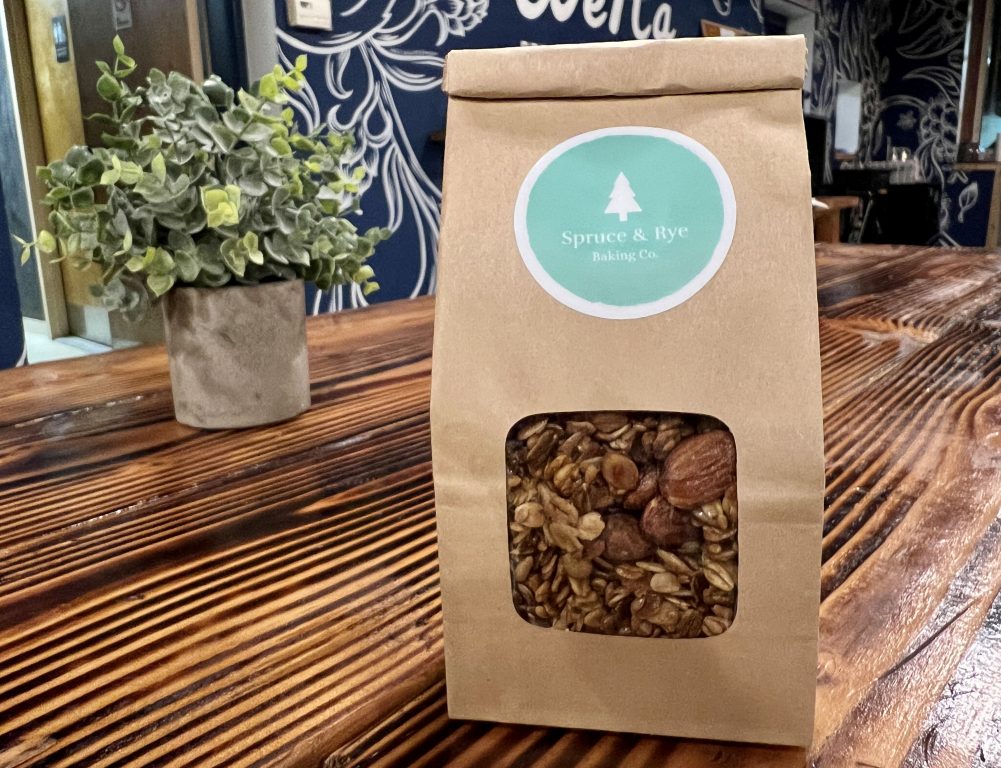 In other yummy news, I caught up with Kathleen Allen last week, who along with her husband Jay is opening Kilwins West Hartford at 38 Isham Road in Blue Back Square. The signage that should be in place today, and will "totally change the entire look of that part of the building." She said they have already "built a solid team" and continue to hire staff with plans to open by mid February. "We are a confectioner first," Allen said when asked to describe Kilwins. "What's unique about Kilwins is that we make our own chocolate," she said, in a plant in Michigan from cacao imported directly from fair trade businesses in South Africa. She said she expects fudge to be a top seller, as well as the "experience" items that are made in the store while customers watch – including caramel popcorn, caramel-dipped apples, and bear claws. The ice creams are made with Kilwins' original recipes and their other "treats" are used as toppings. Dairy-free sorbetto will also be available. I am very much looking forward to sampling – and sharing – more details as soon as possible.
West Hartford 1, the developer of the former UConn property, continues to work with West Hartford's Design Review and Advisory Committee in advance of submitting an application for a special development district. Last week they held another in a series of informal sessions with DRAC, and according to Town Planner Todd Dumais there will be multiple design teams involved for the concept which includes multifamily residential development on the east side of Trout Brook Drive, and a variety of uses for the parcel on the west side of Trout Brook Drive that includes a medical building, grocery store, spa, and several mixed-use building that include residential units and restaurant operations, and a public park. Dumais said there have not been architectural plans or even renderings submitted, but the developer is continuing to take the advice of DRAC as the schematics are refined. It appears that, as of now, the proposed number of residential units within the development is roughly 500. Below is a schematic of the most current option that was presented to DRAC last week.
Congratulations to Maggie Johndrow, who along with her mother-in-law Lori Johndrow and Office/Operations manager Susan Weingaertner have opened the new office of Johndrow Wealth Management at 45 South Main Street in West Hartford. The new location was celebrated with a ribbon cutting with the Chamber of Commerce and town officials on Jan. 11.
Celebration of Chinese New Year – Year of the Rabbit – officially began on Sunday, Jan. 22. Sonny Chen, owner of Black Bamboo at 844 Farmington Avenue shared this photo of a mural on their window painted by Elisa McClear of @Elisa.Mc.Art and Josie Jajliardo. Elisa is a manager at Black Bamboo, and Josie is also an employee, he said. All customers on Sunday received lucky red envelopes with discount coupons.
Congratulations to West Hartford resident and business owner Dr. Jessica Tagliarini of Tagliarini Chiropractic, who was sworn in last week as the first female president of the  Connecticut Chiropractic Council!
West Hartford Center-based YHB Investment Advisors, Inc. has welcomed Jenny Hart as a part-time portfolio analyst. Hart earned a bachelor's degree and MBA from Brigham Young University and recently relocated to the area from Salt Lake City. "Her strong financial education and previous work experience will allow her to assist several YHB portfolio managers in a variety of roles," YHB said in an announcement.
Ryan Matthews, vice president of Programs at Big Brothers Big Sisters of Connecticut, was a recent in-studio interview guest on 97.9 ESPN Radio's long running Rob Dibble Show. Matthews talked with Rob Dibble and Ben Darnell about National Mentoring Month – now in progress through Jan. 31. He noted that Big Brothers Big Sisters is celebrating the occasion by shining a congratulatory spotlight on the amazing Big Brothers and Big Sisters currently mentoring in the organization's programs. He urged others who've been considering becoming "Bigs" that now might be the perfect time to do so by visiting www.ctbigs.org.  Ryan Matthews, at right in photo below, is pictured with the sports/talk show's co-host and program director Ben Darnell.
It wasn't in West Hartford but was an institution that many from town frequented, and sadly the Half Door served its last customers on Sunday. They posted the below notice on their Facebook page on Jan. 17.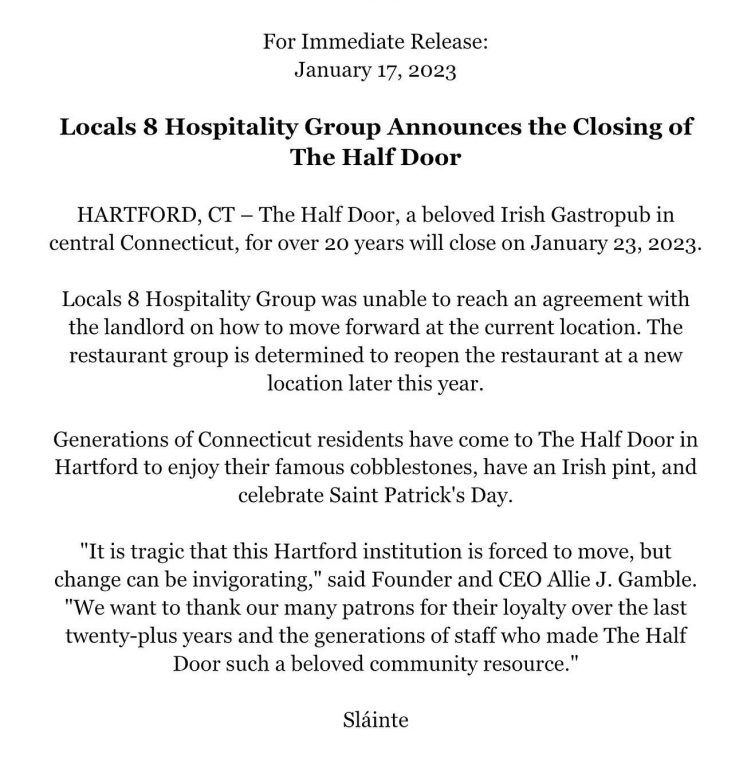 ICYMI, last week the awarding of a nearly-$1 million brownfield grant to assist with the transformation of the West Hartford Inn into affordable housing was celebrated, and I also sat down with Lewis Brown, principal of one of the development partners, to discuss the vision for The Camelot, the significance of the location and the name, and how and why his company, Honeycomb Real Estate Partners, is involved. The complete story can be found here.
A second public workshop on the West Hartford Center Infrastructure Master Plan is scheduled for Feb. 2. Click here for the details.
These micro-businesses value passion over profit. Read about the work Darlene Borre is doing with Futures Inc. here.
Remember, if you have any business news to share, add it in the comments section below or email Ronni Newton at [email protected].
Like what you see here? Click here to subscribe to We-Ha's newsletter so you'll always be in the know about what's happening in West Hartford! Click the blue button below to become a supporter of We-Ha.com and our efforts to continue producing quality journalism.